Next generation

monitoring


platform.
Enhancing your performance and communication.
AIOps | IT | IoT | Cloud | Apps
click on the titles
to find out more information
Deployment

Monitoring & Alerting

Monitoring

Communication

Analytics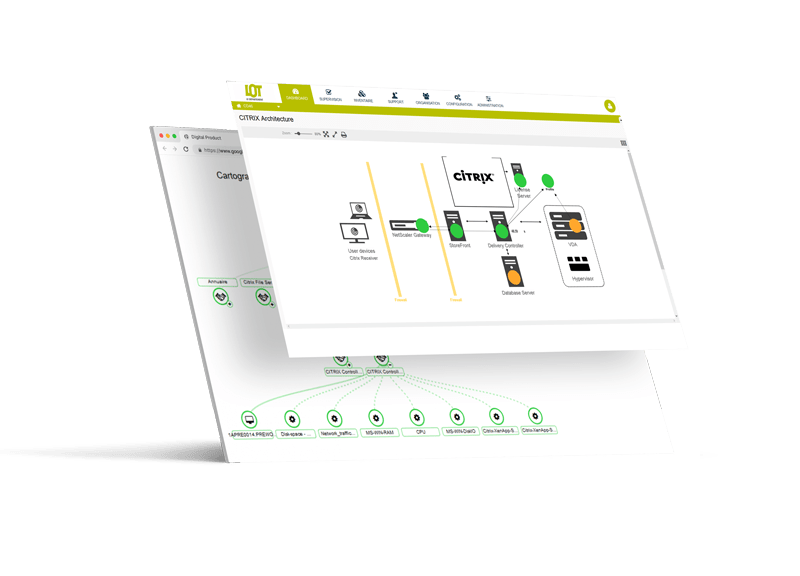 Save time

with ServiceNav deployment and configuration
Infrastructure, network, application, cloud, with a single platform, you monitor your system. The catalog of more than 1500 service templates is ready to use. Deploy the ServiceNav Box in less than 15 minutes, automatically discover the devices present on your network. No impact on your IT: ServiceNav uses no agents, and exploits the certified APIs of the products. Familiar with Nagios? reuse your collection programs and extend the possibilities of ServiceNav. Thousands of devices to integrate? use the configuration import features.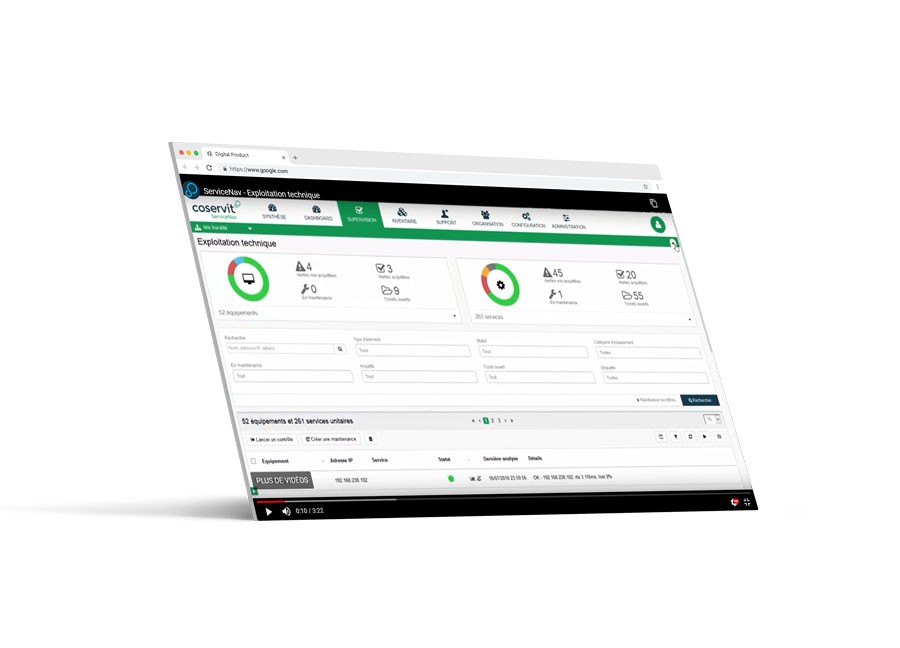 The
single

SaaS platform that monitors the availability and performance of your IT
Build your operating dashboards according to your action priorities. Benefit from a unique view of the health of IT services or business applications thanks to a familiar analogy with weather forecasts: you accelerate your diagnosis. Its multiple notification possibilities alert you in case of service degradation or disruption. On mobility or on-call? with the mobile application ServiceNav, you keep your IT at hand.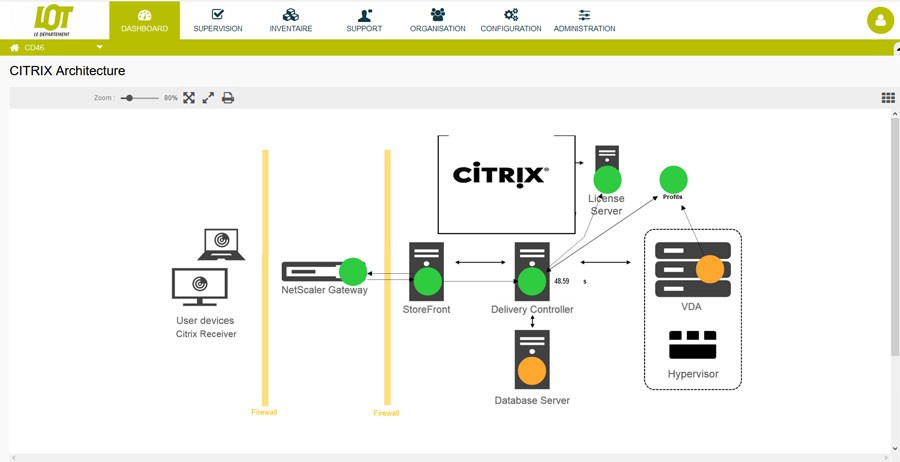 Your
centralised

,

integrated

operational tool
The intuitive user interface produces relevant and actionable information from the data collected on the different components of the IT infrastructure. From dashboards, service weather, maps, ensure the traceability of operational actions: create or acknowledge tickets, keep a history on tickets associated with alerts, plan maintenance, anticipate failures or capacity incidents. From the interface, or using the ServiceNav APIs.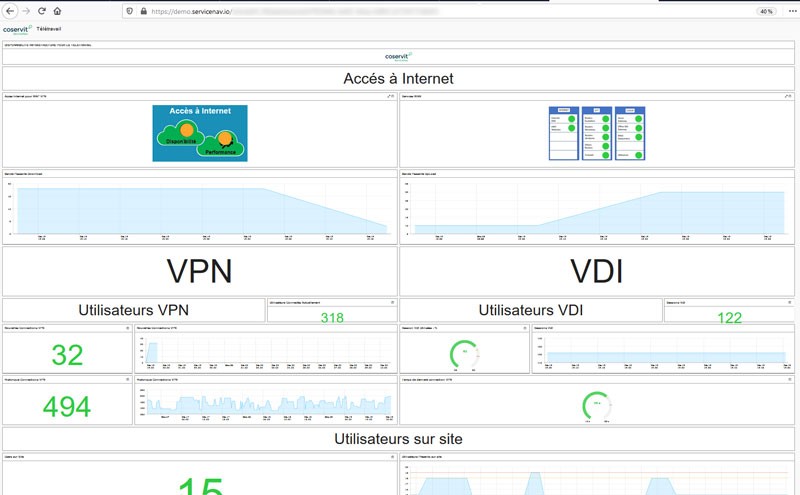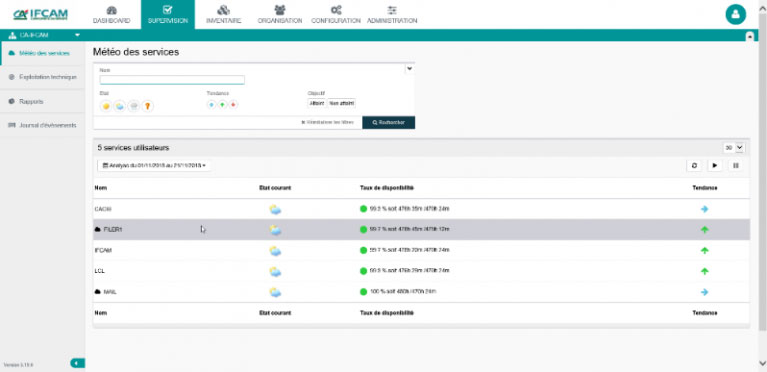 Availability

and

performance

status of IT services visible at all times.
With Dataviz, build multiple perspectives of your information system. Depending on your communication policy, distribute your dashboards to external applications, without code. ServiceNav performance analysis transforms raw data from technical supervision into relevant management information. In addition to providing information on compliance with service levels (SLAs) and availability, custom reports also identify capacity problems and recurring incidents, to facilitate the planning and investment decision-making process.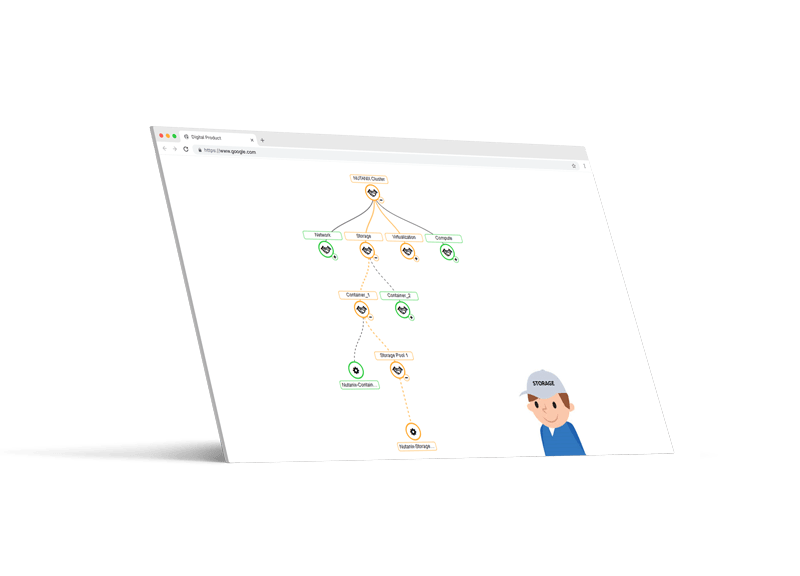 A
BigData

platform with business critical analysis capabilities.
AIOps monitoring platform combining multiple data source collection, big data architecture, machine learning and unified interface, ServiceNav offers a unique experience to users of IT production, and consumers of IT services. The analytical scenarios we build have only one goal: to help you grow your business and make it more agile.
Monitoring that meets your business challenges
Ergonomics, simplicity, adaptability
Over
1500 service templates


supporting your technology partners
ServiceNav provides optimal visibility, by providing real-time metrics, on all layers of the information system. Collection is agent-free, technology discovery is automatic, logical visualization in the service weather.
Let's discuss your project
The latest technological innovations at the service of your business
The AIOps monitoring platforms combine multiple data sources, big data architecture and machine learning, unified interface, to provide a unique experience for users of IT production, and consumers of IT services. ServiceNav's development is part of this revolution and aims to provide its customers with the latest technological innovations, to which it contributes.
For more than 15 years, we have been helping companies with their IT transformation
Our objective: to make the supervision of information systems simple and essential, in all its aspects: deployment, configuration, technical operation, communication to the business lines, information systems management, analytical scenarios.
SME & Key Account Customers
Let's discuss your project
An easy way to get started with ServiceNav
Easy to set up and use thanks to our experts who offer you complete documentation and pre-configured weather forecasts throughout the product cycle. 
Ready to discover
ServiceNav

?