Supervision with ServiceNav in SaaS mode for its catalogue of service models
Supervision with ServiceNav in SaaS mode for its catalogue of service models
Based in Lyon, France, AGUETTANT is a family-owned pharmaceutical laboratory dedicated to the development, manufacturing and marketing of injectable pharmaceutical specialties used or initiated in hospitals. A recognized European player, AGUETTANT puts its expertise at the service of progress and medical innovation to design the therapeutic solutions of tomorrow.
Nicolas Zervo - Head of IS Infrastructure and Security discusses the reasons that led him to choose the ServiceNav monitoring tool and the benefits gained since its deployment.
Laboratoire Aguettant has 4 sites, 200 Vms and a dozen critical applications. The company has chosen the ServiceNav tool to supervise its entire IS, identify and anticipate critical incidents more quickly while improving its communication internally.
A fundamental criterion, is that the catalog of templates offered by Coservit is very extensive.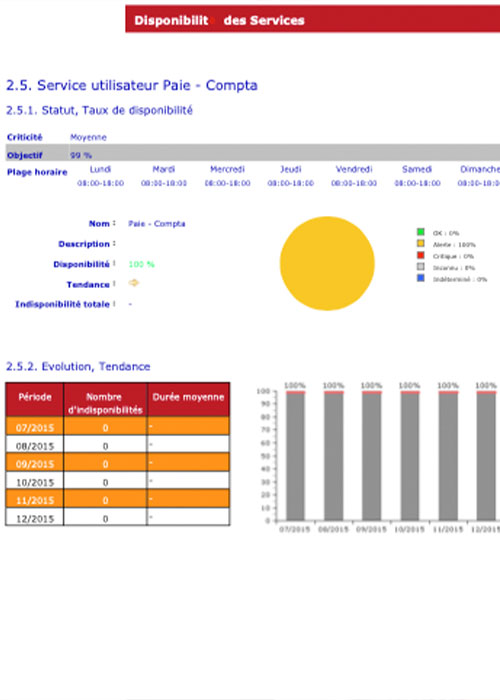 What were your motivations for acquiring a monitoring solution?
We had a very old open source Centreon solution, complicated to update, not easy to administer and which lacked plugins necessary for our daily supervision.
What were your selection criteria?
First of all, we wanted to have flexibility in the On premise and SaaS architecture, with a preference to have a solution in SaaS mode. Coservit perfectly meets this choice criterion with its ServiceNav solution.
More than this fundamental criterion, the catalog of plugins provided by Coservit is very large. We were satisfied with the scope of technologies covered by ServiceNav.
And finally, the provision of information in the form of application service weather forecasts and reporting, which are important to us for our investment orientations.
How did ServiceNav meet your expectations?
My team shortlisted several solutions that could meet the need. After the discovery phase, we shortlisted two solutions: ServiceNav and Centreon pay.
We had further discussions with both publishers and the one that best met our criteria was Servicenav. The commercial relationship also tipped the balance in favour of ServiceNav, the responsiveness of the teams was a key element.
How do you and your teams feel?
We are very happy with the deployment of the solution, my team was quickly operational and trained on the solution which is easy to use.
The capacity planning report is a real added value; we use it to refine and orchestrate our resources.
My team was quickly up and running and trained on the solution which is easy to use.
Deploying a ServiceNav Box
Set up notifications to Microsoft Teams
Configure Exim emailing with Microsoft Office365