Microstore oversees its customers' IT infrastructure and services using Coservit's ServiceNav solution
Microstore: an engineering and IT systems specialist that relies on Coservit to supervise its customers' IT systems
Microstore, member of Horizon Group which brings together companies specialising in engineering and IT systems, is based in Rhône-Alpes and has been assisting companies and local authorities in this region for several decades.
Thanks to the recognized and extensive expertise of its teams, Microstore supports its customers at all levels of their IT service management: audit, IT infrastructure, virtualization, security, outsourcing, organization, hosting. Microstore also offers training courses adapted to the needs of its customers to help them better understand their IT services.
We found the Coservit interface to be more user-friendly and more ergonomic.
For two years now, Microstore has relied on Coservit and its ServiceNav solution to help it supervise and monitor its customers' IT services.
Frédéric Palluy, Technical Director and Antoine Santi, Support Manager at Microstore tell us about their experience with Coservit. Changing a monitoring solution is never an easy step. Coservit was able to meet Microstore's needs and accompany its teams throughout the migration.
Before choosing ServiceNav, Microstore worked with RG System. They go back to the differentiating points that motivated their decision:
-• The ServiceNav interface, more attractive and easier to useThe company is also active in the field of product integration and supervision probes: "We found the Coservit interface more user-friendly and more ergonomic.".
-• The presence and responsiveness of Coservit's teamss, particularly during the POC : "Coservit allowed us to test the solution and accompanied us throughout this period of choice and transition with a tailor-made commercial offer".
-• Smooth migration thanks to the presence and monitoring of Coservit's technical teams : "A migration of about 200 Vms plus active elements without difficulty. Even today, when we do a new deployment at a customer's site, we can count on Coservit's follow-up, it's a real plus for our teams".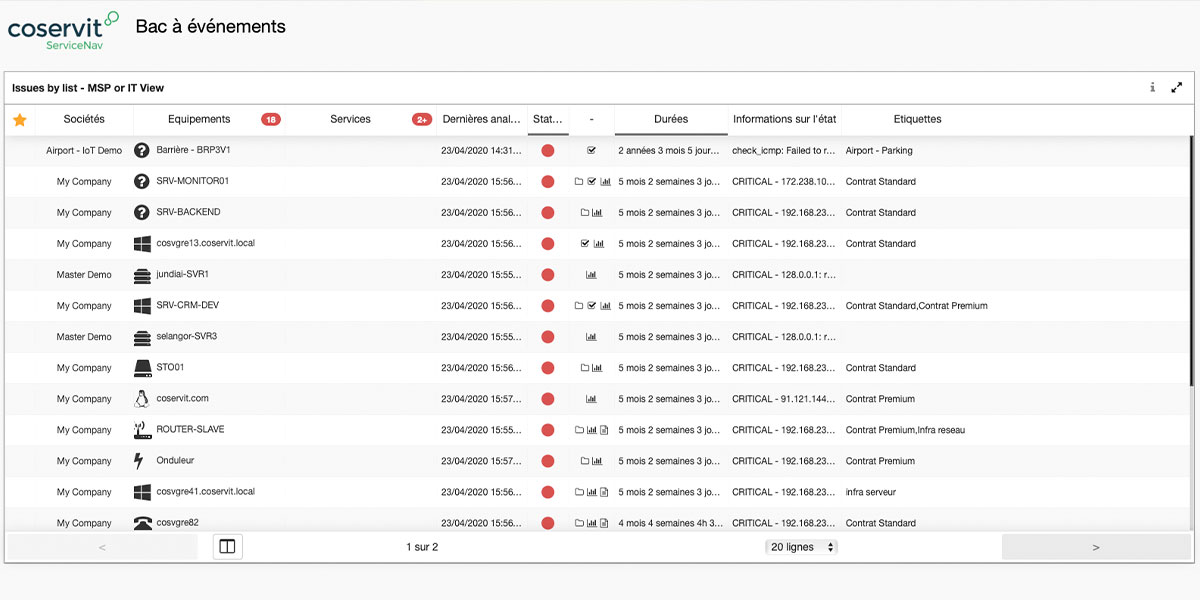 ServiceNav: saving time and reactivity for Microstore
Thanks to the ability to monitor in real time the status of its customers' IT services, Microstore has gained in productivity, responsiveness and therefore customer satisfaction.
« We use ServiceNav on a day-to-day basis to oversee our customers' IT services and infrastructure.
"We used to be on reactive mode. Today we are constantly monitoring, with real-time alerts and adopt a proactive approach. We estimate a time saving of 2 hours per day".
The relationship between Microstore and Coservit
When we ask Frédéric Palluy if he would recommend Coservit, he answers without hesitation: "Of course! We talk among peers and share our experiences. ».
Feedback on the ServiceNav solution has been very positive.
Deploying a ServiceNav Box
Set up notifications to Microsoft Teams
Configure Exim emailing with Microsoft Office365