Hexis chooses Coservit's ServiceNav monitoring solution
Hexis chooses Coservit's ServiceNav monitoring solution
Since its creation in 1989, Hexis has successfully defended its position as the French leader in digital printing and marking media against international competition. Hexis is a major player in the market for the production and adhesion of films for visual communication, customisation and surface protection.
Olivier Couesnon, System and Network Administrator at HexisIn his interview with Coservit, the CEO of ServiceNav, explains why he chose ServiceNav to supervise his company's IT infrastructure and services and talks about his collaboration with Coservit.
With ServiceNav, Hexis was able to optimize the supervision of its infrastructures
"Our need was for server monitoring. We quickly realized that the solution proposed by Coservit would meet our expectations much better.
The RG Systems product focuses heavily on the client workstation part, almost to the detriment of the server and system part. For example, we would not have been able to supervise our storage bays, our backups or the health of the VCenter (number of snapshots, age etc). Service models do not exist at RG, which also influenced our choice. As well as the notion of parent-child relationship. This parameter is essential for us in order not to be flooded with alerts.
As for PRTG, the solution was on the network part and the handling seemed more complicated.
We also wanted to start with an easy-to-use solution. ServiceNav proved to be the easiest to deploy and above all the easiest to maintain and administer. Thanks to its very intuitive interface, we can add equipment in a few clicks, customize it and have well-defined templates. Making the solution live on a daily basis is as important as the implementation. This is a strong and differentiating point that weighed in the choice of the solution."
ServiceNav has been deployed for over 2 years. The Hexis IT team has improved the quality of work and services for all users in the company. Thanks to the customizable alerts, incidents are handled before a blockage occurs. "We needed a solution that would allow us to identify problems quickly. Our users are satisfied because we have reduced the rate of visible failures. User experience measurement is now an indispensable element. As far as the IT department is concerned, we work in a much more serene way, we are no longer in a permanent emergency.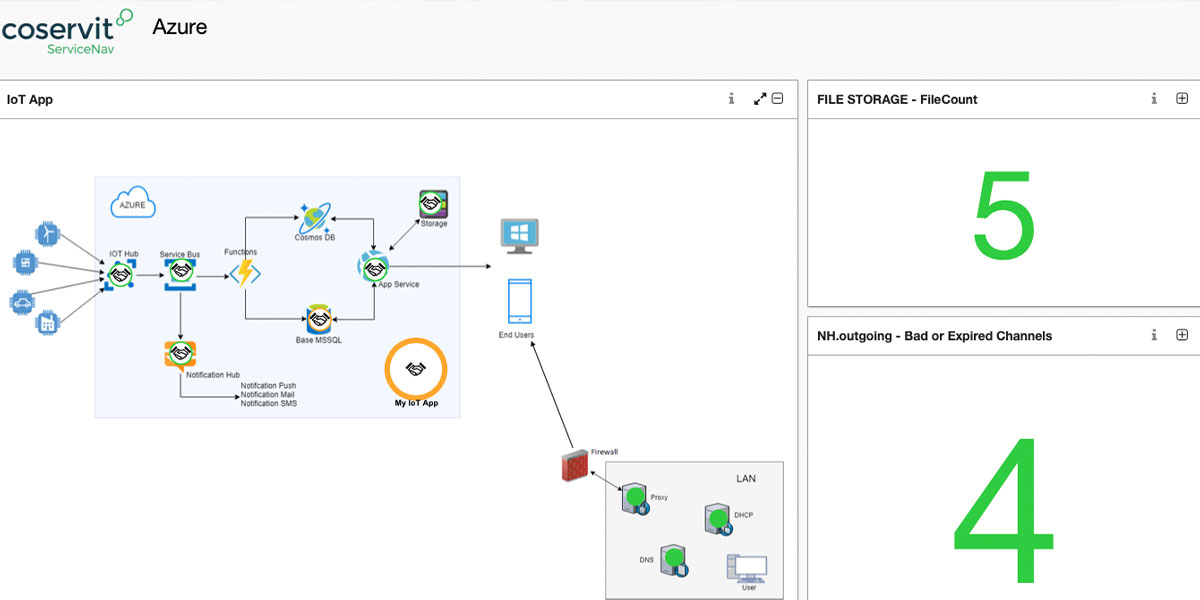 Coservit: a partner that listens to its customers
The other important point for Olivier Couesnon in the choice of his supervision solution was the quality of the commercial and technical relationship with the provider. Thanks to dedicated contacts at Coservit, Hexis is supported on a daily basis, whether it is to upgrade the solution or to meet a training need, for example.
"Our sales contact at Coservit doesn't just sell, we benefit from a real accompaniment and from all her listening. She understood our needs and expectations in terms of price and products. This commercial relationship is highly appreciated internally.
"We have expressed specific requests: new features, new plugins in advance of certain problems, ... The support teams are responsive, we have seen that in some cases we could influence the development of the solution. At Coservit, the customer relationship counts, it's very appreciable".
Today, Hexis supervises 153 pieces of equipment, including about 60 servers, spread over 8 sites in France and Europe.
We are happy with our choice of ServiceNav. The solution evolves with our needs and we hope that it will continue to do so.
Enable two-factor authentication (2FA)
Commissioning of a ServiceNav Box