Iliane is an ESN providing hosting services, expertise and operational excellence for its clients, small and medium-sized businesses and major regional accounts. Iliane was founded 38 years ago and now has 7 agencies in the Greater West and Centre-Val de Loire regions. It has 140 employees who contribute to the achievement of a constantly increasing turnover of more than €41M in 2020.
Iliane specializes in the implementation of hybrid infrastructure, cyber security, and provides its customers with a range of services such as change management, proximity gestures, assistance and telephone support and also in the context of this testimony: supervision.
The support and expertise of the ServiceNav consultants allowed us to put our way of seeing supervision to music. The strong partnership between our 2 companies offers a fair relationship. We are oriented towards a common goal of customer satisfaction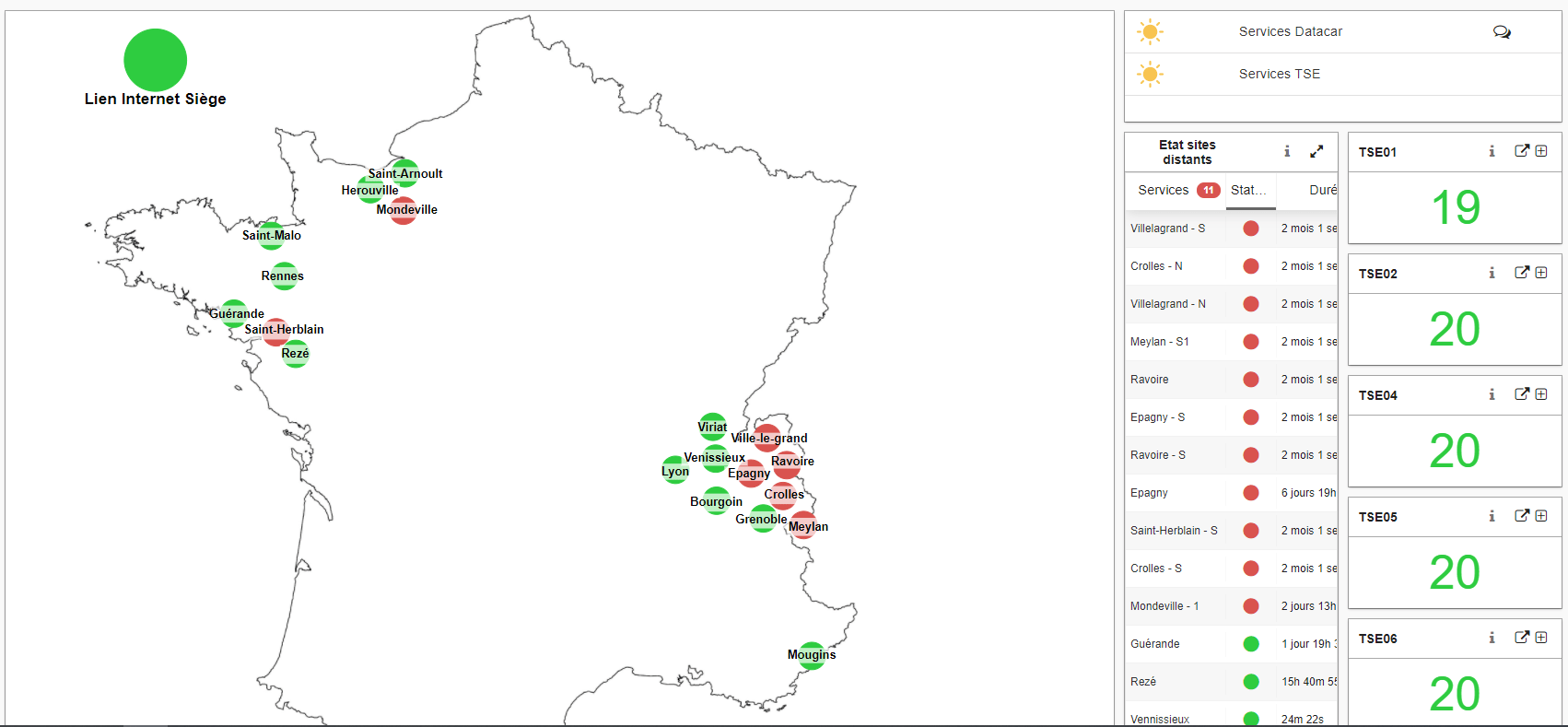 Today, Iliane's services are clearly focused on monitoring the availability of business services and the operation of critical customer applications. The objective is to provide our customers' IT departments with measures of their users' experience.
Martial Babilaëre, Director of Services at Iliane comments: "What made us migrate from ServiceNav OnPremise to SaaS mode, beyond the technical aspects of platform availability [Coservit commits to an availability of 99.75%], is the notion of automation in version upgrades and therefore the availability of new features in real time with real and obviously non-regression tests on existing probes/checks.
As a service provider, we have a duty to ensure continuity of service on the existing system and to offer new features to our customers as quickly as possible."
"All monitoring solutions know how to do technical supervision. ServiceNav has been able to stand out mainly thanks to its application monitoring, business-oriented and its vision of the future:
Service weather: is the measurement of the quality of services of their IT. Once the measurement is done, our Technical Account Manager (SDM) consultants analyze the reports to propose progress plans within the framework of the continuous improvement of the services in order to increase the availability of the "Business Services" and thus to increase the satisfaction of the users of the IS;
Big Data architecture: using a SaaS service, it is reassuring for Iliane to know that the platform is scalable, using new technologies;
AIOps: False positives are a black spot in every monitoring solution. The Coservit approach with automatic threshold adjustment helps us to reduce false positives by 60%. The time saved allows us to focus on business oriented monitoring with added value;
In addition, the "forecast" functionality of the alerts is very promising, we are looking forward to it in order to be able to take our capacity of predictability and anticipation of the incidents of our customers' IS and our hosted services up a notch", says Julie Moreau (Head of User Support and Supervision).
Estelle (Supervision Technician) adds that "Coservit's support throughout the SaaS migration was perfectly successful and completely transparent for our customers, but also in the day-to-day monitoring during the RUN phase. The ServiceNav consultant dedicated to the follow-up of Iliane is very reactive, he is a force of proposal on each Steering Committee and listens as soon as a difficulty appears.
This expertise provided by Coservit has been a key success factor in the migration project and in the day-to-day production. It is also a confirmation of the partnership relationship that has been in place for over 8 years."
"The ServiceNav reports are used to complement the service weather report which is very present in our offers. The reports are sent and commented on through the Technical Account Manager at Iliane during the Steering Committees."
"The import functionality as well as the very exhaustive plugin templates are useful for saving time in the implementation of technical supervision. Our goal is to provide our customers with a personalized supervision, in line with their digital strategies."
"Thanks to the Dataviz dashboard functionality that can be customized at will and shared in real time via a simple URL, Iliane creates innovative dashboards that are appreciated both internally by production teams and also by customers."
Our objective is to have a long-lasting editor partner who meets the challenges of today's and tomorrow's supervision, such as AIOps, the "Business Processes" orientation of our customers and also the ability to measure user feedback. ServiceNav meets these expectations.
Enable two-factor authentication (2FA)
Commissioning of a ServiceNav Box