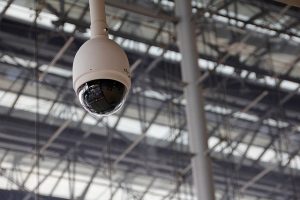 La vidéo-surveillance existe depuis plusieurs années et son empreinte dans notre quotidien ne cesse d'augmenter. Que ce soit à des fins de surveillance des biens ou des personnes, au suivi de la circulation sur les axes routiers, ou au sommet des pistes pour les sites internet des stations, le bon fonctionnement des caméras est indispensable. Outre le fait d'être allumées et sur le réseau, il est nécessaire que l'ensemble de la chaîne de traitement de l'image soit fonctionnelle. Rien de pire qu'une caméra qui fonctionne, filme une agression qui ne pourrait pas être enregistrée sur un disque dur faute d'espace disponible.
ServiceNav au service de la supervision de la vidéo-surveillance
Dans la mise en place d'un système de vidéo-surveillance, la supervision primordiale est bien sûr la supervision de la caméra en elle-même : Est-elle allumée et connectée au réseau ?
Bien entendu, ceci n'est pas suffisant pour s'assurer que le chaîne complète soit fonctionnelle. L'IoT ne s'arrête pas à l'élément final mais c'est bien toute la chaîne qui doit être supervisée.
Dans le cas de la vidéo-surveillance, il faut aussi superviser :
– Le réseau entre la caméra et les serveurs,
– La disponibilité des serveurs,
– L'espace disque,
– Les processus d'enregistrement sur les serveurs,
– ….
Dans certains cas, et selon le matériel IoT, il sera possible via les plugins génériques accédant à SNMP de remonter un certain nombre d'informations complémentaires. Dans notre cas l'obstruction de la caméra, une détection de mouvement, la température proche de la caméra, …
La météo de services et la MAP pour mettre en image votre supervision
Surveillance, the réception d'alertes ou encore l'affichage d'une liste d'incidents est un basique des solutions de supervision. Toutefois la présentation visuelle est une nécessité pour communiquer facilement vers les utilisateurs finaux (DSI, Clients) mais aussi vers les techniciens qui vont intervenir sur les objets connectés.
La mise en image est donc primordiale pour illustrer une solution de supervision, des simples listes ne suffisent plus et des modules de cartographie sont indispensables à toute solution de supervision.
In ServiceNav, the MAP module est au cœurs des tableaux de bord et de la communication en temps réel des statuts avec des cartographies faciles et rapides à créer.
Le cas d'un hall d'aéroport
Après avoir travaillé sur la disponibilité des entrées et sorties de parking, nous avons travaillé sur la supervision des caméras de vidéo-surveillance d'un hall d'embarquement d'un aéroport :
– Mise en supervision des caméras (Est-ce que la caméra est bien allumée ?)
– Mise en supervision de chacun des fichiers sur les disques (Est-ce que mon fichier s'écrit bien ?)
– Mise en supervision des serveurs de stockage et d'enregistrement (Est-ce que mes processus de traitement tournent bien ? Est-ce qu'il me reste de l'espace de stockage suffisant ?)
– Mise en supervision de tous mes éléments réseau.
Une fois tous les éléments mis en supervision, nous avons pu créer les Services Utilisateurs nécessaire puis la cartographie grâce au module MAP.
Nous avons suivi la même méthode que celle présentée lors de notre webinar sur le cas du parking de l'aéroport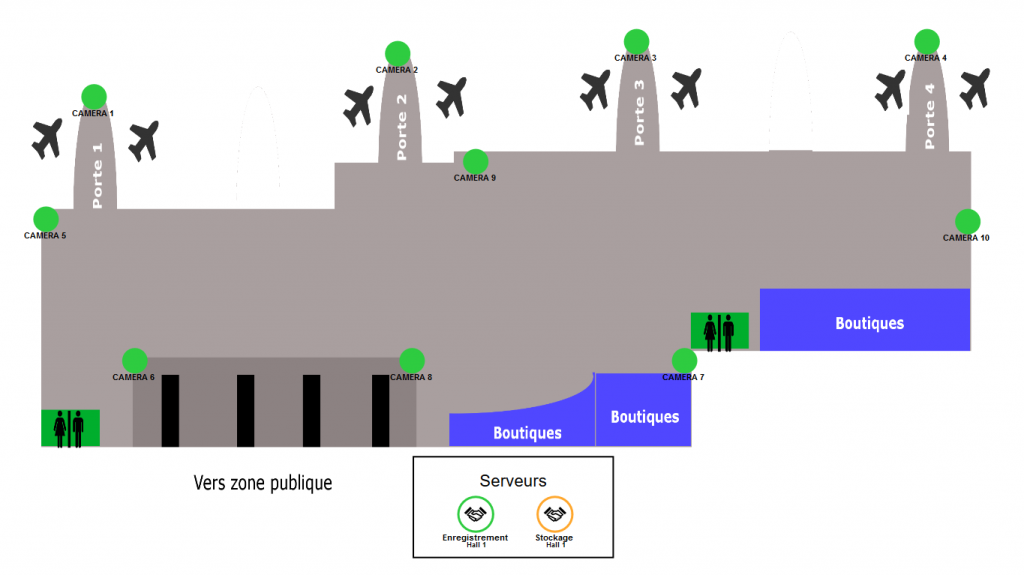 Nous avons pu mettre à disposition des utilisateurs une cartographie du hall de l'aéroport avec toutes les caméras de façon très simple et rapide.
In conclusion
L'IoT est partout, sa supervision est indispensable et la chaîne complète est souvent complexe.
Un module de cartographie est indispensable pour communiquer en interne et en externe. Orientée technique ou fonctionnelle, une représentation graphique est un des meilleurs moyens d'aide au diagnostic et à l'intervention rapide. Son implémentation dans un outil de supervision tel que ServiceNav est donc une évidence.