Collection & Configuration
of your ServiceNav monitoring tool
Collect without limits. Configure effortlessly. Start monitoring in 15 minutes.
ServiceNav adapts to your technical and business needs, and helps you achieve more.
Your monitoring tool must help keep complex, continually evolving, environments in top operational health. Unlike some tools, ServiceNav is completely scalable; a single (SaaS) platform that can monitor tens of thousands of servers. This allows you to keep control of even the largest environments without having to segment your management efforts across multiple tools. Each platform release increases your catalogue of services, giving you even more data to collect.
A ready-to-use catalogue of + de
1500 service models
Ever-increasing service models to give you visibility into your infrastructure, no matter how complex it is, with a single tool.
The supervision catalogue defines the perimeter of the information system elements that can be supervised. The supervision catalogue is shared and is permanently enriched with new features.
Conventional technologies : Network, storage, servers, OS
Software applications : databases, applications, middleware
Cloud technologies IaaS/PaaS, Microsoft Azure AWS, ...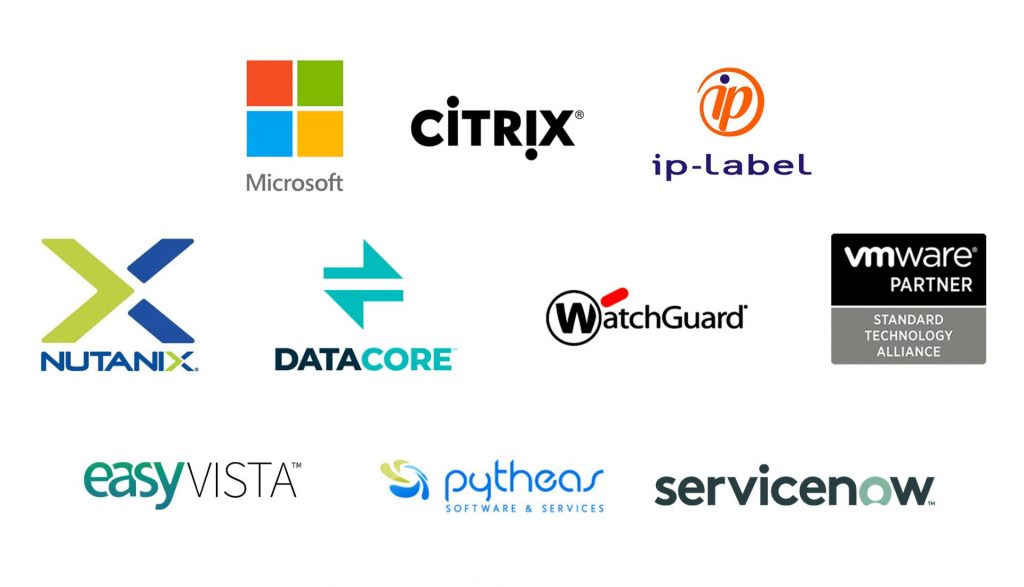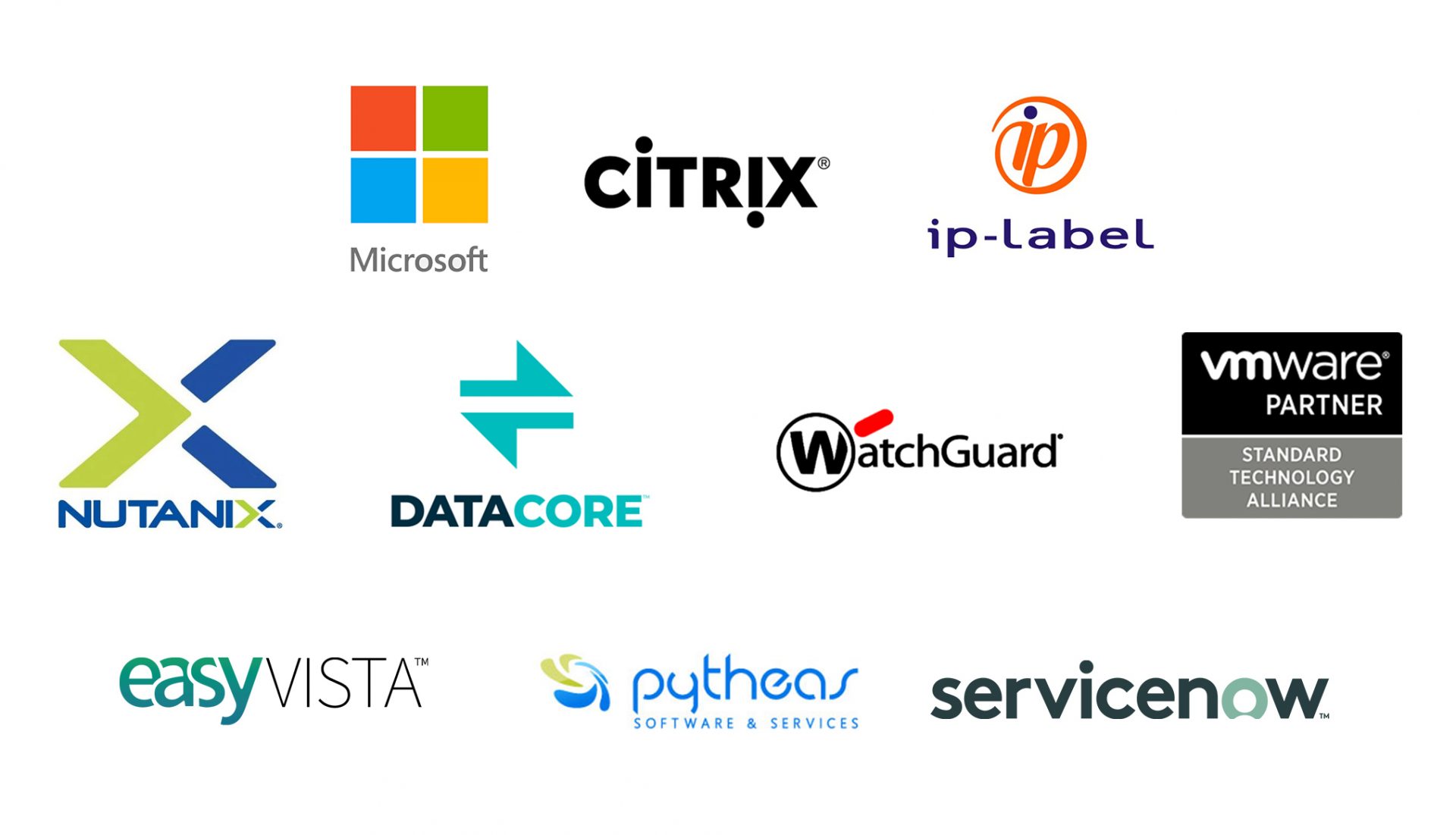 Since the creation of ServiceNav, innovation and partnerships have always been at the heart of our development strategy.
Our catalogue covers the most important technology partners in the IT world. The acceleration of solutions pushes us to offer new data collection possibilities with each update.
The possibilities of scalability and openness are almost infinite thanks to the generosity of models and technological partnerships.
ServiceNav,
extending

collection capability
You have your own Nagios-compatible collection programs? Keep your developments: without a single line of code, you can integrate them into the ServiceNav platform.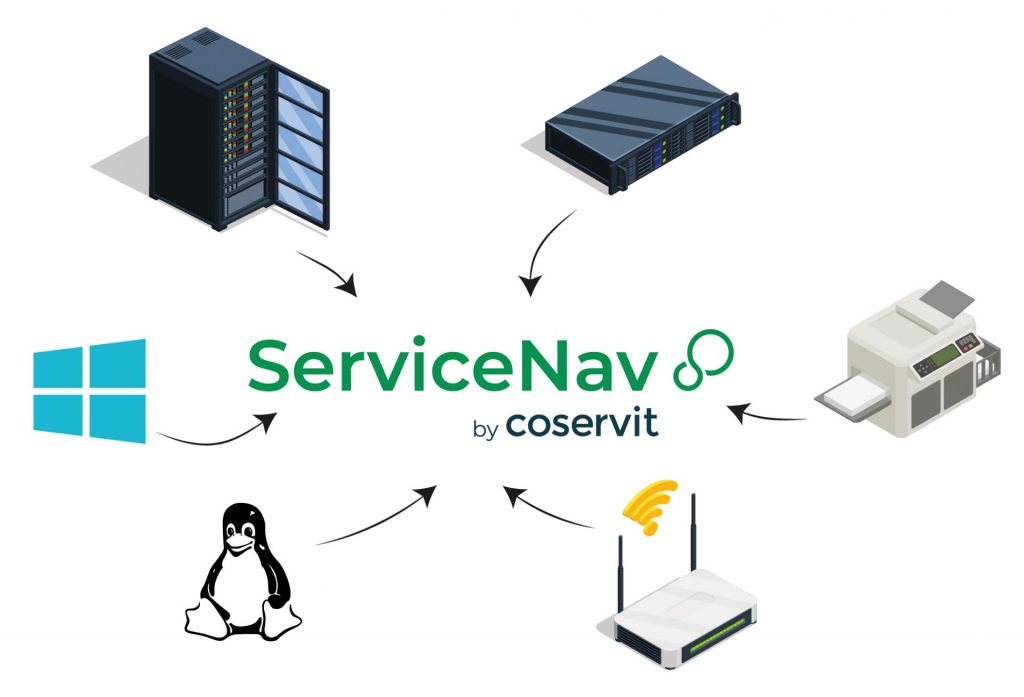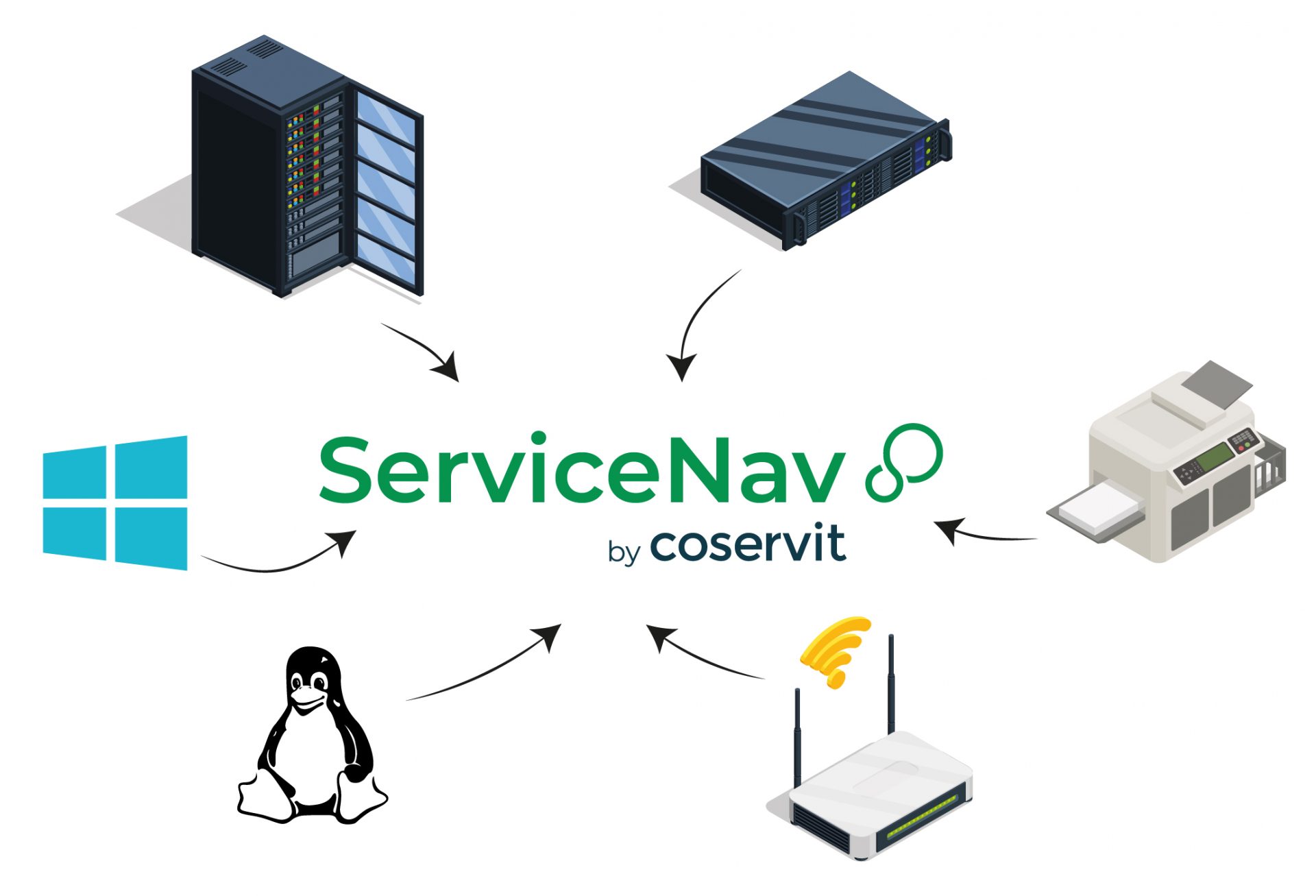 Discovery of IT elements

simplified
Automatic discovery of IT components and deployment of specific ServiceNav templates.
Agentless" collection, via API reading and hardware and software feedback,

 

with no impact on the supervised resources, flexible and secure, as close as possible to the supervised objects.
Easy mass creation migration by integrating data files in standard formats.
Keep configuration
'up-to-date'

with the ServiceNav API
Creation of virtual machines on the fly, DevOps culture, computer containerization ... you operate in a highly dynamic context?
With the ServiceNav API Web Services, you can meet the crucial challenge of always up-to-date supervision: creation, modification and deletion of components, automation of maintenance. With the help of our consultants and partners, benefit from production feedback and save time!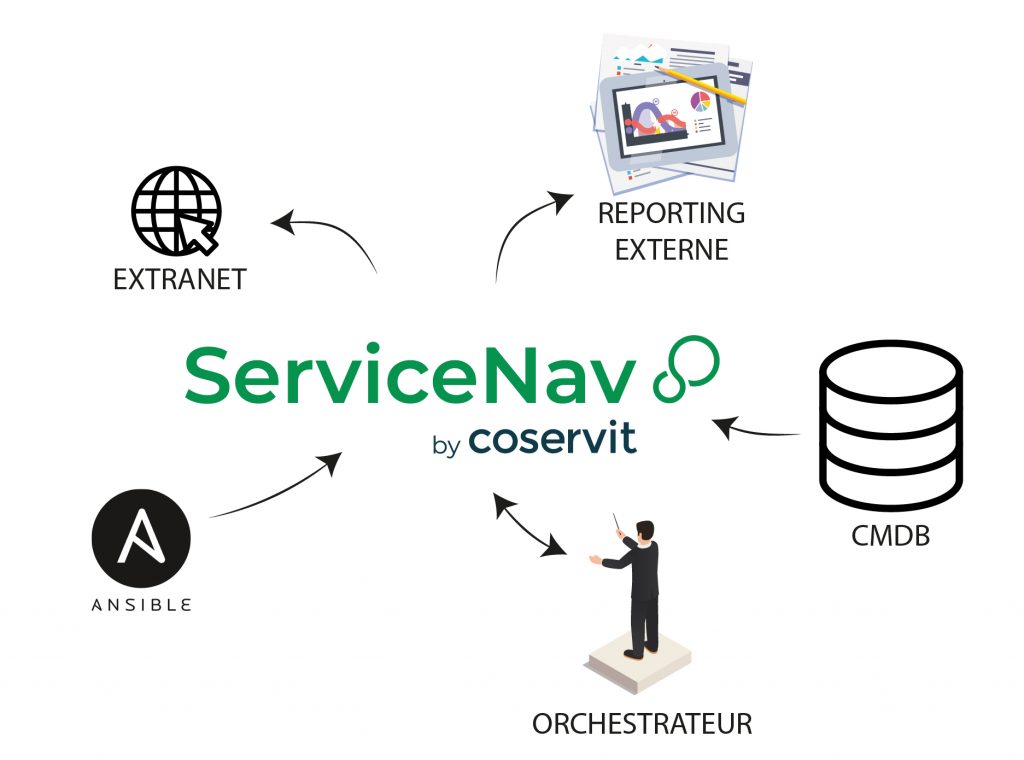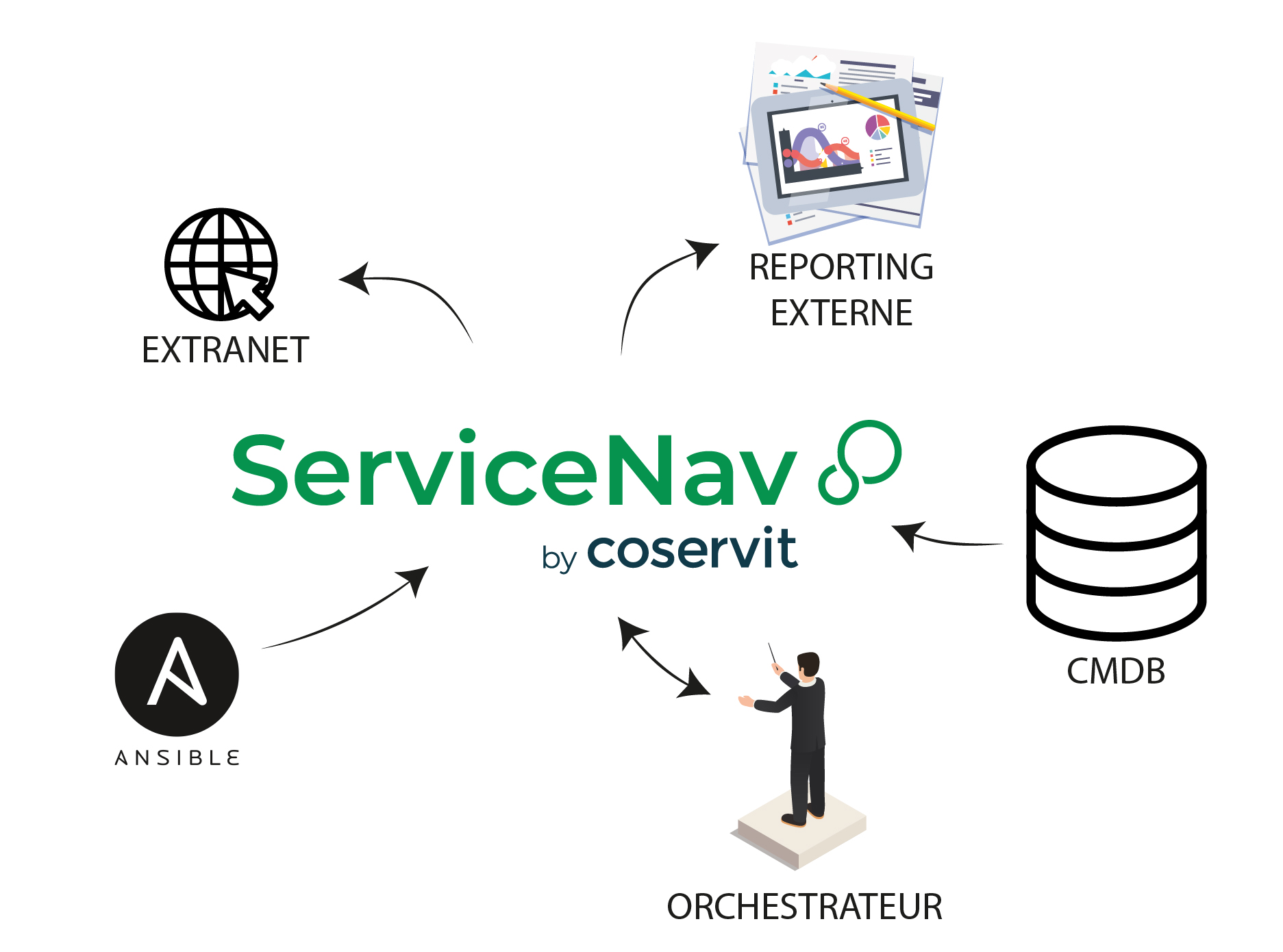 Deploying a ServiceNav Box
Set up notifications to Microsoft Teams
Configure Exim emailing with Microsoft Office365
Global-Api-Value & Global-Api-Status
Configure IBM AS/400 monitoring requirements
sFlow: Prerequisites and configuration
Ensuring and maintaining the availability of ServiceNav Boxes
Using the Global-Plugin-Execution service template
Preparing for ServiceNav Box DR
Integrate a Datametrie (IP-Label) scenario into ServiceNav
How to monitor an Azure environment
Amazon Web Service Monitoring
AWS rights needed for monitoring
Configuring a ServiceNav Box to use a mail server with authentication
Configuring a ServiceNav Box to receive traps
How to use our NetworkAnalysis-NetFlow service template
Create a Trap definition file
NetFlow: Pre-requisites and configuration
1 - Prerequisites Azure and Office 365 plugins
Using generic PowerShell - GLOBAL-PS-Values models
Exchange 2013: monitoring best practices
Replacing an Ubuntu12.04 with a ServiceNav 4.0 Ubuntu16.04 Box
Configuring NetFlow devices
Monitor Azure metrics via APIs
Office365-Generic : monitoring your Office 365 subscription via APIs
Configuring Veeam job monitoring
Configuring WinRM to access a Windows host
How to use our NetworkAnalysis-sFlow service model
Monitoring your network - Best practices
Configuring SNMP on Novell SuSE Linux Enterprise Server (SLES) 11
Using the generic service model GLOBAL-SNMP-OID
Creating a service template from the generic plugin check_snmp_operation
Importing a ServiceNav Box into Microsoft Azure
Importing a ServiceNav Box into Amazon Web Services - AWS
Citrix 7.x Best Practices
How to monitor an Oracle database from a Ubuntu 16.04 ServiceNav Box?
Adapting templates: creating a unitary service model
Configuring SNMPv3 on Ubuntu 12.04
How Nagios thresholds work
Configuring SNMPv1 on IBM AIX
Monitoring a storwize array
Monitoring Lotus Notes / Domino servers
Create companies and sites
Define notification policy for services
Monitoring a Citrix server
Monitoring Datacore SANsymphony-V
Configuring notification contacts
Deploying a ServiceNav Box
Deploying monitoring with a ServiceNav Box
Multi-site and multi-client configuration: inheritance and visibility rules
Replacing a ServiceNav Box
Define the notification policy for hosts
Increase the disk space of a ServiceNav Box
Manually add ServiceNav hosts
Manually add a ServiceNav service
Setting up authentication on an LDAP directory
Configuration of monitoring accounts
Monitoring an Apache server
How to configure SNMP on an AS/400?
Monitoring configuration requirements for Windows devices
Configuring SNMP on an Alcatel switch
Creating a VMware User for Monitoring
How do I configure the SNMP for a UCOPIA WiFi controller?
How to monitor an Oracle database?
Set up a ServiceNav Box in SAAS mode
ServiceNav Agent installation
Understanding ServiceNav concepts
Configuring Inventory Function
Configuring MS SQL Server database monitoring
Linux Configuration Pre-requisites
Monitor Azure metrics via APIs
Ready to discover
ServiceNav

?