What is the benefit of modeling your VMware infrastructure with the ServiceNav monitoring tool?
Using a service weather for VMWare
Using ServiceNav's "Service Weather" feature will allow you to graphically model your VMWare virtualized environment.
This will allow you to retrieve availability metrics and graphically analyze root causes in case of problems.
In order to realize this service weather, it is necessary to first put the equipment and services of the VMware hypervisor in supervision (see "Services Weather"): https://coservit.com/servicenav/fr/documentation/comment-superviser-vmware/)
In a VMware infrastructure there is usually an ESX server farm, datastores and a VCenter that provides a centralized view of its architecture.
In order to model this weather as well as possible, the following elements must be supervised:
Supervision of DataStores
From your VCenter, add the model VMware-Datacenter-Host-HardwareHealth.

Aq: If you have several Datastores, you have to instantiate this model several times.
Supervision of an ESX farm
For each ESX server it is advisable to supervise the following: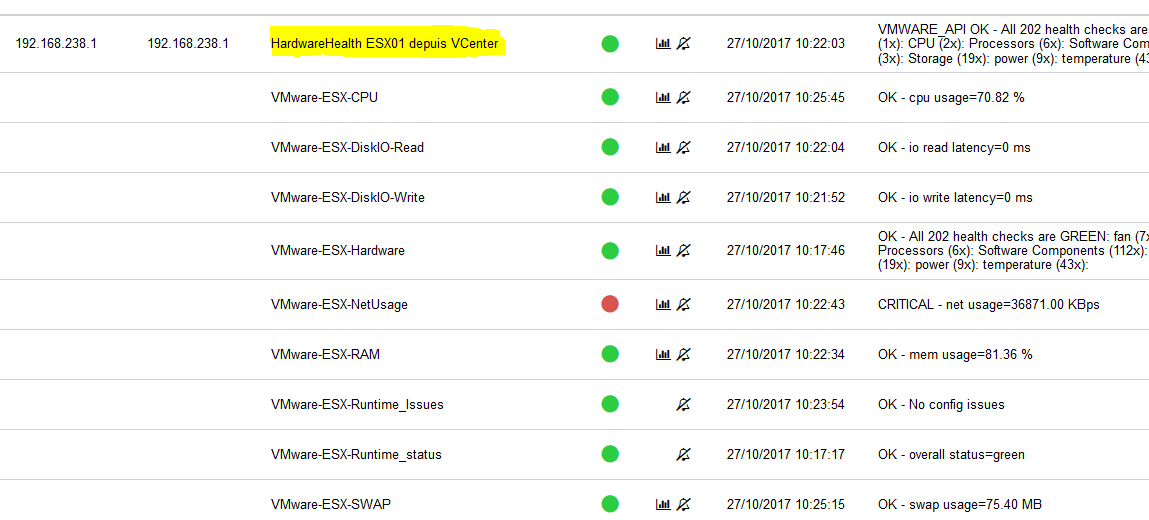 To check the health status of your ESX servers it is recommended to use the following 2 models:
-• VMware-Datacenter-Host-HardwareHealth This checkpoint allows the health status to be obtained directly from the VCenter with a better refresh rate than querying the ESX directly.
-• VMware-ESX-Hardware Directly to the ESX in case the VCenter does not work.
Aq: You can also use other control points available in our catalogue if you wish. (cf https://coservit.com/servicenav/fr/documentation/servicenav-catalogue-plugins-mode-box/#Virtualisation_VMWARE)
Supervision of the VCenter
- Ping of equipment
- If the VCenter is a Windows VM then you need to monitor the OS of this VM (virtual machine or virtual machine) and test the http access to the VCenter console.
- If it is a VMware appliance, simply test the different ports used to connect to the VCenter console.
Example of service weather :

Here we see the root cause of a hardware failure of the ESX2Request a demonstration of the ServiceNav software