Monitoring a Job Veeam is a multi-stage process:
- Configure access to the Veeam database from the ServiceNavBox
- Monitor the job
Database monitoring
The following procedure should be thoroughly undertaken: Configuring the supervision of an MS SQL Server database
In particular, edit the /etc/freetds.conf file correctly;
To do this, connect to the SNB using Putty.
Once on the box, switch to the root account with the command :
sudo su -
Start editing the file
nano /etc/freetds.conf
Add at the bottom of the file a stanza with connection information for the database server
[VEEAM]
    host = @IP of the Veeam server
    port = TCP/IP port of the SQL instance on the SQL server (usually 1433)
    instance = name of the SQL instance on the SQL server
    tds version = 8.0

Exit the file by doing ctrl + X , enter O and enter
Test the connection by issuing the following command:
telnet @IP of the Veeam server port of the instance (ex: telnet 192.168.10.22 1433)
If the connection fails, check your network configuration and/or firewall and/or windows firewall.
Job monitoring
We recommend using the Veeam-Job-Status service template
It should be configured like this: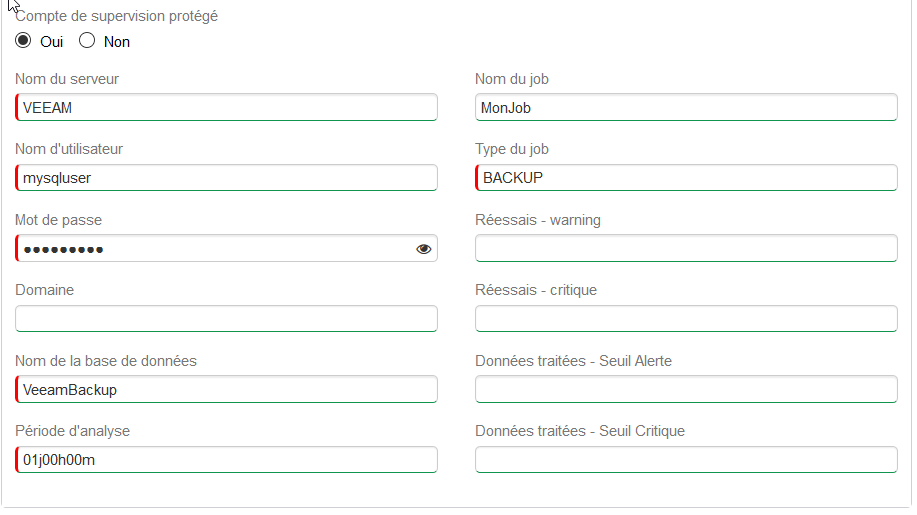 Server Name: Value entered between [ ] in the freetds.conf file.
Monitoring account: Fill in the MSSQL account or use an inherited account
Database name: Specify the name of the database (different from the name of the SQL instance). It is commonly "VeeamBackup"
Specify the analysis period: If the job runs daily specify 01d00h00m
Job Name: Consult the Veeam platform
Backup type: Set the type, among those mentioned in the context-sensitive help (from version 4.1 of ServiceNav, this field is no longer mandatory).