IMPORTANT :
The Dataviz functionality requires ServiceNav to operate in "Big Data" flow.
This feed is currently only activated on the SaaS platform, and is gradually being made available for dedicated platforms over time.
Since version 4.1, the Dataviz functionality replaces the dashboard carousel. The Dashboard menu item now contains two entries: "Classic" and "Dataviz".
Prerequisites rights, concerned profiles
The creation and modification of TdB "Dataviz" is subject to a ServiceNav historical right: "Manage dashboards", which also controls the access to the menu Configuration > Reporting.
Not all profiles are therefore suitable for modifying a "Dataviz" dashboard, in order to allow a thoughtful construction of the screens and their distribution to a technical team, for example.
RUN and EDIT modes
The " Dataviz " dashboards can be used through two views, or modes: RUN and EDIT.
The RUN mode corresponds to the "operation" use, for consultation purposes, in modifying the content or configuration associated with the Dashboard.
The EDIT mode is the one proposed when creating or modifying a dashboard, either its structure (naming, deleting) or its content (widgets: configuration, number and positioning).
Menu access and creation
When accessing the Dataviz tab, if no dashboard exists, the creation is proposed: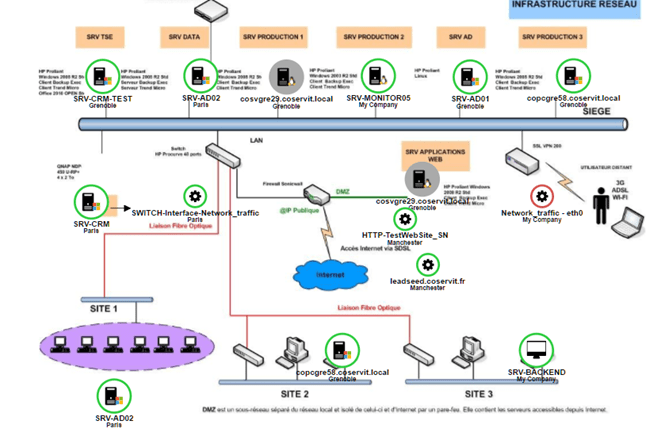 If at least one dashboard has already been created, this button is accessible at the top of the dashboard list, in RUN mode.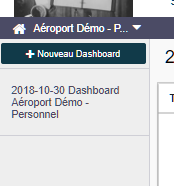 This button is not available when a dashboard is being edited.
A click on the button allows you to fill in the title and the level of visibility dashboard.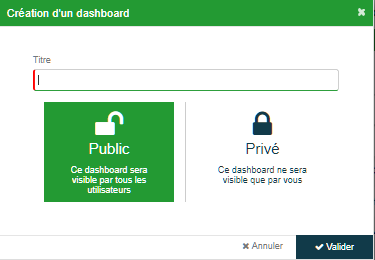 A dashboard public will be visible to all users in the perimeter and will only include public widgets. A dashboard private will only be visible to the creator user, and will be able to integrate private widgets, defined in the Configuration > Reporting tab.
A private dashboard is represented by the icon


Once the title and visibility are validated, a new dashboard is instantiated, empty, in EDIT mode.
Dataviz - Create and configure a dashboard | ServiceNav
A "Dataviz" dashboard can be renamed at any time, and has the default name :
Dashboard
It can be modified, in EDIT mode, by simply clicking on

to the left of the title.
The title of a dashboard cannot be empty.
Action buttons
A dashboard can be set as "default". 

 or favorite

which will put him at the top of the dashboard list.
It is also possible to duplicate a dashboard, by clicking on 

in which case entry of the new name will be requested.
Widget Library
The modularity of the Dataviz dashboard is based on its library of widgets, and on the high level of customization that this provides.
The library is enriched during the releases, so new widgets will appear very soon.
A page is dedicated to the detailed listing of these widgets : Dataviz: Widget Library

Adding widgets
Adding a widget is done by clicking and dragging on the canvas area :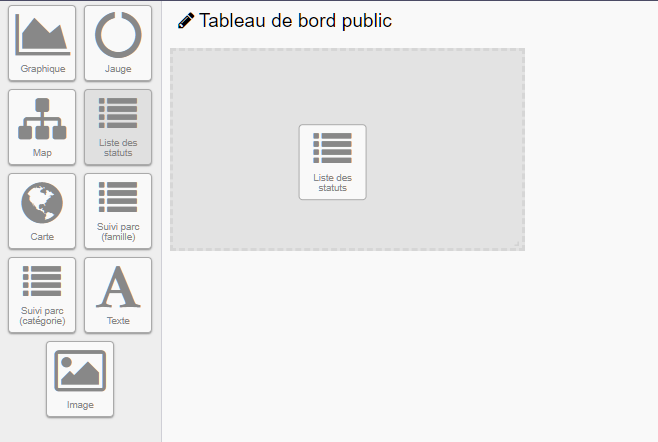 When adding a widget, a widget configuration window appears. This window differs depending on the widget added.
For example for a "Graphics" widget, which presents metrics in a similar way to the Detail sheet of an equipment/service:

Once the configuration is validated, the widget is displayed on the dashboard and several actions are possible, depending on the widget used. Here are the actions common to all widgets :