The Netflow service template allows you to monitor the flow generated by an application, source IP or destination IP and generate alerts if defined thresholds are exceeded. They also report data and performance graphs in the same way as other service templates.
Service template use cases and best practice
This service template has been designed to meet specific needs. It requires various fields to be completed to target bandwidth consumption
Ideally, each deployed service should meet a particular need, such as measuring throughput generated by the e-mail service. In this case, the user will complete the various fields required for this measurement (destination IP of the mail server, SMTP port 25...).
Configuring the NetworkAnalysis-NetFlow Service Template
Best practice dictates that the service template  NetworkAnalysis-NetFlow be deployed against the NetFlow Exporter (the switch or router that exports the NetFlow data) but you can also link it to any other host or an "always up" system if required.
After deploying the service NetworkAnalysis-NetFlowyou need to configure the service according to your analysis requirements.
The following mandatory fields must be completed:
Collector Storage: Address of the Collector Storage
Allocated bandwidth: Value based on selected unit
Unit: Output unit: kbps, Mbps, Gbps
Warning threshold: Warning threshold in %
Critical threshold: Critical threshold in %
Directory name: Path to the directory containing the exports linked to an interface
No data status: Status to show in case of no information, e.g. 0 for OK.
Other fields to be filled in according to the target flow to be monitored.
Example of a configuration targeting the throughput generated by a mail server :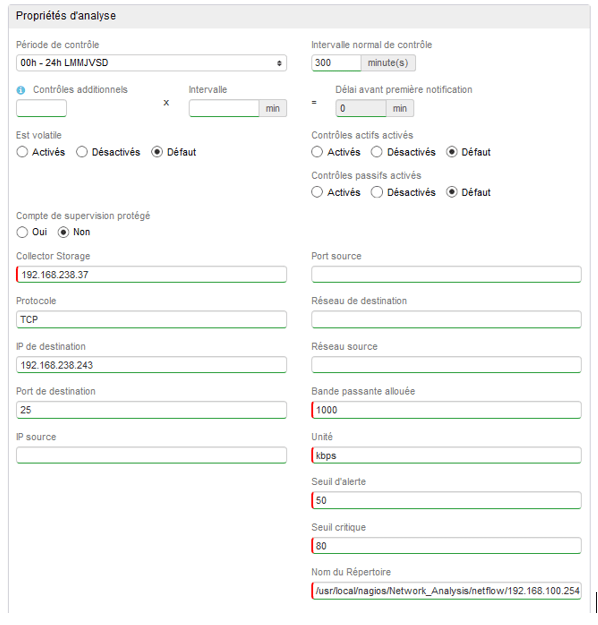 The service will provide you with the following information:
A status relative to the thresholds set
The flow rate generated in the selected unit
Performance data
Usage metrics in both absolute values and percentages

Absolute value metric: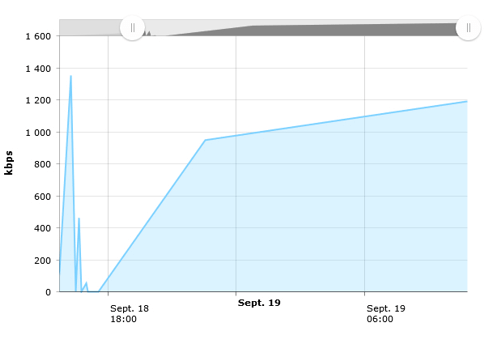 Percent usage metric: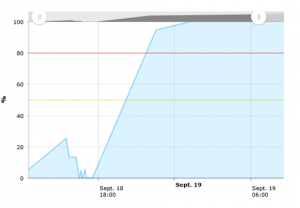 If no data is displayed, please refer to the documentation. https://servicenav.coservit.com/en/documentations/netflow-prerequisites-and-configuration/
Check and Debug section
Dashboard configuration
After deploying as many NetworkAnalysis-NetFlow services as flows to monitor, you can create one or more dashboards to show bandwidth usage by business and be alerted according to set thresholds.

Here's a dashboard example: