Integration goals
Creation and synchronisation of tickets from monitoring
Supported versions
GLPI version 9.1
GLPI version 9.1.1
GLPI version 9.1.2
GLPI version 9.1.6
Integration - mapping
The first column of the table defines the field of the material in the Coservit inventory
The second column of the table defines the field of the material in GLPI
ServiceNav - Inventory
GLPI

Title

Computer > Name

Contract > Name (1)

Material > Type

Computer > Type

Equipment > Builder

Computer > Manufacturer

Hardware > Serial number

Computer > Serial number

Software > Operating system

Operating System > Name

Software > License

Operating System > Product ID

Date of import

Contract > Start date (1)

Fleet > Service Contract > End of Service Date

Contract > Initial contract term (Calculation) (1)
(1) If the contract is created at the sync. I.e. if a contract is not selected.
Pre-requisites
GLPI
In the GLPI menu , Configuration > General > API An API a token must be generated and the option "Activate the connection with identifiers" must be activated.
It is also necessary to have a GLPI login and password from a super-admin profile user.

Allow access from the IP address of the ServiceNav Platform (SNP) server.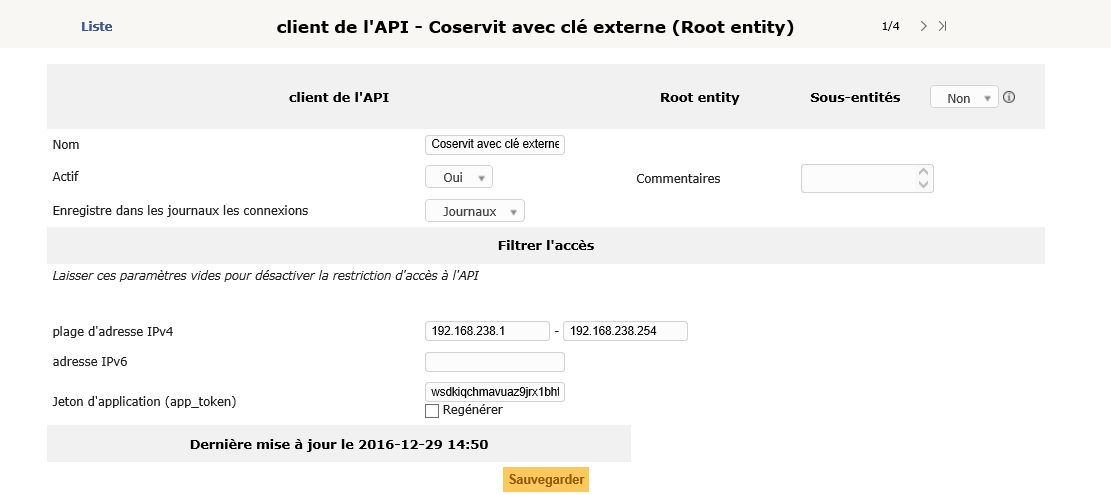 Create a sub-entity under Root Entity