1. Adding hosts
To add a host, go to Configuration and then Hosts > List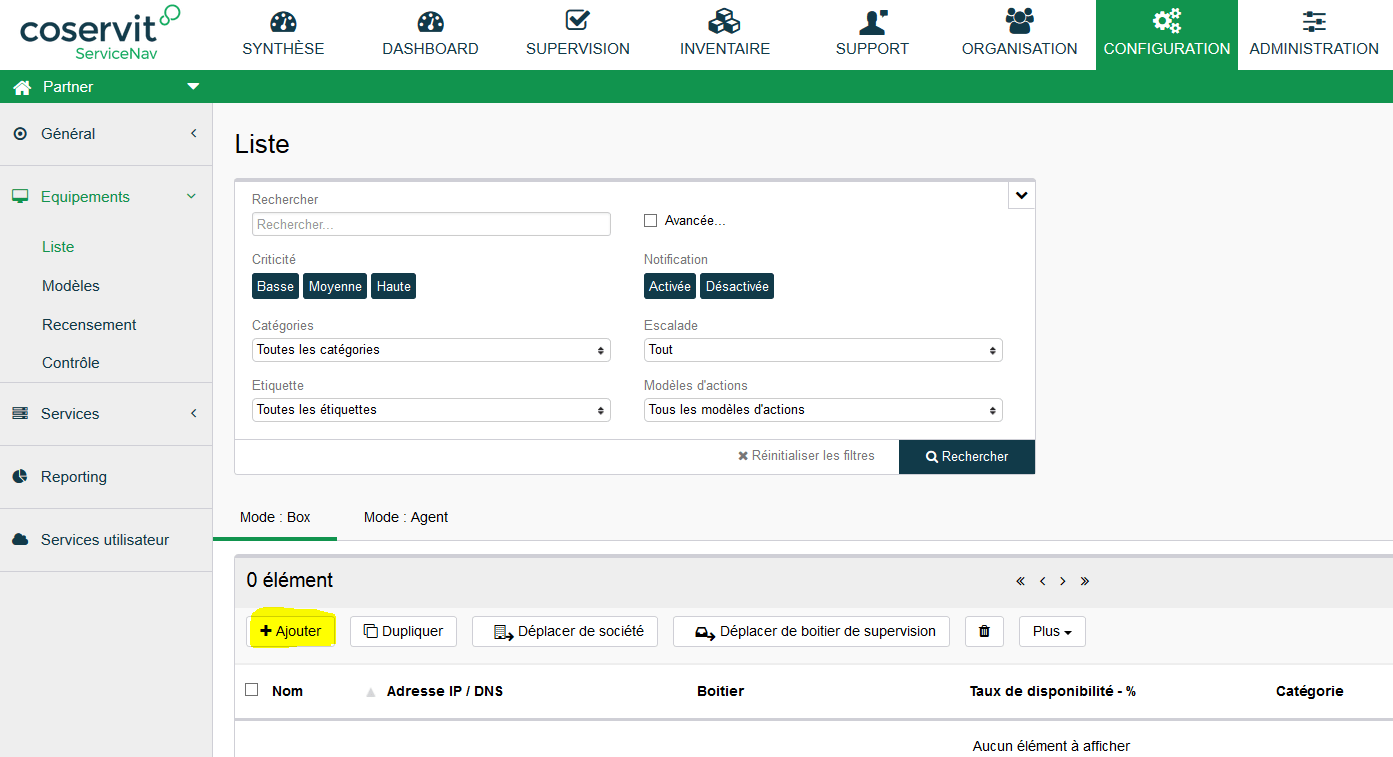 Click on " + Add  ": a configuration window opens.
Fill in the general information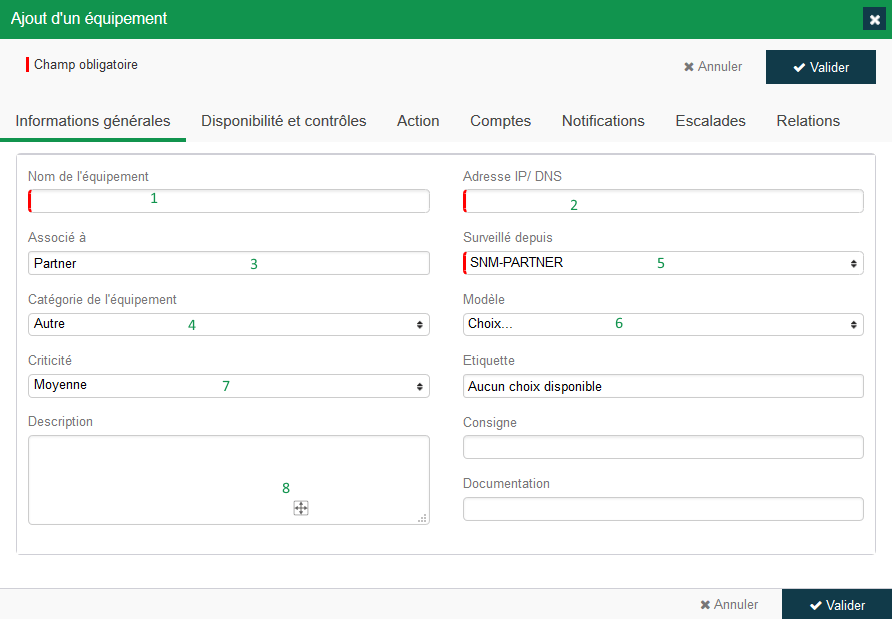 1) Enter the name of the host you wish to add to monitoring
2) Enter your IP address or DNS name
3) Modify if necessary the site membership
4) Modify if necessary the host category
5) Select the SNB to use for monitoring
6) Add Host templates as required
7) Set its criticality within the information system
8) Describe the function of this host within the overall information system
Click on Availability and checks .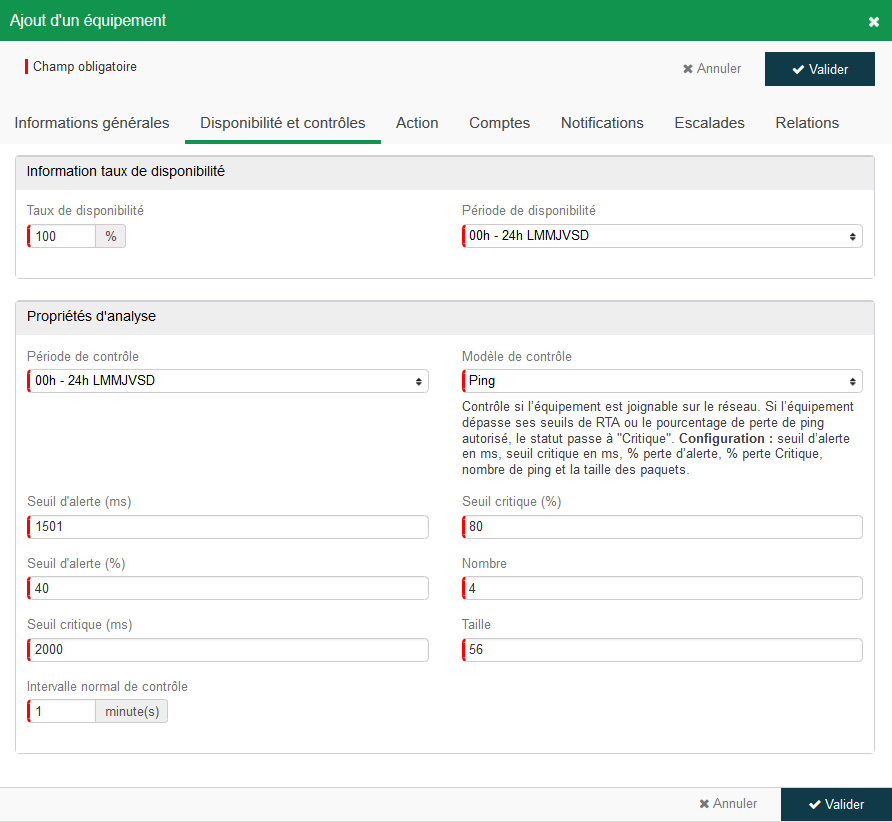 Set the desired availability rate target (based on a time slot)
Choose the time slot over which the availability rate will be calculated.
Choose the time slot during which monitoring using the service will take place. Caution: it must be identical to or cover the entire time slot defined for the calculation of the availability rate.
Define the time interval between two successive checks
Click on Relations .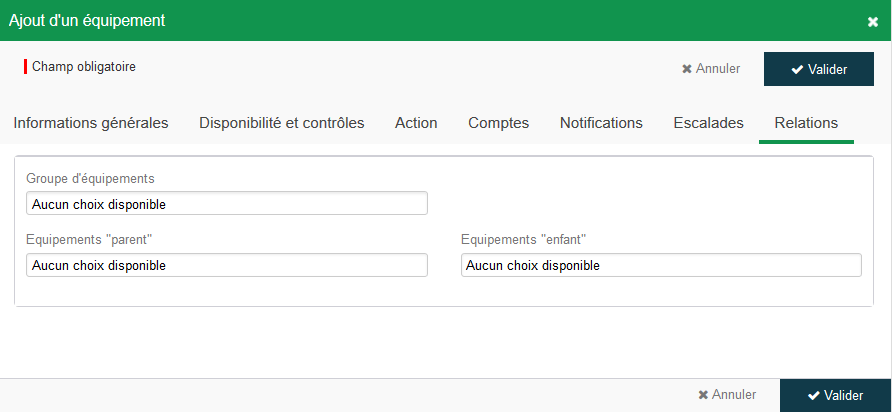 Choose the host group it is part of, if required. (Not functional in this version)
Define its parent hosts according to the network path that the SNB uses if possible.
Choose child hosts if appropriate
Apply to create the host
Once the relationship is in place, it works like this:
If a relationship is defined, when the parent hostis in CRITICAL status, then the child host(s) is in UNKNOWN status.
Ex: VM that depends on an ESX.
Use case: we monitor a remote site that does not have a SNB. If the site's router does not respond to the ping, then the central SNB will not attempt to query the site's hosts, because a parent/child relationship will have been defined between hosts and router.
NB: After adding a host, check that you do not need to make specific configurations for its services (see the step: "Specific configuration of services" in the documentation: "Deploying monitoring with a ServiceNav Box").