Configuration
Pre-requisites
you need to configure your environments NetFlow or sFlow according to the technologies used and then deploy the service templates NetworkAnalysis-NetFlow-TOPList or NetworkAnalysis-sFlow-TOPList.
Complete the various fields: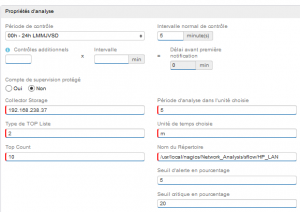 Collector Storage: Collector Storage server IP
TOP list type: Enter the values 1, 2 or 3 according to the desired TOP List:

1 for Top Talkers
2 for Top Connections
3 for Top Protocols

Number of entries: number of entries in Top List
Analysis period: Time value coupled with the field "Time unit".

Period unit:Choice of the unit of time, m for minute, h for hour, d for day.
Directory name: Path to the directory containing the NetFlow or sFlow exports
Warning threshold: Warning bandwidth usage threshold in percent
Critical threshold: Critical bandwidth usage threshold in percent
Service Templates NetworkAnalysis-NetFlow-TOPList  NetworkAnalysis-sFlow-TOPList can be linked to the host on which NetFlow sFlow are configured, or any other host;it could in fact be a "dummy" host used to centrallise all ServiceNav network analysis services.
Best practice is to deploy at least one NetworkAnalysis-xFlow-TOPList service.
If no data is presented, please refer to the Checks and Debug sections of the documentation for NetFlow or sFlow
Configuring the Network Analysis Widget
In Dataviz create a dashboard and add a Widget  Network analysis
Drag the Network Analysis Widget and select one or more Top Lists:

The Network Analysis Widgets allow you to have overview and detailed views: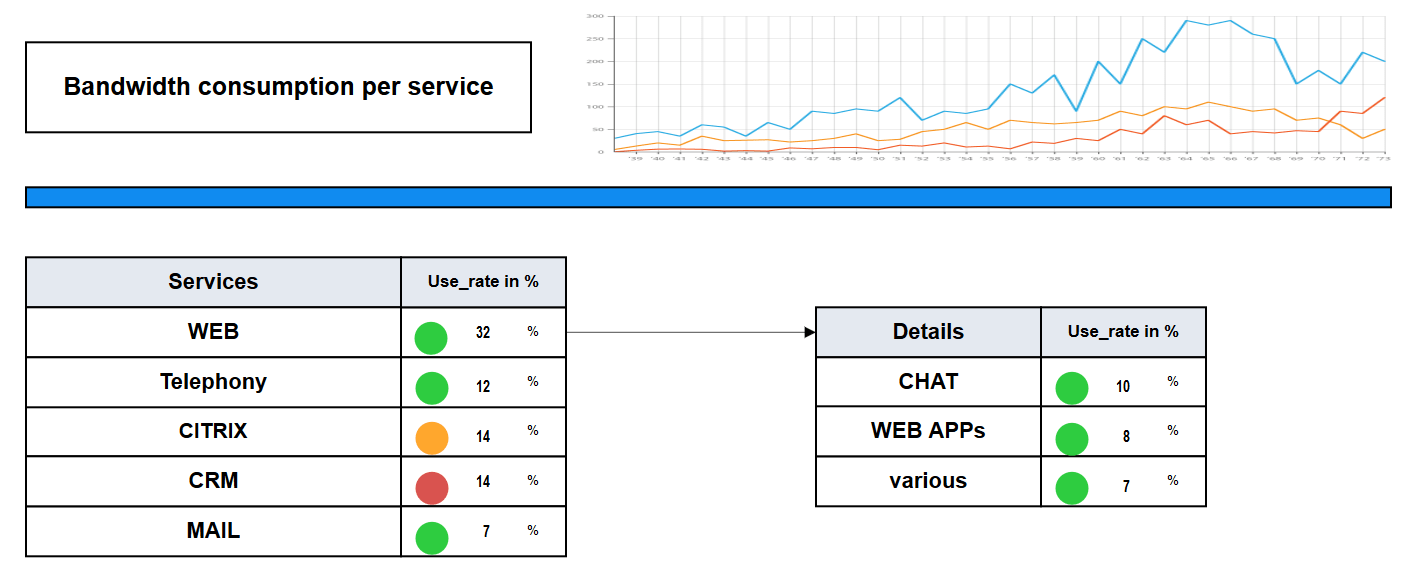 Modify the configurations of the Network Analysis Widget such as analysis periods, the size or type of the Networking 'Top' lists directly from the service detail sheet by clicking on the icon, details: