Introduction
ServiceNav uses a number of solution-specific and industry standard concepts. We explain these concepts below to ensure that they are properly understood, as they occur repeatedly in various sections of user guides and software documentation.
The concepts:
Hosts
Service
User Services
Status
Contacts
Users and Roles
Hosts
The purpose of monitoring is to know the status of a given IT component. Such components are referred to as a "host" within ServiceNav.
Host Category
A host can be assigned to one of several categories:
Other (a device with network connectivity but not classifiable into one of the following categories).
WiFi access point
Camera (IP camera type device)
Printer (devices such as network printer, network copier)
UPS
Workstation
Router
SAN / NAS
Server (server type hosts: HP-UX, VMware, AIX, AS400,...)
Linux server (linux server type hosts only)
Windows server (Microsoft Windows server hosts only)
Windows Server Agent (Windows Server type hosts, monitored using an Agent).
Switch
Telephone (IP phone).
Host categories allow the system to filter host templates and show only those compatible with the type of host to be monitored.
Host Template
A host template is a logical grouping of service templates (services) designed to meet a particular monitoring requirement for a given host category (e.g. Windows servers).
For example:
The host template: Windows server includes the following services...
Service: CPU
Service: Disk C
Service: RAM
Service: ...
Service
A service monitors a specific component. For example, the CPU service retrieves the percentage processor usage on the host against which it is deployed.
Service Template
Service templates are based on checks, which are then fine-tuned to match the component to be monitored. Service templates are delivered with default values to reduce the number of parameters needing to be configured.
Example: CPU Service Template
When applied to a host, the CPU service template allows the various arguments (warning and critical threshold and SNMP community string) to inherit default values from the template, along with the check period and frequency.
User Services
A user service is designed to represent an actual business service provided to users (messaging, printing, business function, etc.) by the IT department or an IT service partner. Such services may comprise, hosts, services and user services. Each of these items may have either an inhibiting ("blocking") or degrading effect on the user service. Depending on the statuses of the various components, the overall status of the user service will be: OK, Degraded or Unavailable. A second function of auser service is to calculate the corresponding uptime in order to enable accurate monitoring of service level agreements between the provider and users.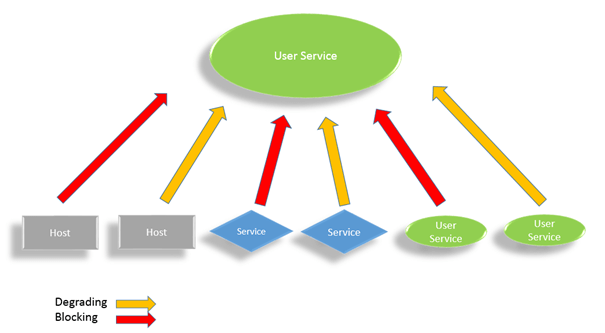 Example: The "Internet" user service must contain the elements necessary for Internet access (e.g. modem, router, firewall, proxy, switch, etc.) if one of these devices or subordinate unit services does not work, the user service is either blocked or degraded depending on the infrastructure of the information system.
The creation of user services is explained in the documentation: "Creation of user services: best practices and examples".
Status
Hosts, services and user services each display their current status allowing you to know the operational state.
A user service may have the following status: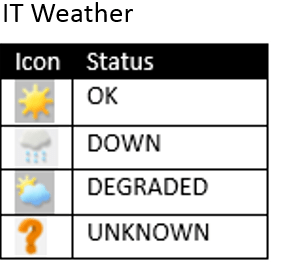 OK status: means everything is operational.
Out of use status: means the service provided to the user is not operational.
Degraded status: means the user service requires attention from technical staff, but is still usable.
Unknown status: ServiceNav cannot tell the status of the user service; it may be in one of the three statuses above.
A host or service can have the following statuses :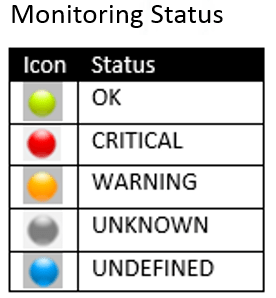 OK status: means everything is operational.
Critical status: means the host or service is not operational.
Warning status: means the host or service requires attention but the monitored item is operational. The Warning status is to alert before problems occur.
Unknown status: means the status of the host or service is not known to ServiceNav; it could be OK, Critical, or Warning.
No data status: means the host or service is not yet known to ServiceNav or the SNB is no longer sending data.
Contacts
ServiceNav allows you to be notified of certain monitoring events by several means (email, SMS, Push, ...). The people to be notified are identified in the platform as 'contacts'. These contacts can be ServiceNav users or they can be configured in ServiceNav without having access to the platform GUI. This allows, among other things, creation of contacts for a mailing lists and then to configure notifications against this list.
Users and Roles
Users of the software could be from a RPC (Coservit Reseller Partner) or a customer of a RPC i.e. a SIG (Managed Company). Each user has a role which activates or deactivates certain functions. The definition of the roles is viewable in the user creation interface. Here is the list of predefined user roles in ServiceNav :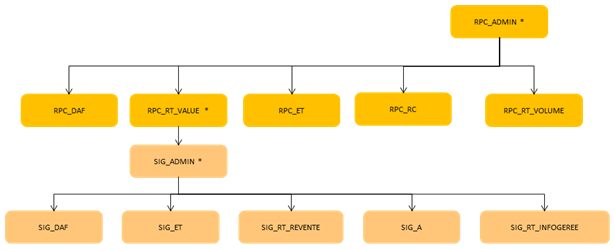 The roles that allow creation of other users are : RPC_ADMIN, RPC_RTVALUE and SIG_ADMIN.