Aim
Action Tracking is a simple way to consult all the operations of creation, deletion, update carried out at the level of a Partner, Site or Client.
This document explains how to read and use the Action Monitoring.
Presentation of the Follow-up of Actions
Action tracking is available for user accounts with the RPC_ADMIN or SIG_ADMIN role.
Position yourself on a company for which you want to view the latest changes made.
Navigate to Administration > Application > Follow-up of Actions.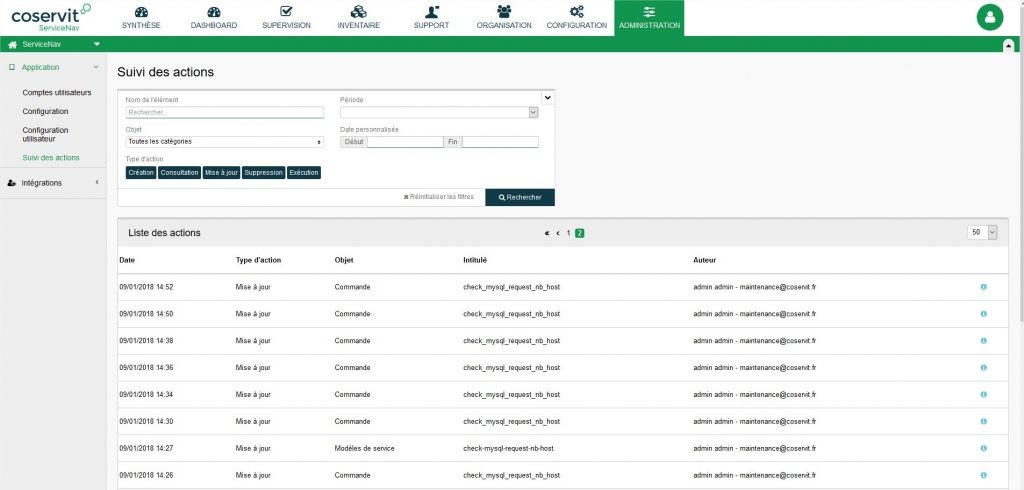 Each line corresponds to an action and is presented in the same form :
Date: date of execution of the action.
Type of action: type of action that has been carried out. Create, delete, update, execute.
Purpose: element on which the action was focused. Can be an equipment, a unit service, a service model, a maintenance, a contact, etc.
Title: name of the element.
Author: user account that performed the action and its associated email address.
At the end of the line, there is a blue icon on which you have to put the mouse. Gives additional details about the action.
Types of action
The types of actions are mainly the creation, The deletion, updating (modification) of an element and theexecution of the configuration (application of the configuration).
Creation: creation of an element.
Update: modification of a parameter of a control point, change of the name of a piece of equipment, etc...
Deletion: Deleting an item.
Execution: Application of the configuration.
The information bubble 

allows you to have additional details, especially at the level of the action carried out.
For action:

Detailed information :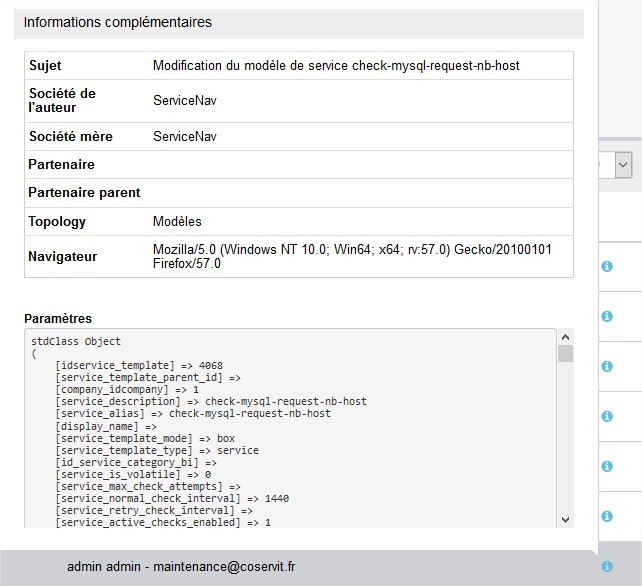 The Subject explicitly describes the action performed.
Using the filters
It is possible to filter the actions to make the search more relevant and save time.

Item Name: name present in the Title field. To search for actions performed on a specific piece of equipment or unit service.
Period: leave blank if you don't want to filter.
Object: to search for actions performed on a specific type of object: case, equipment, maintenance, etc...
Custom date: time interval where the actions performed are displayed.
Action type: filters the action type.