As a manager/member of the management team, it is possible to use the "Management" dashboard to obtain aggregated indicators on the overall ServiceNav activity.
To do this, go to the "Overview" menu and click on "Dashboard Direction".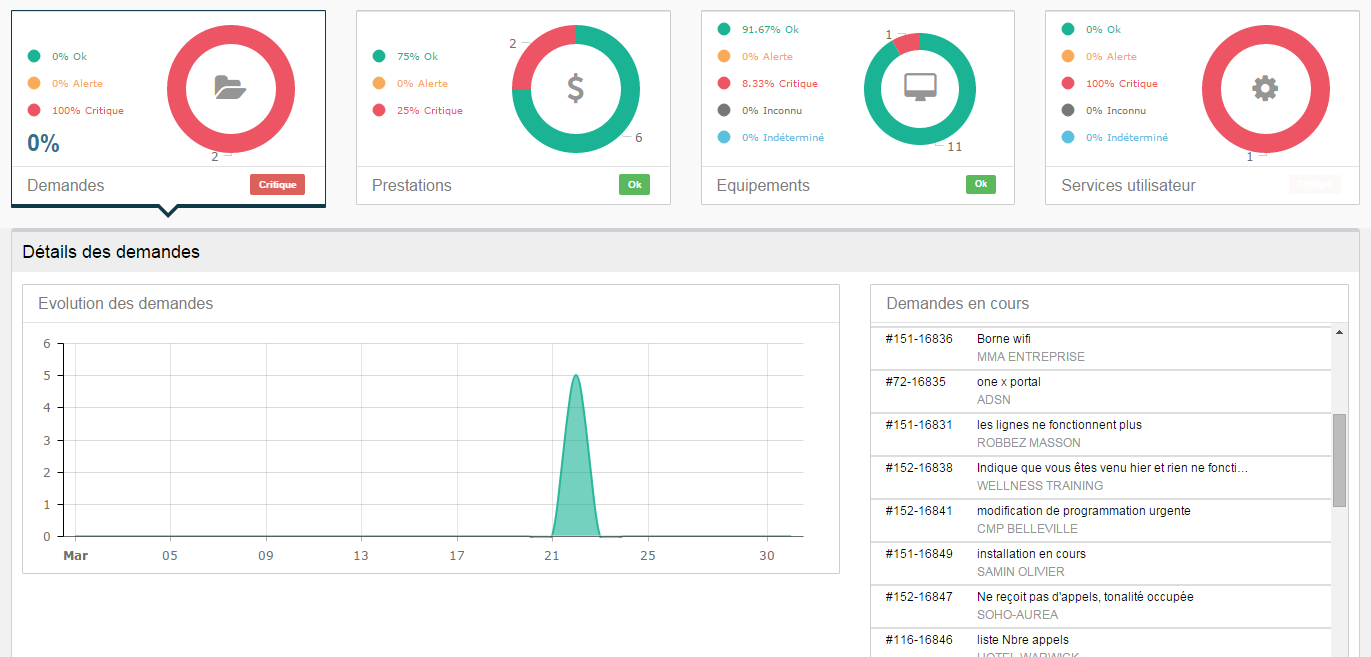 It is divided into different areas
Follow-up of requestswhich integrates

The ALS follow-up donut requestsThe SLA compliance rate for the current month can be viewed by clicking on the "SLA compliance" button on the right-hand side of the screen. This doughnut will be on alert if the majority of requests are closed out of time.

This graph is clickable and displays the two blocks below

Thechanging demands

open/closed applications per day, over 30 rolling days

The current demands

open applications, across all visible societies. It is possible to display the actions linked to each application, by clicking on "linked actions". It is possible to enter a request or action file by clicking on its code.

Emails are not displayed in related actions
Performance monitoringwhich integrates

The performance monitoring doughnut, which allows to visualize the share of services in alert. This donut will be on alert if the requests for benefits on alert are in majority.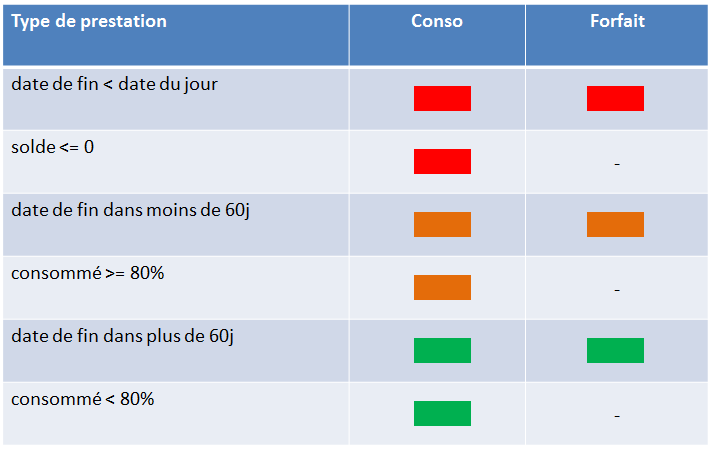 In addition, with respect to flat-rate services.In addition, profitability also affects the colour coding.
The rule is this:
- OK - GREEN :
(End Date > Today's Date+60d) AND (Profitability > 0)
- WARNING- ORANGE:
(If end date >= Today's date AND end date <= Today's date+60d) OR (Profitability = 0)
– DANGER- RED :
(If end date < Today's date) OR (Profitability < 0)
Profitability calculation
= (Selling price of the service - (Total effective time * no. of participants*TimeAverage)) / Selling price of the service
The follow-up service listwhich makes it possible to visualize the services, on all visible customers.

sorting is done by alert level (see table above)
it is possible, as on other lists of this type, to show/hide the columns or to make an excel export, using the icons at the top right of the list.
The services are displayed according to the following filters

On alert (red/orange)
In "Renewed", "Ongoing", "Renewed" status.
If the visibility of the technician is restricted, the box "Not visible technician" must be unchecked.
The equipment donut
The donut user services