In order to strengthen the security of your user account, it is possible to activate the double authentication.
This feature requires a mobile application or browser extension like Authenticator, based on TOTP (Time-based One-Time Password).
To do this, once connected to ServiceNavAccess the user preferences: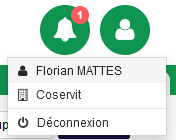 At the end of the page, click on "Activate".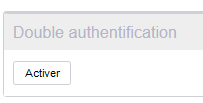 Follow the steps and validate, taking care to note your 10 one-time codes.
The next time you log in, you will be asked for a code to authenticate yourself.