Context: use this procedure to deploy a monitoring appliance for Microsoft Azure, and integrate it into an Azure subnet.
Recovery of the VM on our site ftp://software.servicenav.io (contact support to get the login details)
In the VSM-VSB folder take the image :
SNM_MASTER_AZURE_2018_03_16_V3.13.1.vhd.zip if your platform is in version < 4.0
SNB_MASTER_AZURE_2019_03_28_V4.0.0.vhd.zip if your platform is in version >=4.0
Deploy the image in Azure
Connect to the AZURE portal and follow steps 1 to 3

and select the VHD file.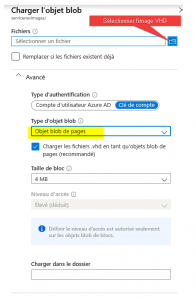 2) Creating the image
Go to the image menu and click on the button Add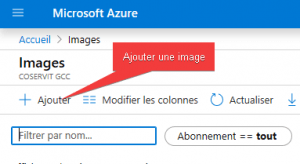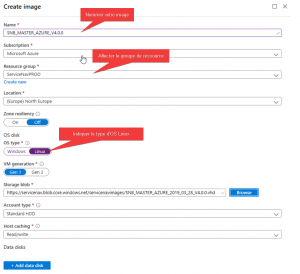 3) Creating the VM from the image
Click on Virtual Machine and then on the + add
Select the previously created image.
Attention, in the "Instance details > Size" section, make sure to select a non-modular size, such as Dv4 or Dsv4 Series. Credit VMs such as the scalable B-Series can have high CPU load issues.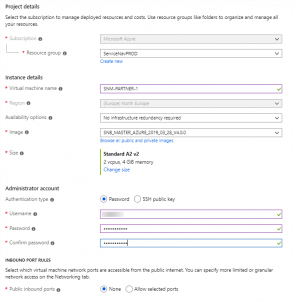 The password to be given for the created user is useless, it will have to be changed later.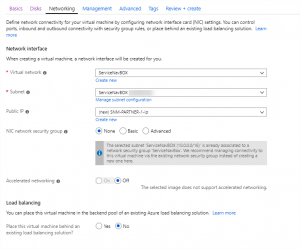 The public IP address is created and associated with the VM automatically.
Check the default choices below: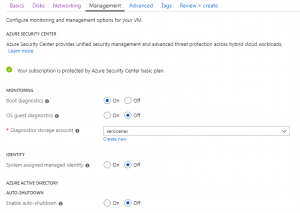 Do not change anything.
Do not change anything.
Validate the last step after verification, then click on Create.
Finalize the configuration of the created VM
Do this only if the virtual machine is used to collect data from ServiceNav agents. See Coservit support for more details.
On the supervision box launch the installation script without changing the IP address. Start at the token step of the procedures below.
Once a VM is put in supervision, if it does not ping/timeout snmp, check that the Box and the VM are on the same resource group/address, in the global view.
Perform virtual network peering if the VNs are different.
Commissioning of a ServiceNav Box
Follow the procedure below from section 2:
License mode: https://coservit.com/servicenav/fr/documentation/mise-en-service-dune-box-servicenav/
SaaS mode : https://coservit.com/servicenav/fr/documentation/mise-en-service-dune-box-saas-servicenav/