Objectives of the integration
Creation and synchronization of tickets from the supervision
Validated versions
GLPI version 9.1
GLPI version 9.1.1
GLPI version 9.1.2
GLPI version 9.1.6
Operation - mapping
The first column of the table defines the field of the material in the Coservit inventory
The second column of the table defines the material field in GLPI
ServiceNav - Inventory
GLPI

Title

Computer > Name

Contract > Name (1)

Hardware > Type

Computer > Type

Equipment > Manufacturer

Computer > Manufacturer

Hardware > Serial number

Computer > Serial Number

Software > Operating System

Operating System > Name

Software > License

Operating System > Product ID

Import date

Contract > Start date (1)

Fleet > Service Contract > Service End Date

Contract > Initial Contract Period (Calculation) (1)
(1) If the contract is created at the synchro. I.e. if a contract is not selected.
Setting
GLPI
In the menu GLPI, Configuration > general > API It is necessary to generate an API and a token it is necessary to activate the option " Activate the connection with the identifiers ".
It is also necessary to have a login and a password GLPI of a user of profile super-admin.

Allow access from the ServiceNav Platform (SNP) server IP address.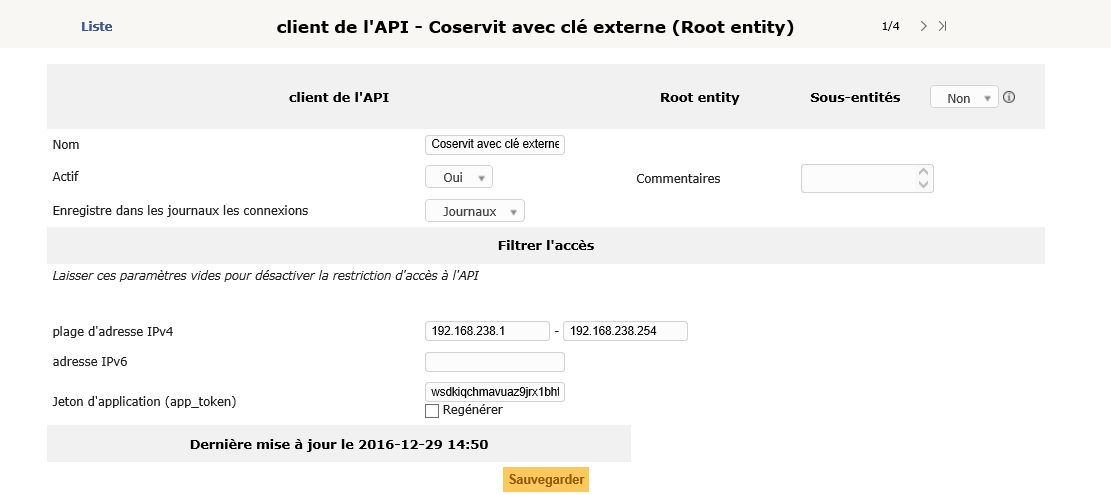 Create a sub-entity under Root Entity