As a manager/member of the management team, it is possible to use the "Management" dashboard to obtain aggregated indicators on the overall ServiceNav activity.
To do this, go to the "Overview" menu and click on "Dashboard Direction".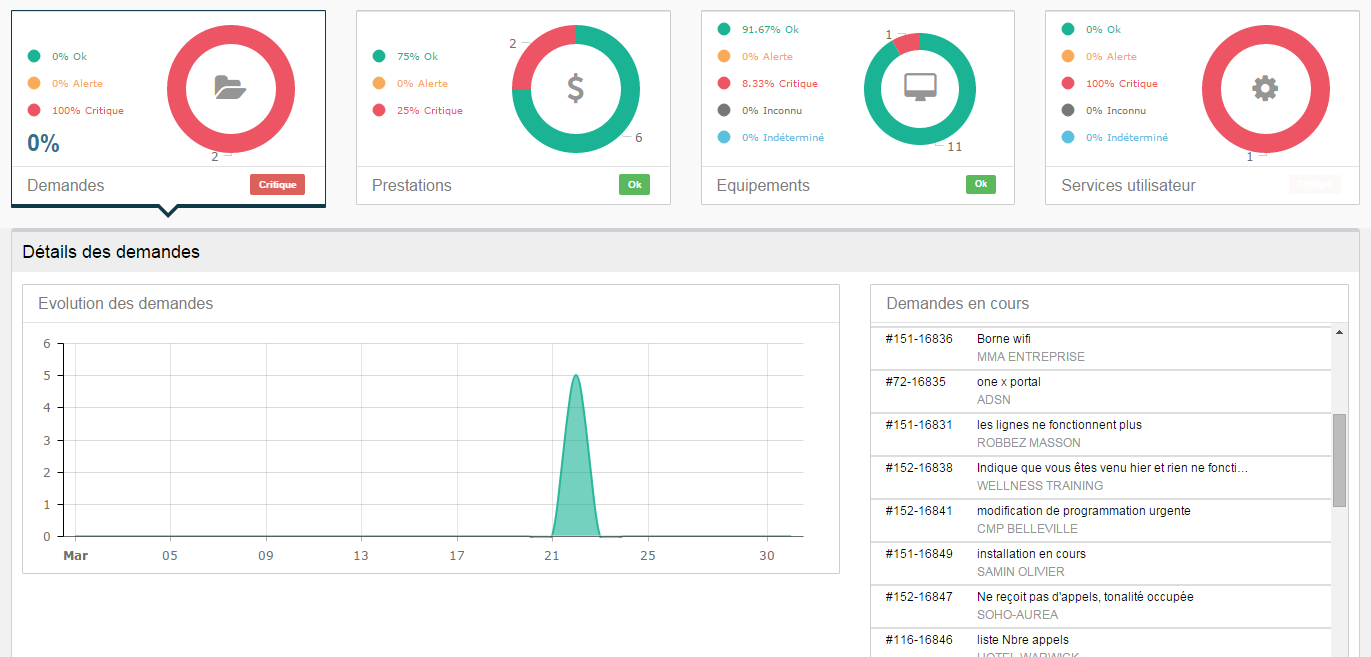 It is divided into different zones
Follow-up of requestswhich incorporates

The ALS tracking donut requestsThis donut allows you to visualize the proportion of requests resolved within the deadlines, and the rate of respect of the SLA over the current month. This indicator will be alerted if the majority of requests are closed outside of the deadline.

This graph is clickable and displays the two blocks below

L'changing demands

open/closed applications per day, over 30 rolling days

The current applications

open requests, on all visible companies. It is possible to display the actions linked to each request, by clicking on "linked actions". It is possible to enter a request or action record by clicking on its code.

Emails are not displayed in related actions
The follow-up of the serviceswhich incorporates

The benefit tracking donutThis donut will be on alert if the majority of claims are on alert. This donut will be in alert if the claims in alert are in majority.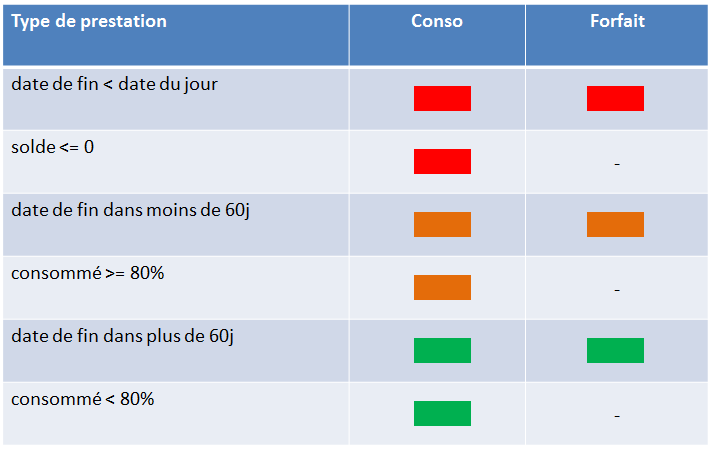 In addition, regarding lump-sum servicesprofitability also affects the colour code.
The rule is:
- OK - GREEN :
(End date > Current date+60d) AND (Profitability > 0)
- WARNING- ORANGE :
(If end date >= Today's date AND end date <= Today's date+60d) OR (Profitability = 0)
- DANGER-RED :
(If end date < current date) OR (Profitability < 0)
Profitability calculation
= (Sales price of the service - (Total effective time *number of participants*AverageWorkingHours)) / Sales price of the service
The follow-up list of servicesThis allows you to view the services of all visible clients.

the sorting is done by alert level (see table above)
It is possible, as with other lists of this type, to show/hide the columns or to export them to Excel, using the icons at the top right of the list.
The following filters are displayed

On alert (red/orange)
In "Renewed", "In progress", "In renewal" status
If the technician's visibility is restricted, the box "Not visible technician" must not be checked
The donut equipment
The user services donut