La météo des services est un des atouts différenciateurs de ServiceNav et un outil de « macro-supervision » précieux.
Mais l'utilisez-vous à son plein potentiel ?
Some reminders
Un Service Utilisateur est une agrégation d'un ou plusieurs :
Hosts
Services
Other user services
La météo des services (Supervision > Météo des services) présente les services utilisateurs à travers 4 états et 3 tendances.

OK / dégradé / hors d'usage / inconnu constant / en hausse / en baisse
Asking the right questions
Concevoir une météo des services, c'est dans un premier temps se poser the right ones questions :
What are the services provided by my infrastructure?
Quand ces services sont-ils consommés (plage horaire) ?
Sur quels services ai-je besoin de mesurer la disponibilité et à quel taux ?
Une fois cette réflexion menée, il devient alors possible de list l'ensemble des équipements et services unitaires qui composent son service utilisateur et de définir des plages horaires et un taux de disponibilité cible.
Si la complexité reste cependant encore forte, il est préférable de descendre dans l'arborescence et de créer d'autres services, qui viendront composer son service principal.
Les liens de dépendance
Les relations entre un Service Utilisateur et ses différentes composantes sont de types « bloquant » ou « dégradant ». Afin de déterminer quel type utilisé, ici encore il est bénéfique de se poser les bonnes questions :
If a component of my service is indispensable à son fonctionnement et ne peut pas être redondé by another component (AND relationship) –> lien bloquant
If a component of my service peut être redondé par un autre composant ou n'est pas indispensable au fonctionnement minimal de mon service (relation OU) –> lien dégradant
Exploiter la donnée
Une météo correctement configurée est un atout, de bons rapports et tableaux de bords le sont encore davantage.
Un tableau de bord dédié : La carte des météos (« Météo des services (carte) »)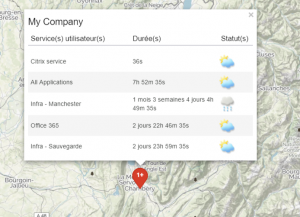 Ce tableau de bord présente la liste des services utilisateurs, par site/par client, sur un fond de carte.
Il est particulièrement pertinent dans un contexte multi-sites et apporte également de la valeur dans le cas d'interventions techniques (en permettant à un technicien de réorganiser ses déplacements en fonction des pannes à proximité et de leur impact).
D'autres tableaux de bord qui intègrent les Services Utilisateurs : la « MAP« , le « Suivi du parc par famille », …
Un rapport à forte valeur ajoutée : le rapport de disponibilité (« Analyse de la Disponibilité »)
Véritable outil d'aide à la décision, pouvant à la fois être utilisé en interne ou auprès de ses clients pour témoigner de la qualité de service ou identifier des axes d'amélioration, le rapport de disponibilité permet de consulter :
Le TOP/FLOP des services utilisateurs : quels sont les services les plus disponibles sur la période ?
For each User Service :

l'indisponibilité totale
par mois : l'évolution du taux de disponibilité, le nombre d'indisponibilités et leur durée
Ces indicateurs permettent à la DSI de :
Communiquer à ses clients sur la disponibilité des services
Identifier les points faibles et déclencher des actions correctives
Allez plus loin sur les Services Utilisateurs, à l'aide d'exemples, dans notre documentation on User Services