Historically, monitoring tools such as ServiceNav have measured technical monitoring needs in an efficient and robust manner. This technical-oriented vision ensures that each component of the information system is functional, but it does not provide a business vision and user experience, which is at the heart of the concerns and exchanges between users and IT departments. The famous: "My application is struggling" when from a technical point of view everything is functional.
User experience measurement is therefore an indispensable element in IT departments today and its integration into supervision is essential.
What is user experience and how do you measure it?
From a technical point of view, your application may appear to be fully functional (availability measurement) but be perceived as unusable by the various users because of excessive slowness (user perception).
This End User Experience measurement meets the need to measure in real time the execution time of a set of predefined actions from a set of sites on heterogeneous systems.
The principle common to all user experience measurement systems is to run the same scenario at regular intervals on different agents placed as close as possible to the users in order to find the execution conditions.
How does ServiceNav measure user experience?
ServiceNav integrates through its catalog of plugins various measuring tools user experience and especially since version 3.14 the AppsMon tool of thepublisher Itexis. The principle is the same for all solutions: ServiceNav retrieves the execution times and the status of the last execution on one or more agents through a checkpoint and sends an alert in case of execution error or exceeding the normal execution time.
The execution time is then kept as a metric to measure the evolution over time.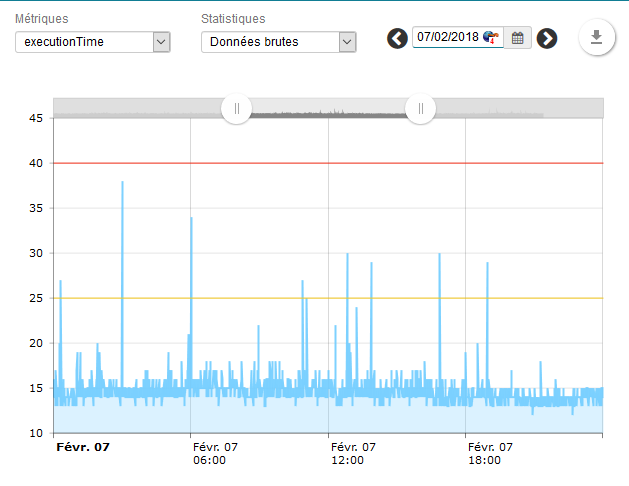 It is then possible to analyze if one or several sites present real slowness or not and to push the diagnosis.
It is also possible to feel peaks of use in the supervised applications and to make plans to adapt the infrastructures to the real needs.
A real measurement tool for business departments, user feedback from workstations allows the various non-technical teams to ensure that their application is functional and efficient and to work with the IT teams to propose appropriate solutions.
Application scenario constraints
However, there are some constraints to the implementation of application scenarios. First of all, it is necessary to provide each of the study sites and as close as possible to the users a workstation similar to a user workstation to ensure a result as close to reality as possible.
The maintenance of the scenarios is also an important point to take into account. Indeed, when the applications are upgraded, it is necessary to rework all the user scenarios to adapt them to the new interface. In this case, an important reactivity is essential to continue to have reliable and concrete results.
With an application base that is often large and heterogeneous, the choice of a tool that allows editing and updating of scenarios and sending them to the execution agents in a simple and rapid manner is therefore essential.
The costs of implementation (creation of scenarios) and maintenance (updating of scenarios) is therefore an important point to take into account. A long-term vision of the solution is therefore essential. What are the implementation costs? What are the maintenance costs? Will my solution be maintained over time?Contact ServiceNav for more information
In conclusion
The application scenarios are one of the essential building blocks to achieve a complete supervision of its information system from end to end and to meet the needs of increasingly demanding users.
The full integration in its supervision tool, such as ServiceNav, is also important to have a unique and built vision of its information system. It will then be possible to propose a IT Weather Services composed of both a technical and functional vision.
The implementation of a tool for monitoring application scenarios will therefore become obvious in more and more organizations and the choice of tool must be a real question to ask.