The importance of good supervision of network flows
Whatever the size and topology (mono-site, multi-site) of your information system, network links are always a critical component, and their monitoring is, therefore, indispensable.
As well as technical failures of the network, excessive consumption of bandwidth by servers, applications or users can lead to detrimental losses for the company, in terms of quality of service and direct financial impact (in the case of a production stoppage and/or SLA penalties).
For your information, a network unavailable or not easily accessible 1% of time is 87 hours of work per employee that are impacted.
It is therefore essential to be able to detect the risk of incidents or the optimizations to be made before any technical failure of the network.
Monitoring the network's activity also makes it possible to be properly informed in the event of a problem and to put in place the right action plan quickly.
What to expect from a monitoring solution?
A qualitative monitoring of the bandwidth must indicate the use and consumption of this bandwidth by your IS, detect network congestion and help you identify the resources to be implemented so that the bandwidth capacity corresponds to your actual needs.
In addition to its ability to detect technical network failures and to target bandwidth usage, ServiceNav allows the user to observe bandwidth consumption, control network traffic and monitor the availability, uptime and performance of network components.
Bottlenecks
The phenomenon of bottleneckwhich impairs network performance, occurs when there is not enough bandwidth available to ensure that all data packets are delivered over the network in an optimal time frame.
Serious monitoring of bandwidth consumption and usage allows for early identification of the most important issues. bottlenecks which, once formed, are one of the main sources of network performance degradation, and the applications that depend on them.
Detecting bottlenecks with ServiceNav
Putting in place the right controls
In order to detect excessive consumption, consumption monitoring based on the Top Lists. ServiceNav provides three types of Top Lists, technology-enabled NetFlow sFlow:
Top Talkers: Identify the IPs that require the most bandwidth
Top Connections: Identify the data streams that require the most bandwidth
Top Protocols: Identify the applications that require the most bandwidth
This implementation is done using the service models NetworkAnalysis-NetFlow-TOPList / NetworkAnalysis-sFlow-TOPList associated with the Network Analysis widget.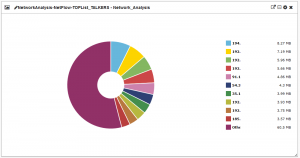 Analyzing the results
Analysis of the data returned by these checks provides a detailed view of network traffic, and identifies users, applications and protocols that consume bandwidth abnormally.
On this basis, it becomes easier to configure bandwidth usage policies (QoS), optimize your ISP costs and ensure adequate bandwidth for your mission-critical applications and services, thereby maximizing your quality of service.