Key user of ServiceNavAs a technical manager, you would like to enhance the work of your team and communicate proactively with users, without them having to log on to ServiceNav?
The webpart ServiceNav for Sharepoint is for you.
In a few clicks, display the IT Weather on one page Sharepoint.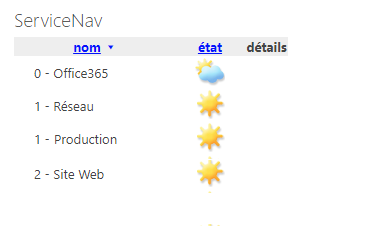 Configuration
Nothing could be simpler, create business services and associate them with your user services.
You will then be able to choose, on the webpart, the business service to filter on.
This makes it possible to offer different views, depending on the target population.
All that's left to do is add the webpart to your Sharepoint portal, and associate it with the desired business service.
Uses
The webpart goes up:
The name of the user service
Its state (weather)
The associated comment ("details" field): It is possible in ServiceNav to decide which comment will be displayed, using the "enabled" field. This allows comments to be prepared and activated as required.
It therefore enables the IT department to communicate via comments, for example in the case of maintenance, in order to anticipate reduce support requests, and improve the user experience.
Features of the Online version (available from ServiceNav 3.14 onwards) :
it is possible to sort by the columns "name" and "status". The default sorting is done on "name", in alphabetical order.
it is also possible to configure an automatic refresh, by default deactivated
This feature is compatible with Sharepoint 2013 and Sharepoint Online.
It is offered as an option, in the form of an annual subscription.