In the digital age and new technologies that are increasingly mobile, companies rely on their computer systems to develop. Messaging, software, applications, data storage and exchanges... All businesses are concerned: from accounting to sales management.
To be competitive and efficient, a company must ensure that its computer system is operational and effective. A blockage or a simple slowdown of the network can lead to a loss of turnover and lower productivity. To respond to this problem, the IT department must monitor its network on a daily basis and ensure the availability of its IT services. The implementation of a effective supervision then becomes indispensable for the smooth running of the company.
=> This efficiency depends on the choice of the right tools that will help the ISD in its daily tasks.
IT supervision with ServiceNav
ServiceNav is an easy to deploy and easy to use solution. Thanks to this tool, the ISD can supervise and monitor all of its IT services using a single platform. ServiceNav saves a significant amount of time on maintenance and monitoring tasks and allows the IT department to focus on the needs of its employees (development of new applications, process optimisation, etc.).
The ServiceNav solution generates reports tailored to different stakeholders on the elements being monitored. Thanks to this data presented in a clear and concise manner, the IT department becomes a source of proposals to other departments and can work towards the constant improvement of the company's IT services.
Mapping of equipment and services: an essential tool for getting to know your network well
To know where and when to intervene to anticipate and/or resolve a malfunction, the ISD must have an overview of its network and be aware of the interdependencies between its many pieces of equipment. Having a complete map that can be consulted at a glance is therefore an important asset and saves considerable time and efficiency.
Thanks to ServiceNav's Map module, a complete and graphical dashboard, the ISD can visualize at a glance :
the equipment,
unit services,
user services,
the links between these different elements.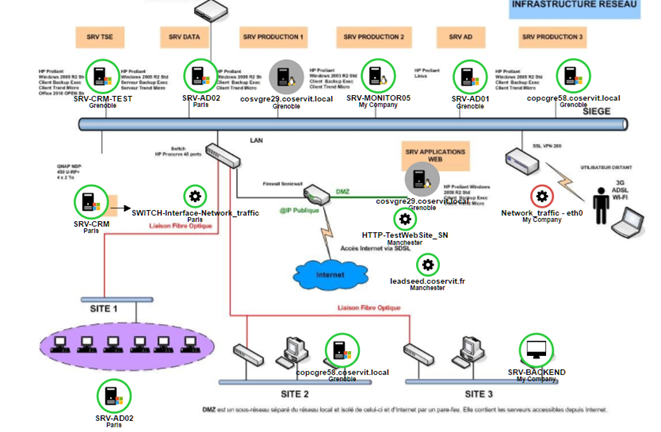 This Map module is customizable and thus adapts to the requirements of all trades. In addition, the mapping of IT services makes it possible to easily identify and supervise key points according to business lines and needs.
ServiceNav's weather services: an indispensable tool with high added value
As a real player in the growth and competitiveness of the company, the IT department must be a fully-fledged contact, and not just a maintenance technician. By using the right tools, it can be a source of proposals for the company's other departments and business lines.
The IT Weather of ServiceNav brings to the ISD this added value that will immediately make the difference:
=> Know at a glance and in real time the state of IT systems and the services that depend on them.

Indicates that the services are working properly.

Indicates that services are degraded.

Indicates that services are unavailable.

Indicates that the status of services is unknown.
Thanks to alerts that take into account the company's business context, the IT department can anticipate problems and malfunctions, and intervene preventively before a serious blockage occurs. Users thus benefit from a unique quality of service that guarantees the smooth operation of their work tools.
Intelligent prioritization:
The weather forecast of the services allows in one click to know which tasks are to be treated in priority in order to minimize the impact for the users.
These tools guarantee time and efficiency savings for the various teams involved.
Our team, expert and passionate, accompanies you in the configuration and deployment of this monitoring solution that will allow you to ensure the continuous operation and performance of your services and applications. Contact us for your support.