As we have seen on this blog in many articles, service weather is a simple way to communicate to managers, users, support, customers, ...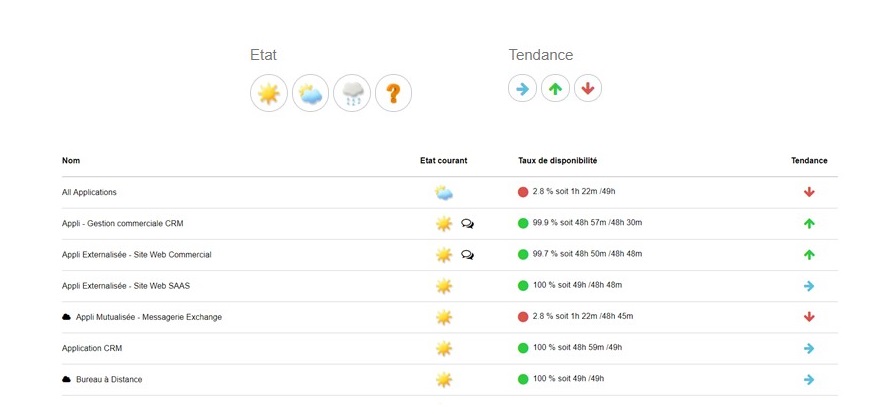 Both simple to understand (sun, clouds or rain) and accurate with an availability rate, the service weather provides for each user service, each "business application", a real-time view of the health of the application at the moment and in time.
This communication allows a real relief of the support staff on a daily basis and especially during incidents.
At the heart of communication and financial issues through SLAs, each user service must be built with accuracy and precision to deliver the right information at the right time.
The bricks of a user service and the links
A user service is a functional, business representation of a set of technical control points linked together to make sense of them.
In ServiceNav, the construction of a user service is based on 3 types of bricks:
equipment (is my server turned on?)
unitary services (is my database accessible?)
and finally other user services (Is my AD available?)
These bricks must then be linked to give meaning to each control point, each piece of equipment and each user service. To do this, there are two types of links: blocking and degrading. We must ask ourselves the question of the impact of a piece of equipment, a unitary service, a user service on the user service we are building.
If I build the user service of my payroll application: Would the fact that my database is not accessible have the same impact as a hard disk full to 85 %? Would the fact that there are a few too many users connected at the same time to the application have the same impact as a Windows service (IIS for example) turned off?
This is where the strength of user services lies!
With degrading or blocking links, the construction of intermediate user services and additional management rules to manage clusters, it is then possible to represent almost any application from a business point of view based on technical control points.
Want to know more?
Our documentation is available here
Our video webinar here
And our team is at your disposal: contact us for a demo.