Use service weather to model your Nutanix cluster
The " IT Weather Services "ServiceNav's graphical modeling of your Nutanix Cluster.
The realization of this Service Weather requires prior supervision of the various elements that make up the Nutanix Cluster.
Your Service Weather in a few steps :
Nutanix Cluster Monitoring:
Monitor the status and performance of your Nutanix Cluster by adding service models to measure its performance:

Nutanix-Cluster-Status
Nutanix-Cluster-IOPS
Nutanix-Cluster-Latency
Nutanix-Cluster-IOBandwidth
Monitoring the capacity and performance of Nutanix Cluster Storage :
Monitor the overall usage of Nutanix Cluster Storage using service models to measure its overall usage:

Nutanix-Cluster-StorageUsage

A Nutanix Cluster Storage cluster is composed of Containers grouping one or more Storage Pool. In case of an alert on the Nutanix-Cluster-Storage Usage, it will be quickly possible to know the cause by also supervising the Containers and Storage Pools using the following service models:

Nutanix-Container-Usage
Nutanix-Storage Pool-Usage
Supervision of the Nutanix blocks that make up the cluster:
Ensure the health of your Nutanix Blocks by using the following service templates:
The monitoring of the Hypervisors of each Nutanix Node :
Also make sure that the hypervisors of each Nutanix Node.
When using VMware technology, you can use the following service models to monitor the health of your ESXs:

VMware-ESX-CPU
VMware-ESX-Datastore
VMware-ESX-DiskIO-Read
VMware-ESX-DiskIO-Write
VMware-ESX-Hardware
VMware-ESX-NetUsage
VMware-ESX-RAM
VMware-ESX-Runtime_Issues
VMware-ESX-Runtime_status
VMware-ESX-Services
VMware-ESX-Services-WithExclusion
VMware-ESX-SWAP
Example of a Service Weather forecast for your Nutanix Cluster:
Once the supervision is done, you can model your Service Weather.
The capture below is an example, we find the various elements constituting a Nutanix Cluster including :
- Cluster status and performance,
- The use of Storage,
- The physical state of the various devices making up the cluster.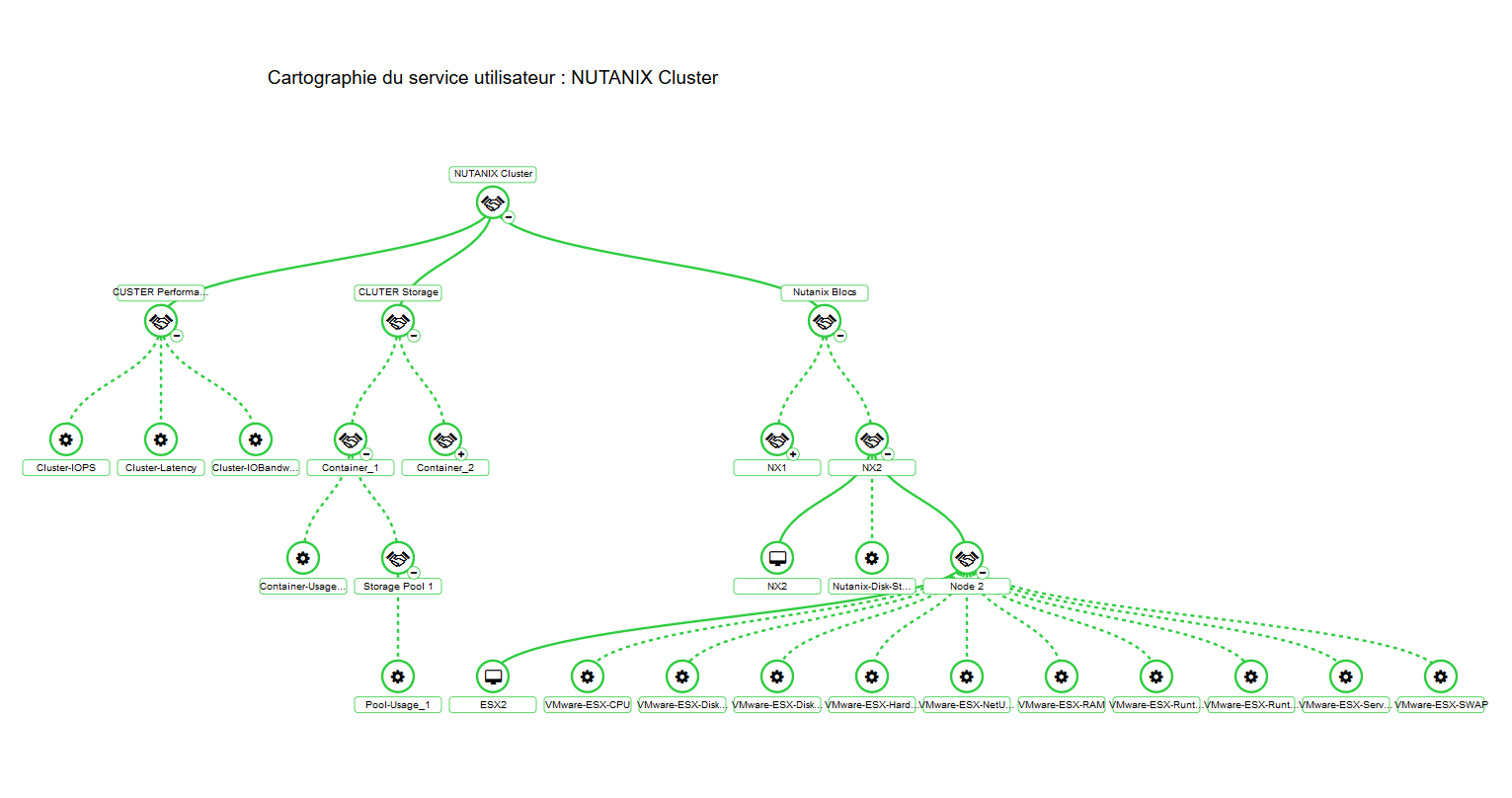 As shown in the screenshot below, the advantage of such a model is that, in case of an alert, you can directly access the root cause of a Nutanix Cluster degradation. The screenshot below clearly shows that this degradation is due to a Critical alert in Pool Usage 1 of Container 1: