ServiceNav provides a detailed view of network traffic to identify users, applications and protocols that consume bandwidth. This visibility can then be used to configure bandwidth utilization policies, optimize ISP ROI, and ensure adequate bandwidth for business-critical applications and services.
Need network traffic monitoring features? ServiceNav has the solution.
-> Optimize your bandwidth
Monitoring bandwidth consumption by your applications allows you to optimize the performance of your infrastructure, applications and overall services. By identifying bandwidth spikes and bottlenecks, you can take corrective action and justify bandwidth upgrades.
-> Report generation
Historical bandwidth usage and trends also allow you to anticipate your bandwidth needs and be proactive in anticipating a bandwidth upgrade.
-> Identify the causes of the network slowdown
Monitoring the network during a slowdown allows you to quickly identify the causes, the application or service that is using excessive bandwidth and help resolve the problem so that you can get back to normal as soon as possible.
How do you do it?
ServiceNav's NetworkAnalysis-NetFlow service model allows you to target bandwidth usage by an application, sender, recipient or protocol and configure threshold alerts related to bandwidth usage.
Implementation procedure, prerequisites, protocols and supported technologies available here.
Some use cases
- Detect unprofessional traffic (e.g. videos and recordings on YouTube or Spotify).
- Monitor peak loads of replication services such as backups.
- Detect bandwidth usage by telephony services and adjust QoS accordingly.
Dashboards
The dashboards allow you to obtain a synthetic and detailed view on the targeted traffic: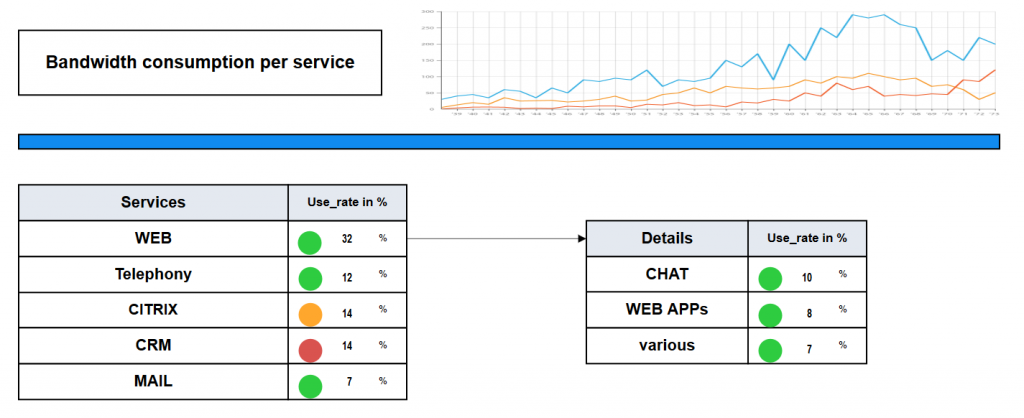 Watch the webinar video - Configuration and use of the Netflow service model