Using SNMP to monitor your equipment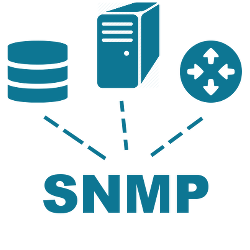 SNMP (Simple Network Management Protocol) is a protocol for communicating with equipment.
It allows you to manage components either by making requests (active SNMP) or by receiving trap notifications (passive SNMP) from the monitored equipment.
An SNMP request is composed of :
An IP address
An OID corresponding to a MIB
A port number (161 or 162)
A community
A type (v1, v2c or v3)
Example: 192.168.1.1, .1.3.6.1.2.1 (MIB SNMPv2-SMI), 161, public, v2c
Operating principle of the SNMP
The use of SNMP requires preparation. SNMP must be enabled on the target machine in order to make requests or generate traps. It is therefore necessary to plan a configuration time as well as a more or less long MIB (and thus OID) search work necessary to retrieve information about the hardware.
OID: An SNMP agent is installed on the machine to be monitored. This agent will retrieve the information to be retrieved. To do this, it is specified through the OIDs what information it must retrieve.
MIB: A MIB (management information base) is a database structured on an entity (switch, router, server or other equipment).
There are two ways to monitor using the SNMP protocol
Active Monitoring
In this form of monitoring, it is the monitoring server (here our ServiceNavBox) that interrogates the components to be monitored at regular intervals. Most of our "plugins" use this monitoring method. By default the protocol used is UDP on port 161.

Passive monitoring
Here, it is the monitored components that send metrics and messages to a central supervisory instance at regular (or non-regular) intervals. By default the protocol used is UDP on port 162.

Our product allows you to manage SNMP traps: See how to configure traps on your ServiceNavBox
Note :
ServiceNav offers a number of templates that use the SNMP protocol and provides the ability for customers to create their own templates using our generic templates.
| | |
| --- | --- |
| GLOBAL-SNMP-OID | Carries out SNMP collection of information, identified by a DIO, on equipment. |
| Global-SNMP-OID-Status | Checks an SNMP OID against a status list. It is possible to define an output text for each value the OID can take. |
| Global-SNMP-Operation | Performs one or two mathematical operations between several OIDs and then returns one or two results. Alerts if the result of the first calculation exceeds a certain threshold. |
| Global-SNMP-Table-Rate | Controls an entire SNMP table by collecting two values for each index, and dividing them to obtain a rate.Alerts if at least one of the obtained rates exceeds the specified threshold.The use of a white/black list is possible to control only certain indexes of the table.Collects for each index of the table the following performance data: calculated rate, value of the numerator multiplied by a factor.The OIDs to be checked for the table, the values, the white/black lists, the unit of the performance data, the multiplication factor, the suffixes of the performance data (absolute value, performance) are configurable. |
| Global-SNMP-Operation | Performs one or two mathematical operations between several OIDs and then returns one or two results. Alerts if the result of the first calculation exceeds a certain threshold. |
| Global-SNMP-Table-Rate | Controls an entire SNMP table by collecting two values for each index, and dividing them to obtain a rate.Alerts if at least one of the obtained rates exceeds the specified threshold.The use of a white/black list is possible to control only certain indexes of the table.Collects for each index of the table the following performance data: calculated rate, value of the numerator multiplied by a factor.The OIDs to be checked for the table, the values, the white/black lists, the unit of the performance data, the multiplication factor, the suffixes of the performance data (absolute value, performance) are configurable. |
| Global-SNMP-Table-Status | Collects the global status of an SNMP table from the status of each instance, taking into account a white list or a black list. The output texts are configurable. |