Your
networks

are under control and their performance is

monitored
The network is a important factor of your IT infrastructure, it is at the heart of the data flow allowing users to access services. It is therefore essential to monitor the network and measure its performance. That's what network monitoring is all about, and ServiceNav offers the solution.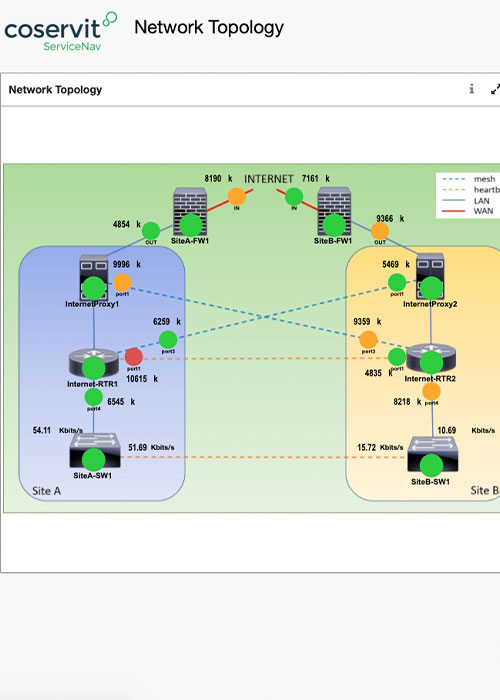 Monitoring datacenter resources is essential, but it is not enough. Availability and
system performance

are key elements for user satisfaction.
ServiceNav allows you to analyse all the elements surrounding your network to understand, act and anticipate network problems. Find out how you can easily :
Optimize your bandwidth by analyzing consumption and bottlenecks
Measuring bandwidth variation over time to anticipate additional needs
Rapidly identify the detailed causes of network slowdowns
With ServiceNav, regardless of the network technology, you measure all the data on your network. Welcome to the era of
network monitoring

!
All data related to monitoring your networks can be collected:
Measurement of network availability and latency,
Measurement of the utilization rate of allocated bandwidth.
Alert on important issues requiring diagnosis (packets in error, packets rejected)
Identification of overloaded network links.
As well as monitoring, you need to prepare your network investment budgets to anticipate the future communication needs of your users. You can defend these investments with data and trends that support your decisions.
Monitor with measurements in
real-time

to establish usage trends on your network.
The loss of productivity due to a network failure can quickly become costly. ServiceNav allows you to collect real-time measurements of your network, under continuous monitoring, to anticipate and identify performance problems.

Granular monitoring

of your networks that allows you to identify the most demanding addresses, the most consumed network services.
With the NetFlow and Sflow data analysis engine, you determine who is using your network, and to what extent.
Service templates allows you to target bandwidth usage by application, sender, recipient, or protocol, and set up threshold alerts related to bandwidth usage.


Ready to discover
ServiceNav

?