Network losses are a classic case where administrators can be overwhelmed with alerts. To remedy this problem, it is necessary to set up parent-child relationships.
We will explain how to do this in the ServiceNav monitoring tool.
Use cases
Your company has several sites connected by an MPLS network and you wish to supervise your equipment from remote sites.
The supervision box is located on the DC of your head office and will therefore regularly interrogate the equipment of your remote sites.
The architecture is as follows: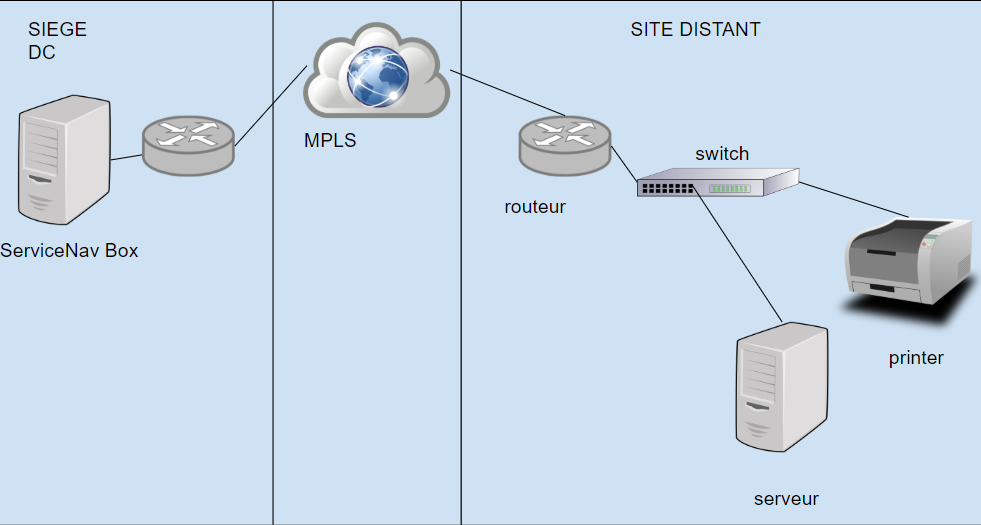 Now let's imagine that the server at the remote site is shut down.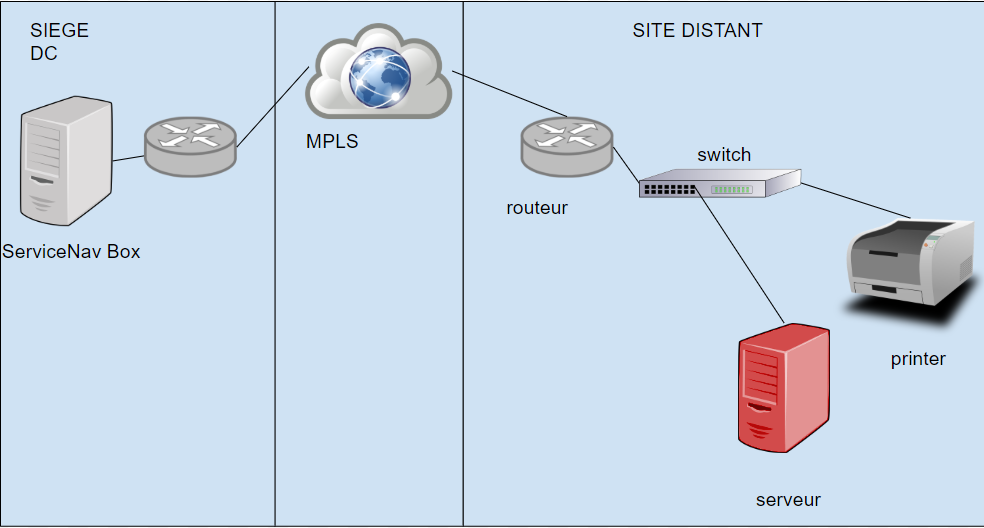 The monitoring box will then query the server directly on its IP address. If it does not answer, its status will be DOWN (Critical). An alert will be sent if the notification is activated on the DOWN (Critical) state.
Now, let's imagine that it is the router that is inaccessible (operator problem at the remote site).
The supervision box will therefore try to reach all the equipment on the site. For it no equipment is accessible, it will return a DOWN (Critical) status for the 4 equipments of the site. (Server, printer, switch and router).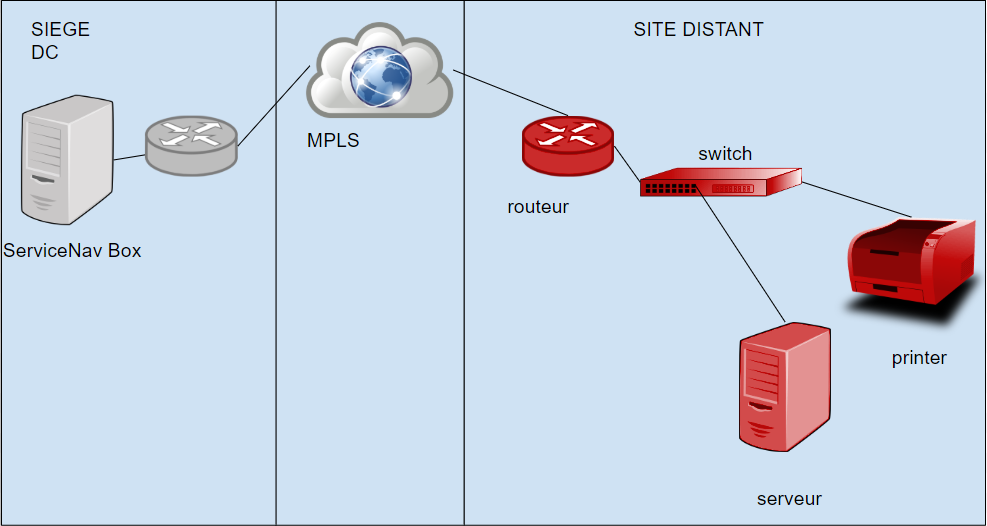 But the reality is not the good one since only the router is inaccessible.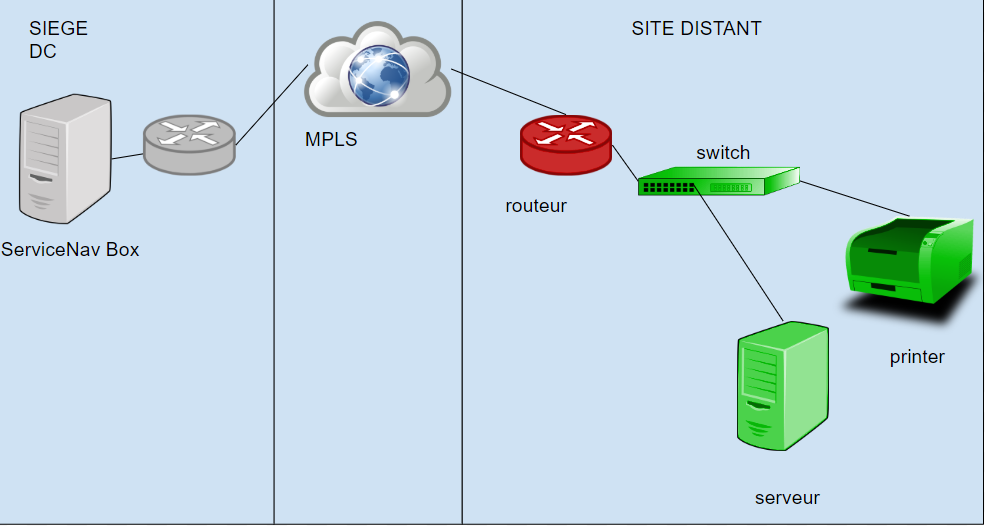 In order for the ServiceNav Box to be able to distinguish between DOWN (Critical) and UNREACHABLE (Unknown) states of the supervised equipment, it is necessary to tell the ServiceNav Box how the equipment is connected to each other from the ServiceNav Box's point of view.
To do this, trace the path a data packet should take from the ServiceNav Box to each supervised equipment. Each switch, router, and server that the packet must pass through is considered a step and requires you to define a parent/child relationship in the supervision.
The following relationships should therefore be established to avoid having all the equipment at the remote site in DOWN.
| | |
| --- | --- |
| Parent | Child |
| Router | Switch |
| Switch | Server |
| Switch | Printer |
When the supervision box goes to interrogate the equipment, it checks the relations beforehand and realizes that the equipment depends on the switch and that the switch depends on the router which is no longer accessible.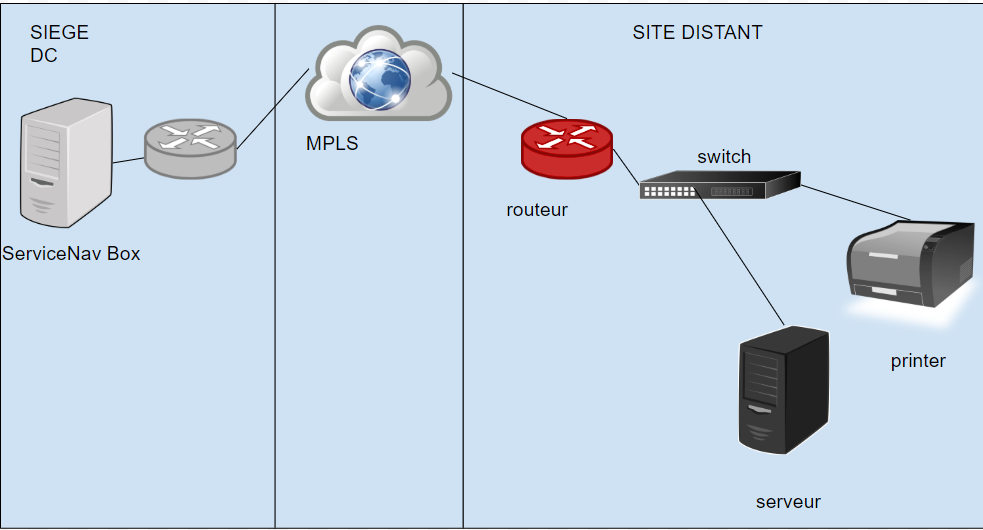 In the supervision only the DOWN (Critical) status will appear for the router, the other equipment will have an UNREACHEABLE (Unknown) status because the ServiceNav Box is unable to know if these equipments are working or not. Therefore it considers them as Unknown and not Critical.
When the router returns to UP status then all equipment will be accessible again.
Configuring Parent-Child Relationships in ServiceNAV
Technical operation menu or Equipment configuration menu
Position yourself on the equipment to be configured and click on the button

Then in the relationship tab set up your relationships.
For example:
For the switch: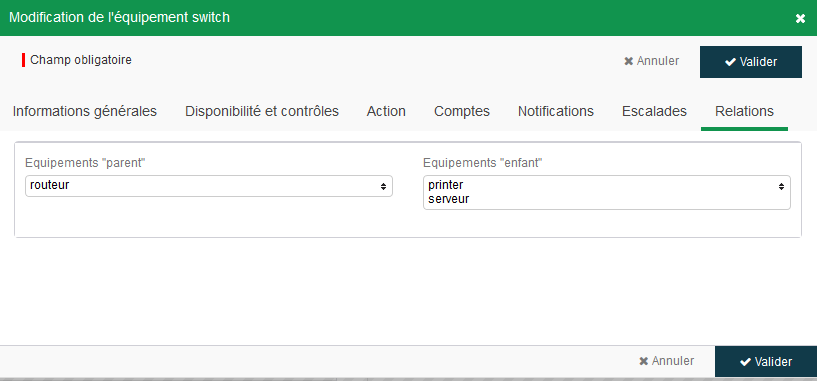 For the server and the printer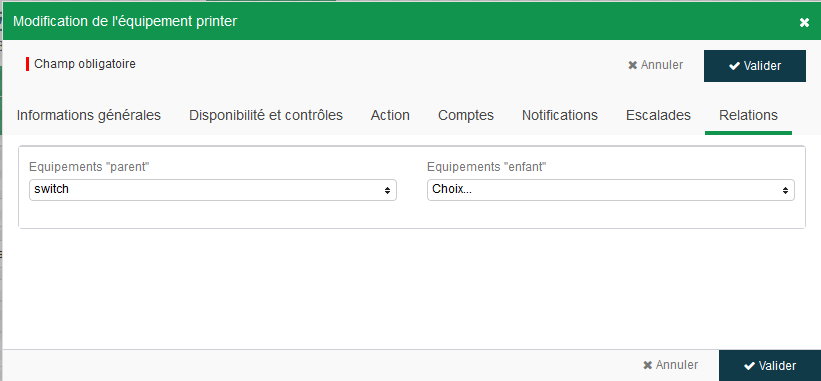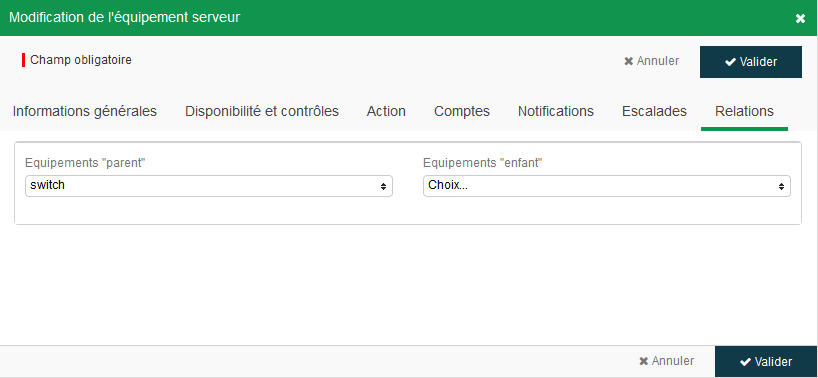 | | |
| --- | --- |
| | In order to take into account the functioning of the relationship between parents and children, it is necessary to MANDATORY to supervise all equipment with the same ServiceNAV supervision box |