Big Data Architecture, Dataviz, Netflow, Navigation improvement
In summary: The advent of Big Data - Scalability and sustainable performance
Since its launch 8 years ago, ServiceNav SaaS has grown from a few dozen metrics to several million.
With the arrival of the connected objects, the analytical requirements croissants and the new customer projects The trend is bound to accelerate in the months and years to come.
As a publisher, we must therefore anticipate it, and take advantage of it.
In the summer of 2016, we therefore decided to begin a complete overhaul of our backend, towards a Big Data architecture.
The objective was twofold:
Proactively manage the increase in volume in order to maintain a constant level of quality.
Set up a sustainable architecture oriented towards new uses
This necessary transition required the attention of a large part of our development team.
Our monitoring solution as a massive data source, coupled with our historical know-how on customer service processes, allows us to project analytical and decision-making uses.
Coservit aims, through a strong culture of innovation, to position itself as a key player in the performance of IT support centres.
Analyzed from this angle, the Big Data is not an end, but a beginning. a wayto support this strategy and assist major service providers in their development, enabling them to address new markets and increase their outsourcing capabilities on a large scale.
What are the implications?

For SaaS customers: the activation of Big Data ingestion flows is already effective.
For customers on dedicated platforms: we will open the Big Data architecture to our dedicated customers in the first quarter of 2019. In this context, the infrastructure will need to be adapted to support the new architecture.
We will publish the detailed recommendations at a later date. As an indication, and depending on the volume to be managed and the "High Availability" requirements, there will be 1 to 3 VM to be added.
Customizable and modular dashboards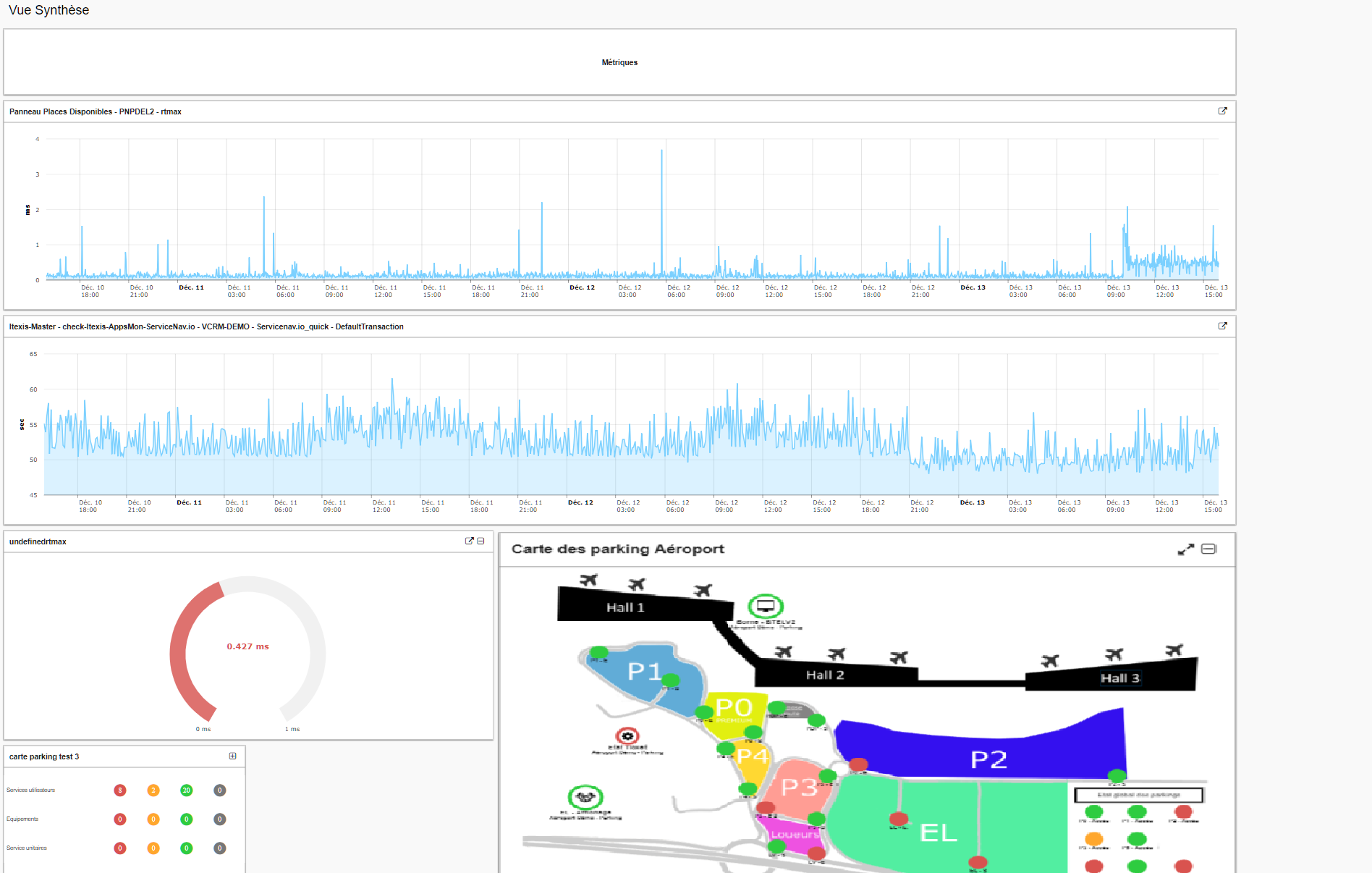 A new Dashboard module is born within ServiceNav the Dataviz
Unlike traditional dashboards, which are not very configurable and limited to one per screen, the Dataviz allows you to design complex dashboards using the various widgets in the library.
The widgets available at the release of version 4.0 are :
Graph: Displaying a metric in the form of a time graph
Gauge: display of a metric in the form of a gauge
Map: display of a Map (application mapping) already existing
Tools: Image/Text
The Dataviz will gradually replace (Q1 2019) the carousel of dashboards currently in place, by offering the entire current functional "dashboard" offer in the form of widgets, in a more modern form :
List of statuses (version 4.1)
Equipment Map (version 4.1)
User Services Map (version 4.1)
Monitoring the park by family (version 4.1)
Tracking the fleet by category (version 4.1)
In the meantime, the "Dashboard" menu item of the ServiceNav will contain two entries: "Classic" and "Dataviz", allowing the new functionality to be handled in a smooth transition.
New widgets will also appear on the following versions:
IT Weather Services
List of past/present/future maintenances
Date/Time
Top/Flop Netflow
…
Important note : Dataviz functionality requires ServiceNav to operate in "Big Data" mode.
This feed is for now only activated on the SaaS platformand will be available for dedicated platforms in the first quarter of 2019.
The Dataviz functionality is therefore for the time being only unavailable on the dedicated platforms, which does not impact the version upgrades on the latter, and access to the rest of the new features.
Information Resources :
Netflow Analysis - Upgrade your power in network flow analysis
Monitor the flow generated by a applicationan ip source or from destination and generate alerts if the thresholds are exceeded.
This only requires a little configuration, associated with a new plugin.
Resources : 
Interface: optimized navigation
Direct accesses have been added in the navigation tabs, allowing faster access to the menus of each module.

Gradual end of Ubuntu ServiceNav Box support 12.04
The Ubuntu 12.04 LTS version on which the ServiceNav Box was based is no longer updated and supported since April 2017.
In order to be able to offer you a secure solution that meets your expectations, we will stop supporting SNBoxes in Ubuntu 12.04 at the following date 01/09/2019.
The stop will be done in 3 steps:
From now on, our support team will strongly encourage the migration, and may have to put a patch on hold if it is already fixed in Ubuntu 16.04.
As of 01/06new plug-ins and plug-ins fixes will no longer be compatible (and deployed) on Ubuntu Boxes 12.04, which will no longer be able to benefit from the catalog's evolutions.
As of 01/09If you have any problems with the Ubuntu 12.04 ServiceNav Box, we will no longer support the Ubuntu 12.04 ServiceNav Boxes and they will stop sending up the supervision data.
It is therefore essential to migrate boxes based on Ubuntu 12.04 OS to Ubuntu 16.04 environment (proposed since version 3.13.1).
We propose, from this version, a script to facilitate this migration. Let yourself be guided by the here.

Product Manager ServiceNav
Feedback and cocktail reception: supervision in the luxury and retail sectors