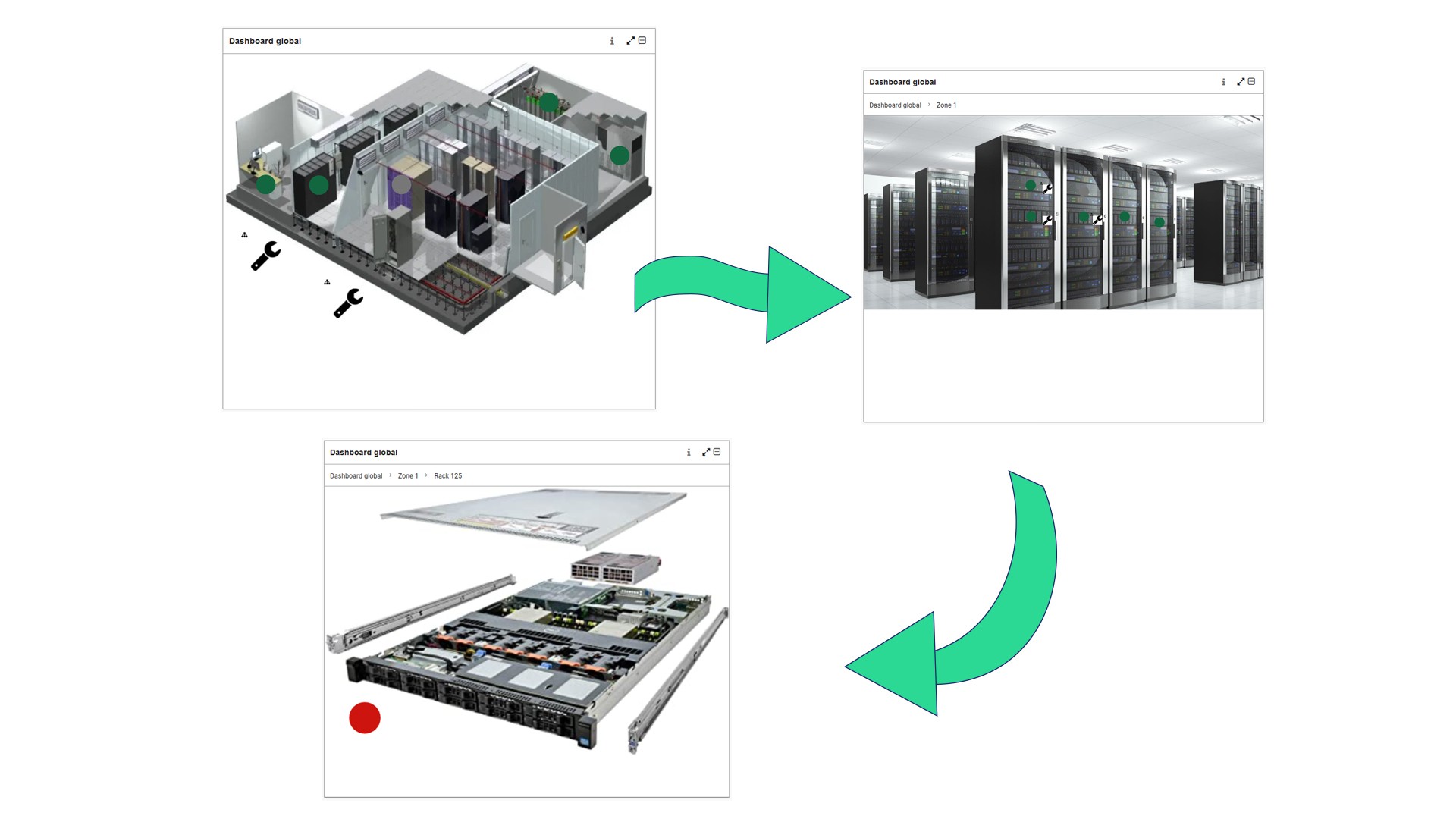 Optimize your resolution cost, by speeding up the identification of the root cause.
The MAP widget now offers a DrilldownThis allows you to quickly go from a macro view to a fine granularity MAP, focused on the faulty element.
Use cases For example, if you are in charge of operations on complex systems and applications, you need a global view of your IS to quickly and visually pinpoint the element(s) responsible for the unavailability of a service.
The dependency graph (service weather) is insufficient to represent heterogeneous and decorrelated services and elements on the same screen.
Status list - added criticality column

In order to facilitate and accelerate the resolution of the most critical incidents, we have added the display of the criticality in the status list.
It is now easier to prioritize the processing of alerts to favor the most impactful equipment and services of your IS.
Imports - Rollback management
Now you have the right to make a mistake!
The mass import and update functionality, introduced with the version 4.11now offers a look back at theinsertion.
Phasing out of Internet Explorer 11 and Edge (Legacy) support
Following Microsoft's announcement of the gradual end of IE11/Edge Legacy compatibility for its Office 365 suite, and in view of the practices observed in our user base, we have chosen to gradually depreciate the support of these browsers by ServiceNav.
As of January 2021The new developments will be tested on the following browsers:
Mozilla Firefox
Google Chrome
Edge (Chromium base)
Bugs specific to IE11/Edge Legacy will no longer be fixed.
Ubuntu 12 ServiceNav Boxes end of life
We will no longer support or guarantee the proper functioning and data upload from ServiceNav Boxes running Ubuntu 12.04 OS, as of 01/02.
If you have not already done so, please contact your technical contact or our support team to find out how to migrate the remaining collectors in your fleet.

Product Manager ServiceNav
Testimonial from Grenoble University Hospital on its use of AppsMon - Webinar and cocktail preparation workshop