AIOps - Threshold recommendation, Availability report new format, strict search, Graph widget evolution
Recommendation of unit thresholds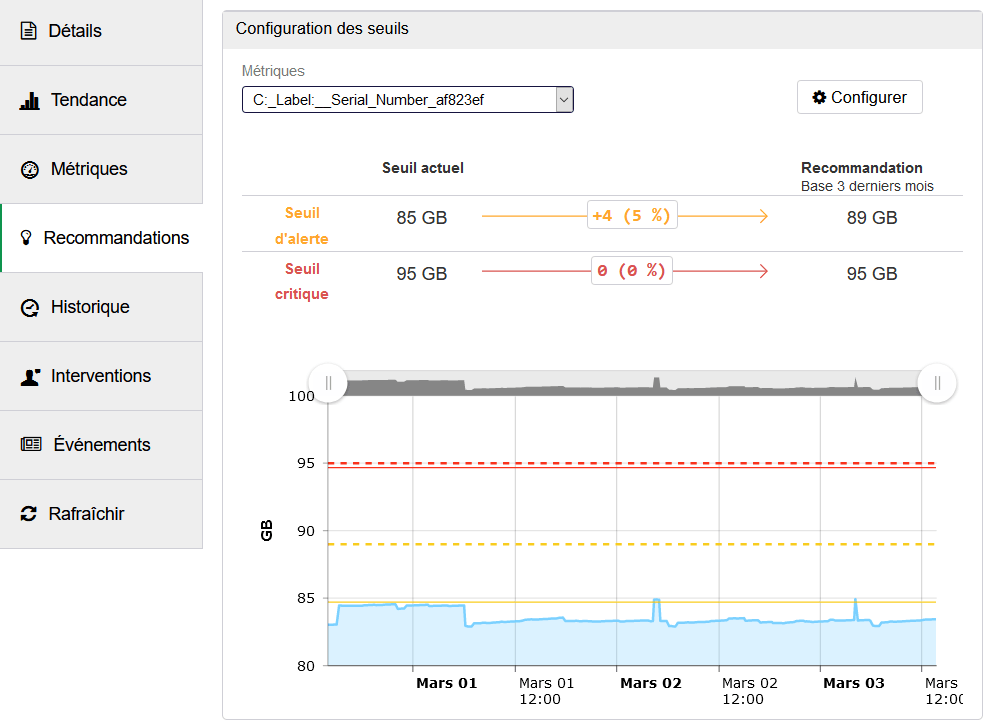 ServiceNav continues its strategy AIOps through the provision of the Recommendation of unit thresholds. The reduction of false positives is a major issue for any user operating a supervision solution. Reducing these alerts requires a correct and fine tuning of the thresholds, often based on experience. And this is exactly what we propose.
Based on an analysis of three months of daily dataThe unit threshold recommendation proposes, for a piece of equipment or a service, and on each of its metrics, a adjusted thresholds.
This functionality is currently available in SaaS, and will be deployed progressively on dedicated platforms, with the activation of the Bigdata flow.
Availability report - new format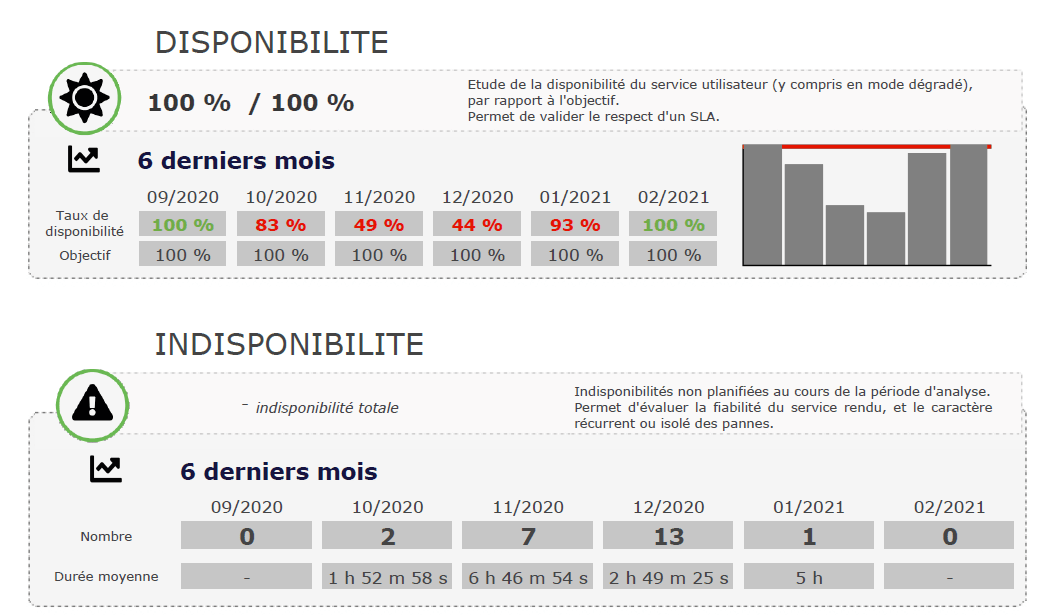 The availability report has been completely revised. More modern and clear, it allows a synthetic and customer-oriented representation of the availability information of your User Services and Equipment. The following information is presented:
Flop 10 User/Equipment Services
For each element

Availability (period + last 6 months)
Unavailability (period + last 6 months)
Performance (time spent in each status)
Maintenance (number and total duration/average over the period)
Use cases IT departments wishing to have support for internal meetings or MSPs providing regular SLA monitoring reports to their customers.
Import of equipment - creation of unit services
It is now possible, when importing equipment, to check the box " Manage services associated with equipment models" .
If equipment templates are specified on the inserted/updated equipment, the services associated with these templates are automatically created during the import.
This saves a lot of time when setting up model-based supervision of a park.
Technical exploitation - strict research

The search field of the technical evaluation now offers a "strict" option. When this option is enabled, the search is performed strictly on the value of the field. For example, "192.168.1.12" will not return "192.168.1.12" and "192.168.1.121", but only "192.168.1.12". In a strict search, you can use the wildcard character %. Use cases Search for a device by its exact IP or name. This functionality is currently available in SaaS, and will be deployed progressively on dedicated platforms, with the activation of the Bigdata flow.
Multi-metric graph widget - clickable legends
The legend of the multi-metric Widget Graph is now clickable. The access to the detail sheets is thus facilitated from a Dataviz dashboard.
Notification of unit services - display of labels
Notifications on unitary services now display the tags, if the attached equipment has any. The format is as follows: "Equipment labels: label 1, label 2, ..." Use cases To be able to categorize alerts related to unit services more easily.
ServiceNow integration - link to an existing ticket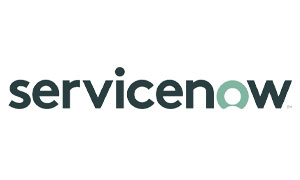 We enrich the integration with ITSM ServiceNowby proposing to link an acknowledgement to an existing ticket. Use cases Reduce the administrative burden of entering/clearing tickets when there are multiple alerts related to the same cause, handled in a single ticket.
The Dataviz becomes the default tab
Evolution on the declaration and suppression of maintenance
It is no longer possible to delete a maintenance if it is not correctly declared on the ServiceNav Box. The system becomes less permissive, but more accurate, by basing the display on the information returned by the Box. Functional impact: when trying to delete a maintenance, a message may appear, forbidding this deletion and indicating the procedure to follow.
Complete list of developments
| | |
| --- | --- |
| VSWA-25773 | /services_monitoring - GET - list - wildcard |
| VSWA-25778 | /services_monitoring - GET - list - advanced mode |
| VSWA-24180 | /companies - GET |
| VSWA-23634 | /maintenances - GET |
| VSWA-26824 | Notification commands - Localization and name harmonization |
| VSWA-24274 | [Box] Call_url_host and call_url_service action templates - add criticality as an available macro |
| VSWA-23810 | [BI-ETL-DW] Evaluating the benefits of parallelizing Job alerts requests |
| VSWA-27982 | [Storm] Handling of error messages during attribute update |
| VSWA-27173 | initall_synchronization script - enable synchronization of tickets only |
| VSWA-25556 | Status list - Sort on equipment/service criticality column |
| VSWA-22968 | Status list - Default column size |
| VSWA-25534 | Widget Graph - stretch the value in multi-metric mode |
| VSWA-22969 | Fleet tracking by Service category - Default column size |
| VSWA-25062 | Widget Graph - multi-metric - legend evolution |
| VSWA-25061 | Widget Graph - configuration mode - place the buttons on the right side of the line |
| VSWA-24195 | User Service Widget - Make the "Availability Rate" column visible by default and hideable |
| VSWA-25899 | Status list - Filter on tickets presence + UI modifications on the modal |
| VSWA-25532 | Export of unit equipment/services - inform of a delay > 1mn |
| VSWA-21953 | Import (creation/upgrade) of equipment - with unit services |
| VSWA-25050 | Make the import of equipment and services atomic |
| VSWA-26364 | UI - Maintenance - prohibit the creation of maintenance on a past date |
| VSWA-27365 | Adding labels to service notifications |
| VSWA-27366 | Parameterizable process_passive_service_freshness command |
| VSWA-22806 | Manual creation of a piece of equipment: empty category by default and mandatory |
| VSWA-19764 | [Integration -Ticketing] : Creation of a ticket after return to normal for a past event not taken into account |
| VSWA-26072 | Configuration > Equipment > Relationships: review the ergonomics |
| VSWA-22568 | Service model - Managing a Status field |
| VSWA-25786 | Bigdata technical exploitation - Information wildcard |
| VSWA-25916 | External Connection - iTop : Modification of the connector with the addition of 3 non mandatory fields |
| VSWA-26262 | Linking an acknowledgement to an existing ticket - ServiceNow |
| VSWA-21968 | Prioritize the "Dataviz" menu over the "Dashboard" menu |
| VSWA-25326 | [EasyVista] Date of the alert as the date of ticket creation |
| VSWA-28614 | Reports: harmonize the filtering by acknowledgement with the filters by maintenance and ticket |
| VSWA-28375 | Bigdata - Forbidding the removal of non-effective maintenance in Nagios |
| VSWA-22646 | [Box] Dispo-Share - check_disk_smb - add dataperfs |
| VSWA-19593 | [Box] LIN-FileDateNewerThan - Adding status when no file is present |
| VSWA-27134 | [Box] AWS - Upgrade to AWS version 2 client |
| VSWA-24715 | [Box] : Network bandwidth collection fails when the cache file storing the previous collection is corrupted |
| VSWA-22444 | [Box] vmware sdk upgrade to 6.7 |
| VSWA-23766 | [Box] check_linux_command.pl - Managing the 256 return code |
| VSWA-27227 | [Box] MS-WIN-TSE-TotalSessions-SNMP |
| VSWA-25388 | [Box] PaloAlto-HAMode-A/A - check_snmp_paloalto_hamode_aa |
| VSWA-24680 | [Box] PULSE-Secure-SSLConnections - check_snmp_pulse_ssl_connections |
| VSWA-25394 | [Box] PaloAlto-GPG-UtilizationPct - check_snmp_paloalto_gpgutilizationpct |
| VSWA-25389 | [Box] PaloAlto-HAPeerState-slave - check_snmp_paloalto_hapeerslave |
| VSWA-25386 | [Box] PaloAlto-SystemUptime - check_snmp_paloalto_uptime |
| VSWA-25392 | [Box] PaloAlto-HAState-slave - check_snmp_paloalto_haslave |
| VSWA-25391 | [Box] PaloAlto-HAState-master - check_snmp_paloalto_hamaster |
| VSWA-25395 | [Box] PaloAlto-SessionActive - check_snmp_paloalto_sessionactive |
| VSWA-25393 | [Box] PaloAlto-GPG-ActiveTunnels - check_snmp_paloalto_gpgactivetunnels |
| VSWA-25390 | [Box] PaloAlto-HAPeerState-master - check_snmp_paloalto_hapeermaster |
| VSWA-25387 | [Box] PaloAlto-HAMode-A/P - check_snmp_paloalto_hamode_ap |
| VSWA-25385 | [Box] PaloAlto-RAM - check_snmp_paloalto_ram |
| VSWA-25384 | [Box] PaloAlto-CPU - check_snmp_paloalto_cpu |
| VSWA-25396 | [Box] PaloAlto-SessionUtilization - check_snmp_paloalto_sessionutilization |
| VSWA-25491 | [Box] Template SYM-EndpointProtection-Update : collect using protocol WinRM |
| VSWA-24778 | [Box] DATACORE-API-DiskPool - check_api_sansymphony_pool_disk : status and metrics of DataCore SANsymphony server disk pools |
| VSWA-23797 | Box] Office365-Generic - output improvement |
| VSWA-25549 | [Box] - Docker-Container-CpuUsage - check_docker_container_cpu_usage |
| VSWA-25155 | [Box] IBM-AS400-i5_HostStatus template - remove unnecessary arguments, clarify usage |
| VSWA-20814 | [box] check_p2000 using the ssh protocol |
| VSWA-23529 | [Box] Viadeis Services Box - Supervision by supervisor - Model evolution |
| VSWA-27783 | [Box] HTTP_HTTPS: Add an option to display the page content in the service details |
| VSWA-21096 | [Box] SEAGATE_eVault_JobStatus - check_mssql_evault_backupjob - Change business rule for COMPLETED_WITH_ERRORS return |
| VSWA-28299 | [Box]: HP-Proliant-HardwareStatus-iLO model, UNKNOWN status on network cards (iLO5) |
| VSWA-19319 | [Box] MS-Azure-PaaS-Backup_status - check_api_azure_backup_status |
| VSWA-17490 | [Box] CheckPoint-CurrentConnection - check_checkpoint_current_connection |
| VSWA-17497 | [Box] CheckPoint-VPN-State - check_snmp_checkpoint_vpn_state |
| VSWA-24684 | [Box] CheckPoint-DroppedPackets - check_snmp_checkpoint_droppedpackets |
| VSWA-24686 | [Box] CheckPoint-AcceptedPackets - check_snmp_checkpoint_acceptedpackets |
| VSWA-27287 | ServiceNav-Usage-Monitoring - check_servicenav_hosts_counter - Add thresholds to the output |
| VSWA-20764 | Lin-Time-Status: check UNKNOWN if the time server does not respond to ping |
| VSWA-18377 | [Box] Regular expression support in sensors to exclude for VMware-Datacenter-Host-HardwareHealth model |
| VSWA-26938 | [Box] check_esxi_hardware and check_dc_host_health - Change status returned if 0 sensors checked |
| VSWA-26344 | [Box] F-SECURE-AV-UPDATE - check_fsecure_av_update - hydra default engine |
| VSWA-28628 | New export check_snmp_checkpoint_ha_state and check_snmp_checkpoint_ha_status |
| VSWA-17492 | [Box] CheckPoint-HA-NodeStatus - check_snmp_checkpoint_ha_status |
| VSWA-17495 | [Box] CheckPoint-HA-State - check_snmp_checkpoint_ha_state |
| VSWA-19445 | [Box] Global-PS-Value | check_ps_values |
| VSWA-28821 | [Box] Time-Status-Snmp - check_snmp_ntp_time - Always positive time difference |
| VSWA-25785 | [Box] Time-Status-Snmp - check_snmp_ntp_time |
| VSWA-27477 | [Box] SN-Hypervision - check_api_sn_hypervision |
| VSWA-28825 | New export check_snmp_checkpoint_ha_state and check_snmp_checkpoint_ha_status |
| VSWA-21191 | [Box] Global-SNMP-OID-Status: default text output |
| | Availability Report - New format |
| | |
| --- | --- |
| VSWA-27684 | [OpenVPN] added spaces in the expiration renewal script |
| VSWA-26579 | ETL - Performance job - Data truncation: Data too long for column 'ip' at row 1 |
| VSWA-24636 | Nagios - When a ServiceNav Box is restarted normally, nagios will not restart |
| VSWA-28827 | [Dashboard] Non-clickable status dot in BigData sourcing |
| VSWA-26961 | When clicking on an alert, impossible to create a ticket or link to an existing ticket |
| VSWA-26026 | Dataviz dashboard display problem under Firefox |
| VSWA-27645 | DataViz - Drill-Down to a client's MAP |
| VSWA-23925 | User Service" widget - Run mode: The comment is not displayed when the widget is reloaded |
| VSWA-27841 | Map - Service Weather: "Acknowledged Event = Only" filtering is not working |
| VSWA-28684 | Widget Card + Classic Card: Incorrect company order |
| VSWA-27060 | Agent mode - Export of unit services and equipment not possible from about 100 lines |
| VSWA-25964 | import unit equipment/services - improve script robustness - allowed characters |
| VSWA-25560 | Import not functional when the company name contains a " / ". |
| VSWA-22692 | [User Services] Error message on bulk information change on user services |
| VSWA-26751 | User Service Detail Sheet - History: Time alignment |
| VSWA-27832 | Dashboard - Fleet tracking by family: Inconsistent data |
| VSWA-28741 | Status lists are no longer sorted by date |
| VSWA-28696 | [Pasi] Inconsistent data: services without hosts |
| VSWA-22272 | [Box] Ms-Win-DiskUsage: erroneous performance data |
| VSWA-19357 | [box] PostgreSQL-pgsql-longestQuery - manage a maximum size plugin return |
| VSWA-26173 | [Box] Azure CLI configuration files installed in ROOT |
| VSWA-27839 | [box] Network traffic collection models not working if 64-bit inbound/outbound flow OIDs not responding |
| VSWA-24937 | [Box] NetworkAnalysis-sFlow - Cache file error |
| VSWA-27790 | [Box] NetworkAnalysis-xFlow - Timeout |
| VSWA-24646 | [box] Office365-Generic - check_o365_generic.pl - unit management |
| VSWA-23890 | [box] MS-EXCHANGE2013-QUEUE-LENGTH - manage special characters in login and password |
| VSWA-27915 | Global-API-Value - check_generic_api_value - Value = 0 is considered missing |
| VSWA-26554 | ServiceNav-Usage-Monitoring - check_servicenav_hosts_counter - working when /etc/hosts not reinstated |
| VSWA-28512 | check_oracle_tablespace_allocated_usage_all - return used space rather than free space |
| VSWA-18823 | sql backup scheduled but never run: green check instead of unknow |
| VSWA-21996 | [Box] check_ps_hyperv_snapshot.pl extra special characters at the beginning of the file |
| VSWA-25954 | [Box] IBM-V7000-Disk-Status - check_ibm_v7000_svc.pl - Return error |
| VSWA-28484 | MS-WIN-Logfiles Wrong date format |
| VSWA-20763 | Linux action command: does not work when the SSH connection port is not TCP/22. |
| VSWA-27059 | [Box] Network_traffic - calculation error - SWITCH-Network_traffic-InterfaceName_Plus_SNMPV3 |
| VSWA-26441 | [Box]Global-SNMP-OID-Status - check_snmp_oid_status - a return cannot be in several lists (ok, warn and critical) |
| VSWA-26456 | [Box] FTP-Connection-Auth (No output on stdout) stderr: Can't locate Net/SFTP/Foreign/Constants.pm |
| VSWA-28100 | [Box] SFTP-Connection-Auth - Net::SFTP::Foreign is blocked at the authentication level |
| VSWA-25720 | [box] VMWare-Datacenter-Host-Hardware - excluding sensors in the return message |
| VSWA-26602 | [Box] REST-Webservice: Plugin output is incorrect - error on units |
| VSWA-26911 | [Box] F-SECURE-AV-UPDATE - check_fsecure_av_update - Non-conforming return |

Product Manager ServiceNav
Testimonial from Grenoble University Hospital on its use of AppsMon - Webinar and cocktail preparation workshop