Dataviz evolutions, extended label management, new Plugins
Gauge Widget - Reduced mode - Display at 100% of available space
The display of the value in the gauge widget now takes the full size of the widget, to improve its readability.

Use cases My team has a dashboard displayed in dashlink mode on a high-resolution TV screen. Most of my dashboard is made up of gauges in reduced mode, allowing me to track the value of different metrics critical to my business. The large display of these values allows for optimal readability.
Favourite" filter in the dashboard list
The list of Dataviz dashboards can sometimes be confusing, especially when each team has its own.
To make your life easier, we've added a filtering option, which allows you to focus on Favorite dashboards only (including the one set by default). This filtering also applies to the auto-scroll feature, which allows you to choose which dashboards you want to scroll through, so you can focus on the information that makes sense.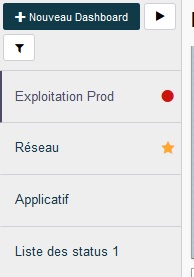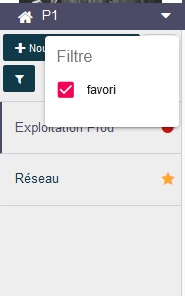 Use cases : I have 2 dashboards that need to be monitored by the Network/Operation support team. These dashboards are identified as favorites/default for all members of this team, the filter is active. They are no longer polluted by the other dashboards, and the indicators are better monitored.
Present since many versions at the equipment level, and very useful for the filtering and categorization of the supervised park, we brought significant evolutions on the labels.
Labels on User Services
It is now possible to assign labels to User Services on the Configuration tab > User Services :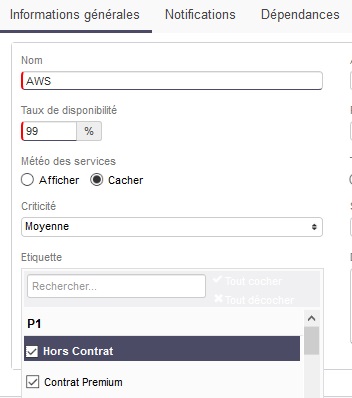 A filter and an additional column have also been added to this screen:

Adding the "Label" column in the equipment list
The Label column has been added to the list in the Configuration > Equipment > List menu, to make it easier to view the labels linked to a piece of equipment without having to go into the details of the configuration.
Labels for Managed Customers
Until now, labels could only be defined at the partner level.
It is now possible to create labels at the level of a managed client, in order to adapt the labels to the client's context.
These labels are visible in the filtering of the technical operation, as well as in the configuration of the dashboards, only at the level of the customer or its sites. They are not visible at the level of the partner on which the customer depends.
The "Category" field is now mandatory on service templates to maximize consistency when editing reports (which are based on this field).
It is now possible, in the user profile, to define the default page as "Dataviz", in order to facilitate the switch to this new module.

Product Manager ServiceNav
Feedback and cocktail reception: supervision in the luxury and retail sectors