While the sectors are very different in practice, the businesses are not the same, the customers are not the same, and yet the IT issues are often quite similar in the retail, health, banking and construction sectors.
Common issues
Finally, the IT of a major player in B2C distribution, a manager of nursing homes, a network of bank branches or a property builder have common points and common problems:
A "central" IT hosted in a datacenter
Tens, hundreds, even thousands of sites (they are then called shops, nursing homes, agencies, ...).
Each site has a standardized infrastructure, identical or almost identical with the other sites. (In a shop, there are X cash registers, in a nursing home Y servers and routers, in a server agency, local storage noses, printers ...)
Our experience with all of these customers shows us: In such cases, supervision needs are often common.
Critically supervise the "central" IT. Without it, thousands of employees would be at a standstill.
Monitor network links to sites and raise an alert when a site is no longer reachable.
Verify the proper functioning of local equipment and communicate about its availability easily with users on site (without informing them about other sites).
Provide user support with tools to facilitate remote interventions.
ServiceNav, an answer to multi-site supervision issues
A single or multi-pooler infrastructure
To supervise a multitude of sites 2 main architectures are possible:
An architecture with ServiceNavBoxes (the poolers) that provide "central" supervision. The ServiceNavBoxes are positioned at the customer's datacenter and will then supervise all the elements of the sites via the network (often MPLS). Fewer ServiceNav Boxes, which are then mutualized, to be set up, but more load on the network.
An architecture with a ServiceNav Box (a pooler) on each site. Supervision as close as possible to the equipment, no load on the inter-site network, but requires the ability to deploy one ServiceNavBox per site.
A hybrid architecture with ServiceNav Boxes on the "big" or most sensitive sites and shared ServiceNav Boxes for smaller sites. A good compromise adapted to sites with different criticalities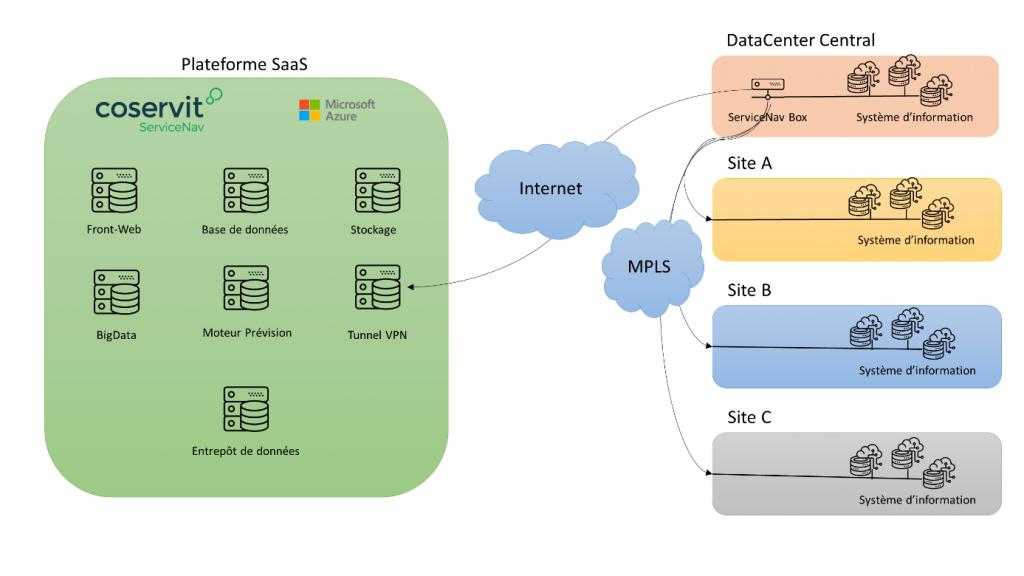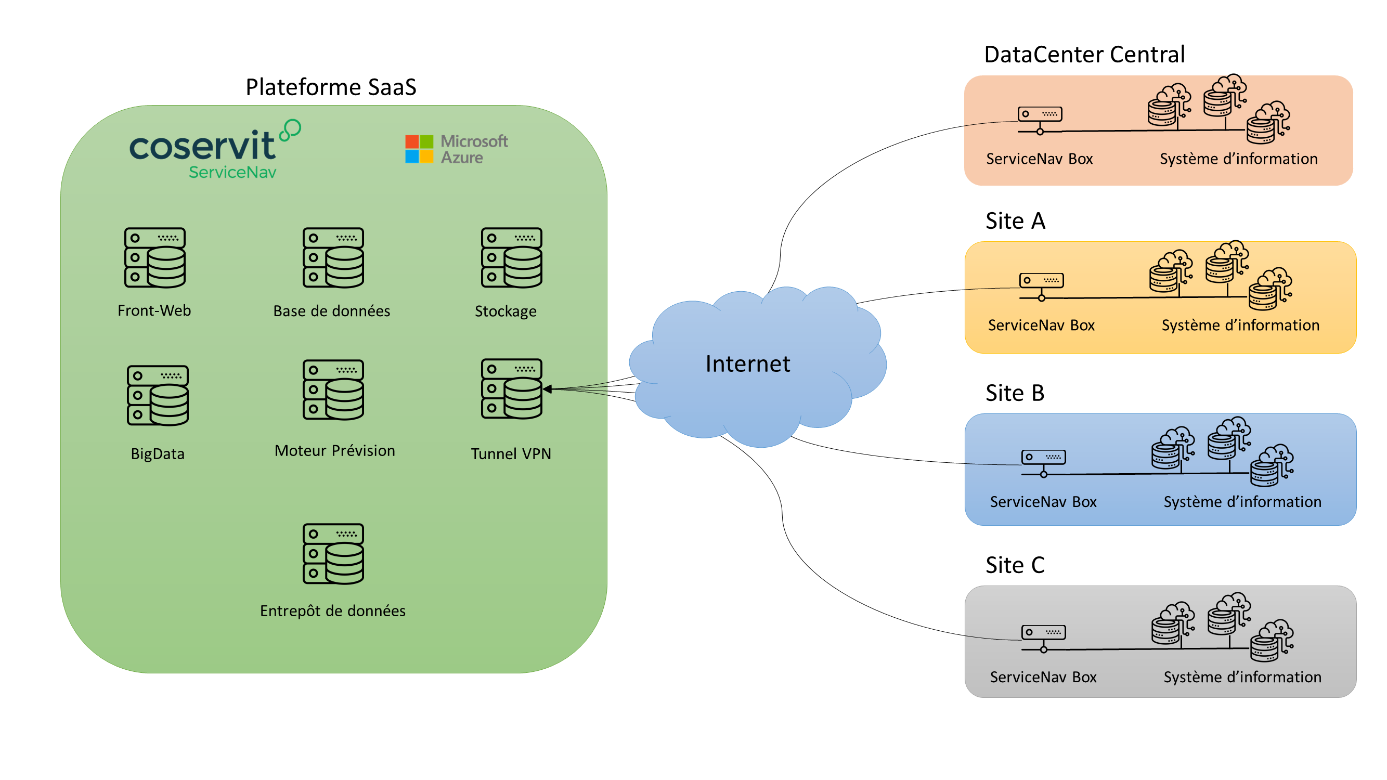 Application supervision at the central level
This is one of the great contributions of ServiceNav, presented on this blog on many occasions, the weather services will provide a view on the availability of the IS and especially the applications essential to the sites:
Central purchasing group stocks ;
Monitoring of store turnover,
Availability of the care application,
Availability of rooms between nursing homes,
Access to construction plans,
Access to billing and accounting software,
Access to lending tools,
…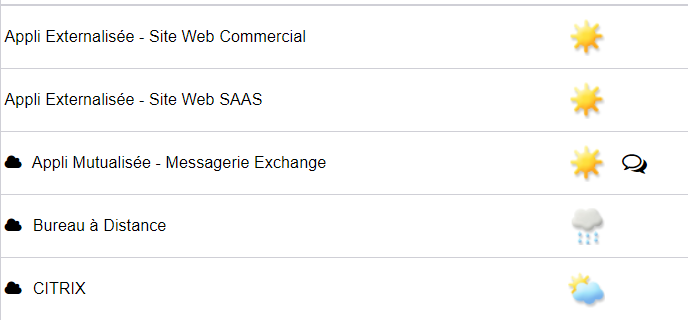 Supervision of network links to sites
Which site is no longer reachable? Where is an emergency response required?
Thanks to the geographical mapping of the sites, it is easy for an operator to see in a few seconds which sites are unreachable and therefore a priori networked.
The intervention of a technician is then easy and fast to bring a solution to the site which will often be blocked in its operation.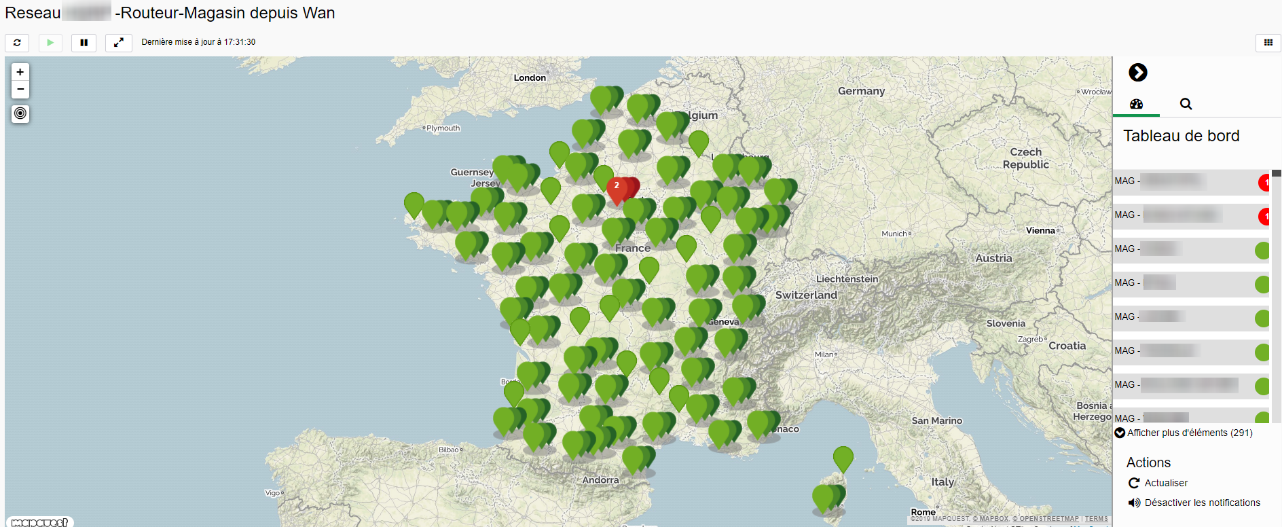 Local supervision and visibility for users
Thanks to the supervision of all site elements, the MAP module and the segmentation of rights per site, each site manager (and his teams) can have a synthetic view of his site.
Local or central operating problem? The information is directly accessible.
What equipment in the room requires rapid intervention? Information is available.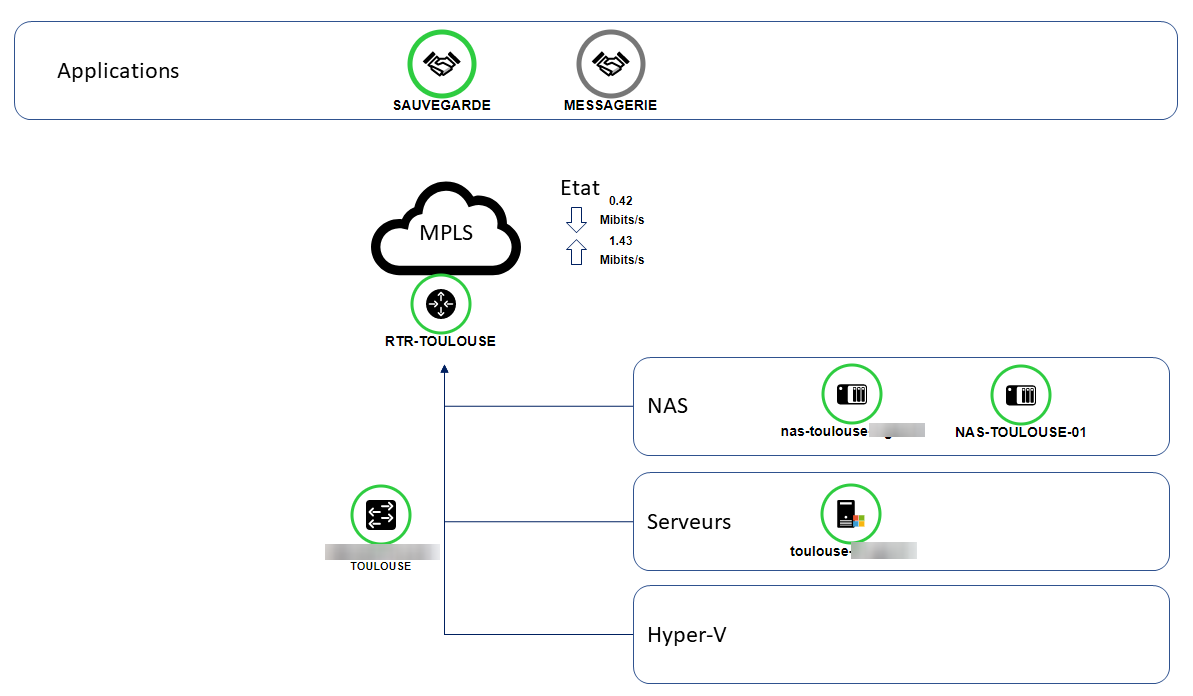 Valuable help for remote support teams
A supervision alert, a call from a user on site? Sometimes on-site intervention can be easy to do (e.g. restarting a switch), but guiding a user whose job is not IT (a cashier, an architect, a bank advisor, ...) is not always easy.
With the MAP module, it is easy to set up site maps and the technician can guide his global contact to the right equipment for a simple operation that can avoid having to move a roving technician and leave the site for several hours without an IT solution.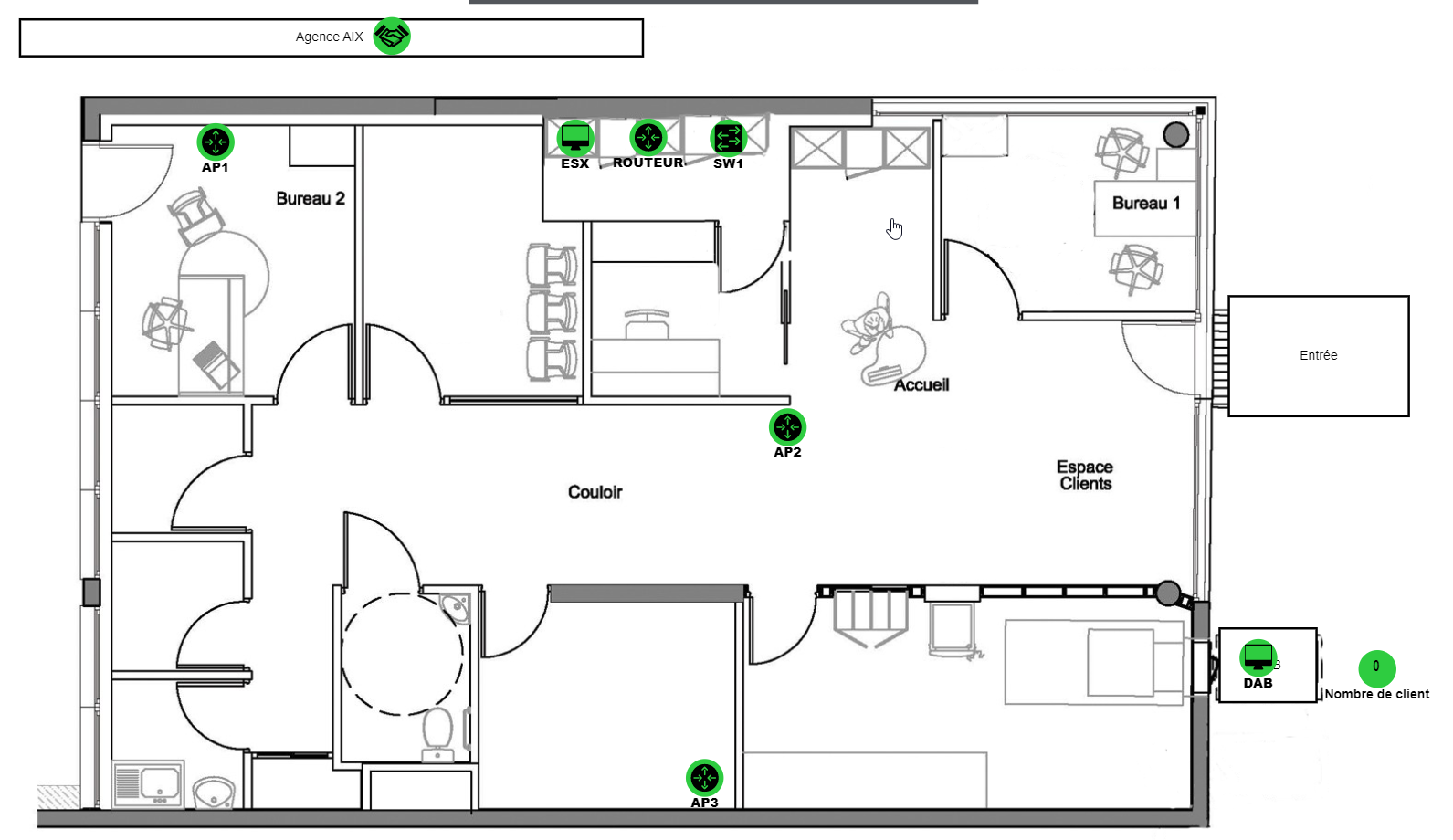 Different business lines, common supervision solutions
Whether it is for a department store, a bank, a nursing home or a real estate builder, ServiceNav's approach will be quite similar and the flexibility of the product will allow everyone to find solutions adapted to their specific needs.
With consultants who know the product inside out and with regular experience in multi-site environments, the deployment of ServiceNav for all businesses is quick and easy.
CIOs, network and system administrators, support technicians and users share the same tool to get the right information at the right time.