We have seen in our previous article on the subjectThe advantages and disadvantages of SaaS and On-Premise solutions.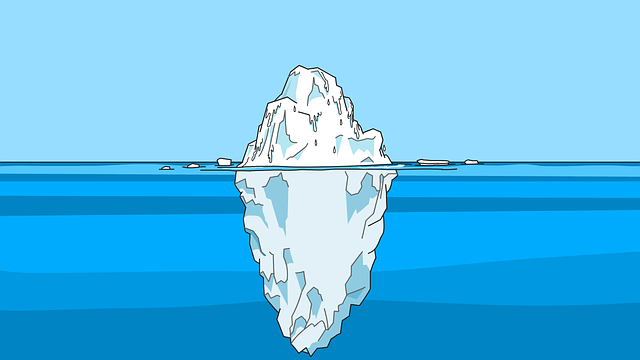 The cost of licenses is always included in a comparison between a SaaS (Cloud) and On-Premise solution, but the study of license costs, although recurring, is not sufficient and it is the entire TCO (Total Cost Of Ownership) of the solution that must be taken into account including hidden costs.
The iceberg, a comparative figure of the TCO of a solution
One figure is recurrent when comparing the TCO of a SaaS solution and the same solution in On-Premise: the iceberg.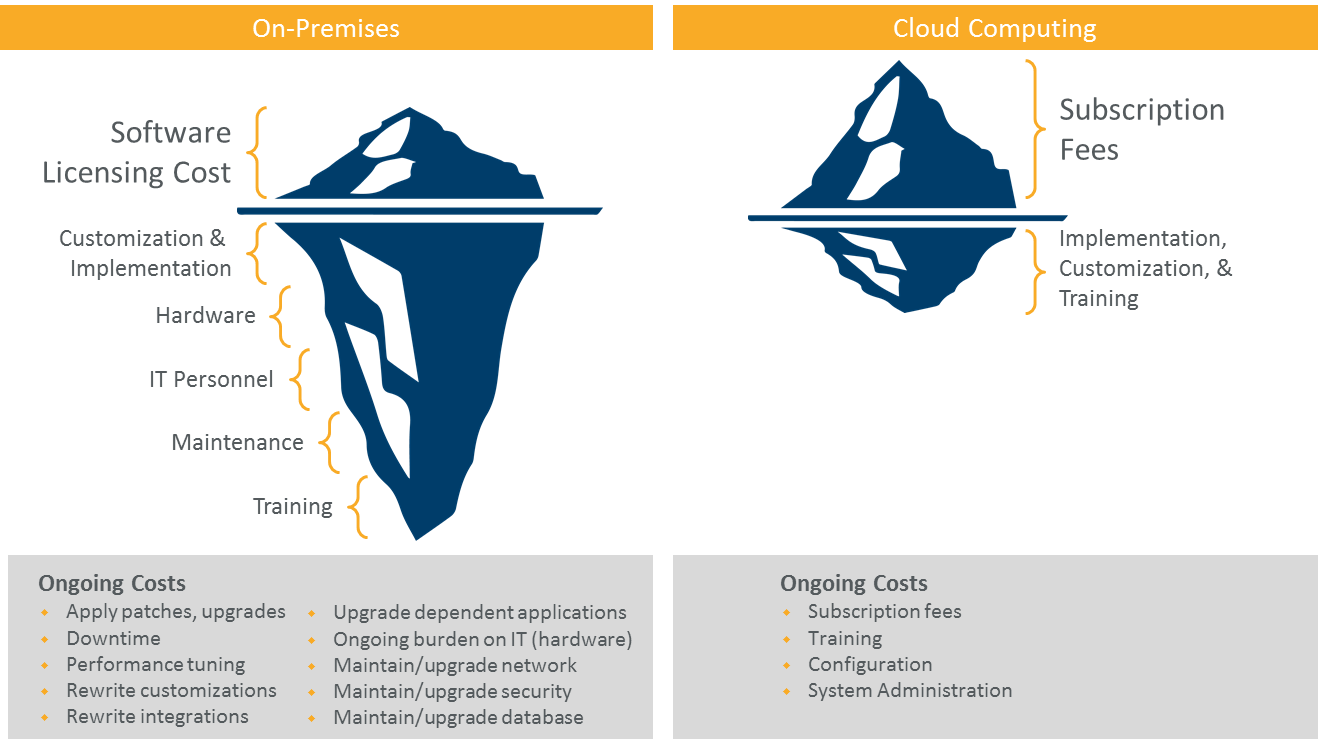 (Source: https://blog.westmonroepartners.com/rain-down-cost-savings-with-cloud-based-business-applications/)
On a purchase order, only the tip of the iceberg is visible, the submerged part, representing the hidden costs, is not visible. The size of this second part is however quite different depending on the type of hosting solution chosen.
In the case of the SaaS solution, the visible part of the iceberg (the licenses) represents the biggest part of the iceberg. Indeed, there are no hidden hosting and server maintenance costs: no staff costs for server maintenance, no hosting and disaster recovery costs for VMs, no investment in storage bays, no network .... All these expenses are covered by the supplier in the cost of the licenses.
The only remaining costs, identical to an On-Premise installation, are the training of users and the time required to get the tool up and running.
On the other hand, the On-Premise solution will induce more or less important hidden costs. What is the cost of a system and network administrator, internal or external, who spends time deploying VMs and maintaining them? How often do you upgrade the tool? How much time do you need to spend to upgrade? Does the upgrade have to be done by the vendor and at what cost? What happens if the operating system supporting the solution changes? What is the cost of the migration? All these questions must be answered and costed, which is often difficult to measure, but is nevertheless essential.
In conclusion:
A complete study of the costs over the long term (at least 3 to 5 years) is essential in order to make an informed choice between the 2 formulas (proposed by the same supplier or within the framework of a competitive bidding process). The importance of hidden costs is a significant variable to take into account and their estimation is essential.
At Coservit, for the ServiceNav solution, we offer both approaches: SaaS or On-Premise to give you the choice and to meet all the constraints seen in the article "Monitoring in SaaS or OnPremise mode?".
Whether in SaaS or On-Premise mode, we have always worked and our work is still oriented in this direction, to have the most packaged solution possible while respecting the essential security elements.