Since version 3.0 of ServiceNav it is possible to activate the functionality of satisfaction surveys on the Support module of ServiceNav Customer Care.
Thanks to the use of this functionality, some of our partners have been able to place customer satisfaction at the heart of their strategy. We then set up tools to monitor the performance of their customer satisfaction in collaboration with them.
The case study of a partner using ServiceNav Customer Care.
Each technical employee is in charge of his or her customers and follows them personally.
It must then have a simple dashboard allowing :
quickly identify closed requests for which the customer has not completed a satisfaction survey and return the survey to the customer.
to visualize in real time, the dissatisfactions and the possible remarks of the customers in order to treat them immediately.
to see the requests for which the SLA is not respected in order to anticipate a possible dissatisfaction.
Follow-up of satisfaction surveys through ServiceNav Customer Care.
In order to propose such a solution to our partner, we have proposed several areas of work:
The implementation of satisfaction surveys at ServiceNav Customer Care level.
To do this, in collaboration with management, we have defined 4 key questions for the customer. When the technician closes the support request, the contact associated with the request automatically receives an e-mail informing him/her of the closure of his/her support request and inviting him/her to answer the satisfaction survey
The implementation of a report available via web interface for each technician which displays in the form of a dashboard the 4 tables representing the major needs.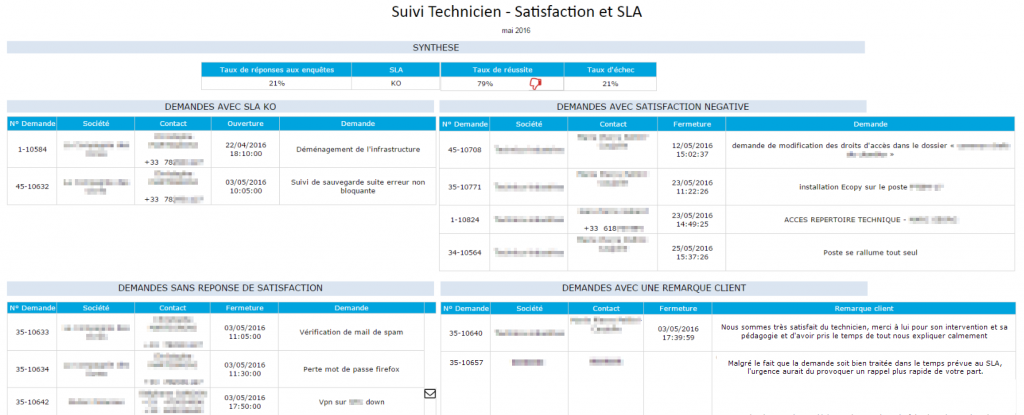 In this way, each technician can directly monitor his results in real time, follow up on customers who have not responded to the satisfaction survey (only within the time limit for opening the survey) and quickly deal with any dissatisfaction.
For our partner, the gain in customer satisfaction monitoring and therefore customer loyalty is thus directly impacted. A win-win project for our partner.