WatchGuard and Coservit sign a technology partnership for IT security monitoring.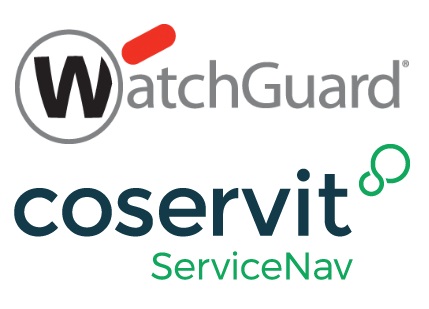 WatchGuard Technologies, a leading specialist in multifunctional network security solutions, has announced a technology partnership agreement with Coservit, a leading provider of IT and IOT monitoring solutions. The partnership, which is part of the WatchGuard Technology Partner Program, covers WatchGuard's Firebox UTM range and Coservit's ServiceNav Monitoring software.
"With this agreement, the two companies bring to their VAR and outsourcing partners the potential for additional value-added services for their end customers through the ServiceNav solution and WatchGuard security appliances pre-packaged in an out-of-the-box monitoring solution," said Pascal Le Digol, Director of WatchGuard France. "Our partners also benefit from substantial productivity and quality gains by allowing their technical teams to save time and focus on high value-added tasks (reporting, etc.).
Jean-Luc Le Colleter, Director of Alliances at Coservit said: "The collection of alerts and key performance indicators from WatchGuard technologies allows security aspects to be integrated into the hierarchy of key business-critical IT services for end customers.
The managers in companies therefore benefit from a visibility on the security indicators of their information system:
Implementation of security-related SLAs.
Detection of warning signs of malfunction.
Reports and dashboards.
About Coservit and ServiceNav Monitoring
Coservit is a company specialized in software publishing. The Cloud Computing model is a strategic axis of development for Coservit's activities and offer. The software offered is all 100% "Cloud-Ready" and marketed in white label.
The target customers who use Coservit's software in their own names are small and medium-sized IT resellers, integrators, IT service providers and manufacturers/publishers.
More generally, ServiceNav Monitoring is an IT monitoring solution composed of 3 functional modules:
The Supervision module: Detection and processing of alerts, configuration and production of the supervision and users of the solution, ...
The Windows inventory module: Automatic inventory of hardware and software, automatic retrieval of warranty end dates from manufacturers' websites, etc.
The BI module: End-user experience of services via the Service Weather screen, SLA measurement, report library, ...
For more information : ServiceNav Monitoring
About Watchguard Technologies
WatchGuard® Technologies, Inc. is a global leader in security solutions that combine powerful hardware, best-in-class security technologies, and policy-based management tools. WatchGuard provides easy-to-use, powerful protection solutions to hundreds of thousands of businesses worldwide. Its suite of firewalls provides intelligent security through the seamless integration of multiple security services; efficient management through a single console for deployment and service management; and excellent UTM performance that allows organizations of all sizes to tailor the solution to their needs.
WatchGuard products are covered by the innovative WatchGuard LiveSecurity® Service program. WatchGuard is headquartered in Seattle, Washington, USA, with offices in North America, Europe, Asia Pacific, and Latin America. For more information, visit www.watchguard.com
Learn more about WatchGuard Technology Integrations: WatchGuardONE Technology Partner