Supervision métier dédiée retail
French SaaS publisher worn in Azure or OnPremise mode, Coservit travaille avec plusieurs sociétés du monde du retail (But International, Galeries Lafayette, Babou…) on the subject of system, network, application and multi-cloud supervision.
Au-delà de la partie technique (systèmes, réseaux), la supervision est aussi métier et applicative.
Indeed, below a tableau de bord métier ayant pour objectif d'afficher l'état des caisses.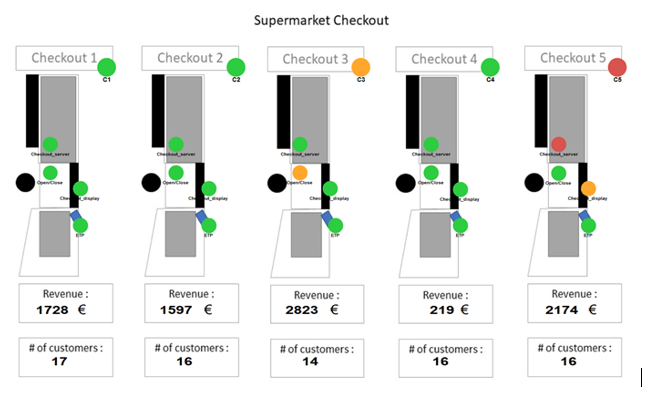 Pour chaque caisse sont affichés :
–  Le statut de fonctionnement de chaque élément de la caisse (Serveur de caisse, Affichage, TPE carte bancaire),
–  Le statut d'ouverture de la caisse,
–  Le chiffre d'affaires réalisé par la caisse sur la journée,
–  Le nombre de passage en caisse sur la journée.
Ces 2 dernières informations proviennent de requêtes SQL qui sont réalisées dans la base de données contenant les ventes et les passages en caisse.
Mail not received after registration?
Ready to discover our supervision
forecast

and decision-making?