VPN & VDI. Quesako?
At a glance
A virtual private network (VPN) extends a private network over a public network or the Internet. It allows users to send and receive data over shared or public networks as if their computer devices were directly connected to the private network.
The Virtual Desktop Infrastructure (VDI, translated as virtual desktop infrastructure or virtual machine) is a system that allows a user to connect from any workstation to a remote virtual session within the company.
Initially, VDIs are designed to provide access to computer systems from anywhere. Typically, VDI users can access their desktop interface remotely. This access can even be done from a mobile device, as the entire process of running the interface is handled by the central server.
What uses in business?
With a VPN or VDI, your employees can use company resources without being physically present on the premises. Users on the road, in remote offices, or teleworking have secure access to their personal space, applications, and the collective resources they need to do their jobs. The different sites can be interconnected (site-to-site VPN), and employees on the road or teleworking have the ideal conditions to operate as if they were present on the premises.
What can ServiceNav do for you?
Conventional VPN monitoring uses ICMP echo requests (or pings) from the ServiceNavBox to determine if a VPN tunnel is in place. When VPN monitoring is enabled, the security device sends pings through the VPN tunnel to the peer gateway or a specified destination at the other end of the tunnel. By default, pings are sent at intervals of 1 second up to 10 consecutive times. If no response is received after 10 consecutive pings, the VPN is considered to be down.
To go further, specific checks (SNMP, API, WMI requests) can be performed on network and system security equipment as well as on applications, to determine the load used, the number of connected users, their bandwidth usage (cf. NetFlow TopLists)
The monitoring of VDI will be done specifically on the virtual infrastructure (servers and equipment) in force in the company (in general : Citrix, Microsoft, Oracle, VmWare)
This set of controls can be mapped to be integrated into a service weather user as well as in one in a Dashboard of type Dataviz. This monitoring can also be linked to a larger dashboard view of your network infrastructure.
Customer example?
Below is an example of a Dashboard allowing technical and functional collaborators to visualize the load of users using their remote connection infrastructure, in real time.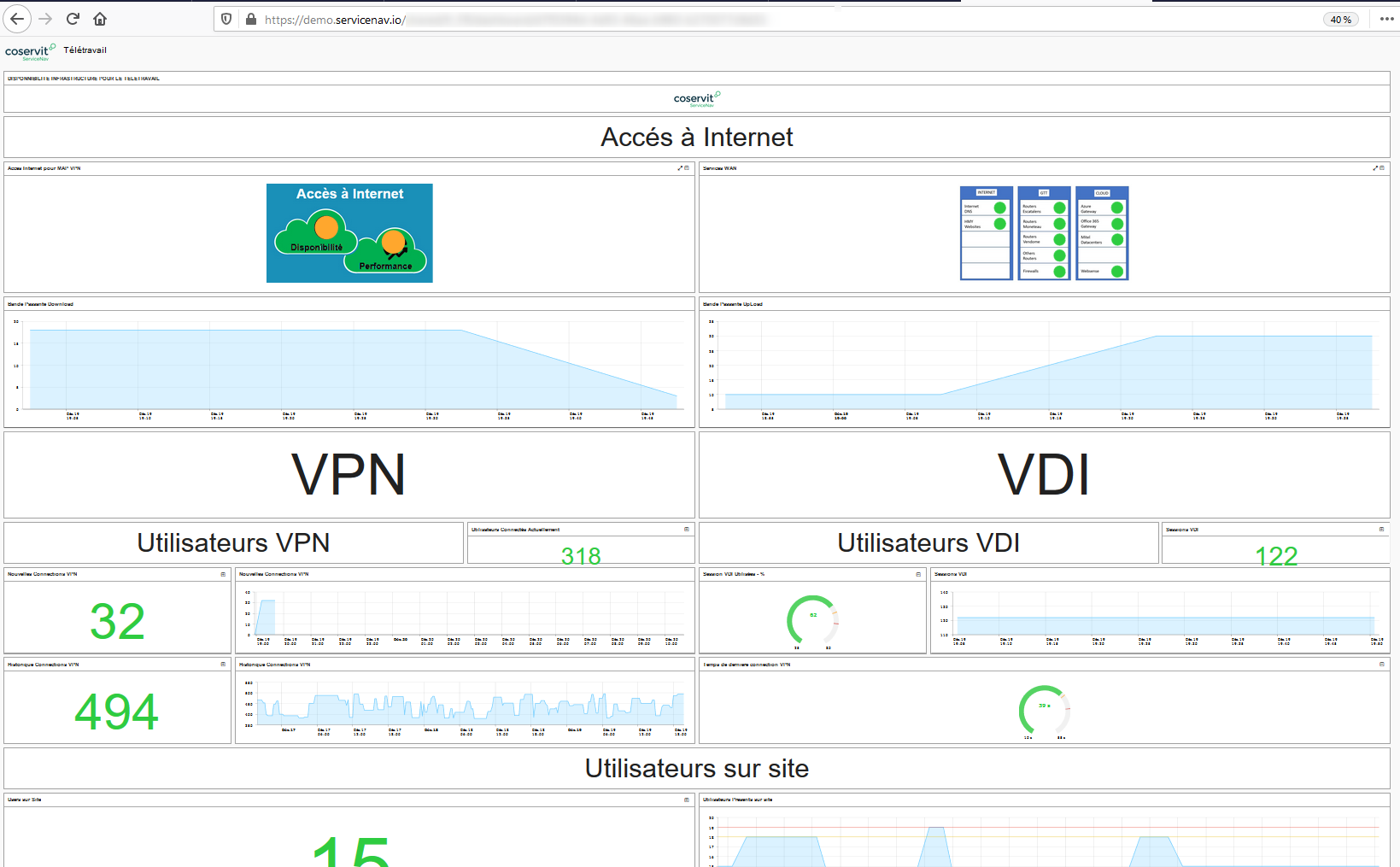 Want to know more?
Our team is at your disposal: contact us for a demo.