Service Weather is one of ServiceNav's differentiating assets and a valuable "macro-supervision" tool.
But are you using it to its full potential?
Some reminders
A User Service is an aggregation of one or more :
Hosts
Unitary services
Other user services
The service weather (Supervision > Service weather) presents the user services through 4 states and 3 trends.

OK / degraded / out of order / unknown constant / increasing / decreasing
Asking the right questions
Designing a service weather forecast means first of all asking ourselves the right questions :
What services does my infrastructure provide?
When are these services consumed (time slot)?
On which services do I need to measure availability and at what rate?
Once this reflection has been carried out, it becomes possible to list the set of equipment and unitary services that make up its user service and to define time slots and a target availability rate.
If the complexity is still high, it is preferable to go down the tree and create other services, which will compose its main service.
Dependencies
The relationships between a User Service and its various components are of the "blocking" or "degrading" type. In order to determine which type to use, again it is beneficial to ask the right questions:
If a component of my service is indispensable to its operation and cannot be redundant by another component (AND relationship) -> blocking link
If a component of my service can be redundant by another component or is not essential for the minimum operation of my service (OR relationship) -> degrading link
Exploiting the data
Properly configured weather is an asset, good reports and dashboards even more so.
A dedicated dashboard : The weather map ("Service weather map")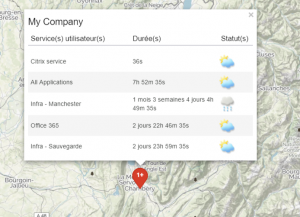 This dashboard shows the list of user services, by site/client, on a map background.
It is particularly relevant in a multi-site context and also brings value in the case of technical interventions (by allowing a technician to reorganize his movements according to the breakdowns in the vicinity and their impact).
Other dashboards that integrate User Services: the " MAP", the " Follow-up of the park by family ", ...
A report with high added value: the availability report ("Availability Analysis")
The availability report is a real decision-making tool that can be used both internally and with customers to demonstrate the quality of service or identify areas for improvement:
The TOP/FLOP of user services: which services are the most available over the period?
For each User Service:

total unavailability
per month: the evolution of the availability rate, the number of unavailabilities and their duration
These indicators allow the ISD to :
Communicate to its customers about the availability of services
Identify weak points and trigger corrective actions
Learn more about User Services, with examples, in our documentation on User Services