https://teams.microsoft.com/l/meetup-join/19%3ameeting_NTY3NDE3YWEtMjJjZC00NWEwLTgyNzktNjRiZGEwMzNjOWZi%40thread.v2/0?context=%7b%22Tid%22%3a%22520833e3-d1da-42b2-b059-bb7b15d2725f%22%2c%22Oid%22%3a%22eb8f4dae-e5f7-4d24-bc76-5f45e5e522c9%22%7d
The weather & SLA of your SaaS applications through monitoring - Feedback and virtual breakfast

We are pleased to invite you, on Tuesday June 29th at 9:45 am, to an event entirely dedicated to software editors, with two feedbacks and a moment of exchange around breakfast!
We will be lucky enough to receive Guillaume Boryresponsible for the hosting department at ProwebCE and Abderahim BahrirMEGA International's Director of Cloud Services to discuss their use of ServiceNav.
Come and discover how to measure availability rates for your SaaS software automatically and how to market your quality of service through service weather!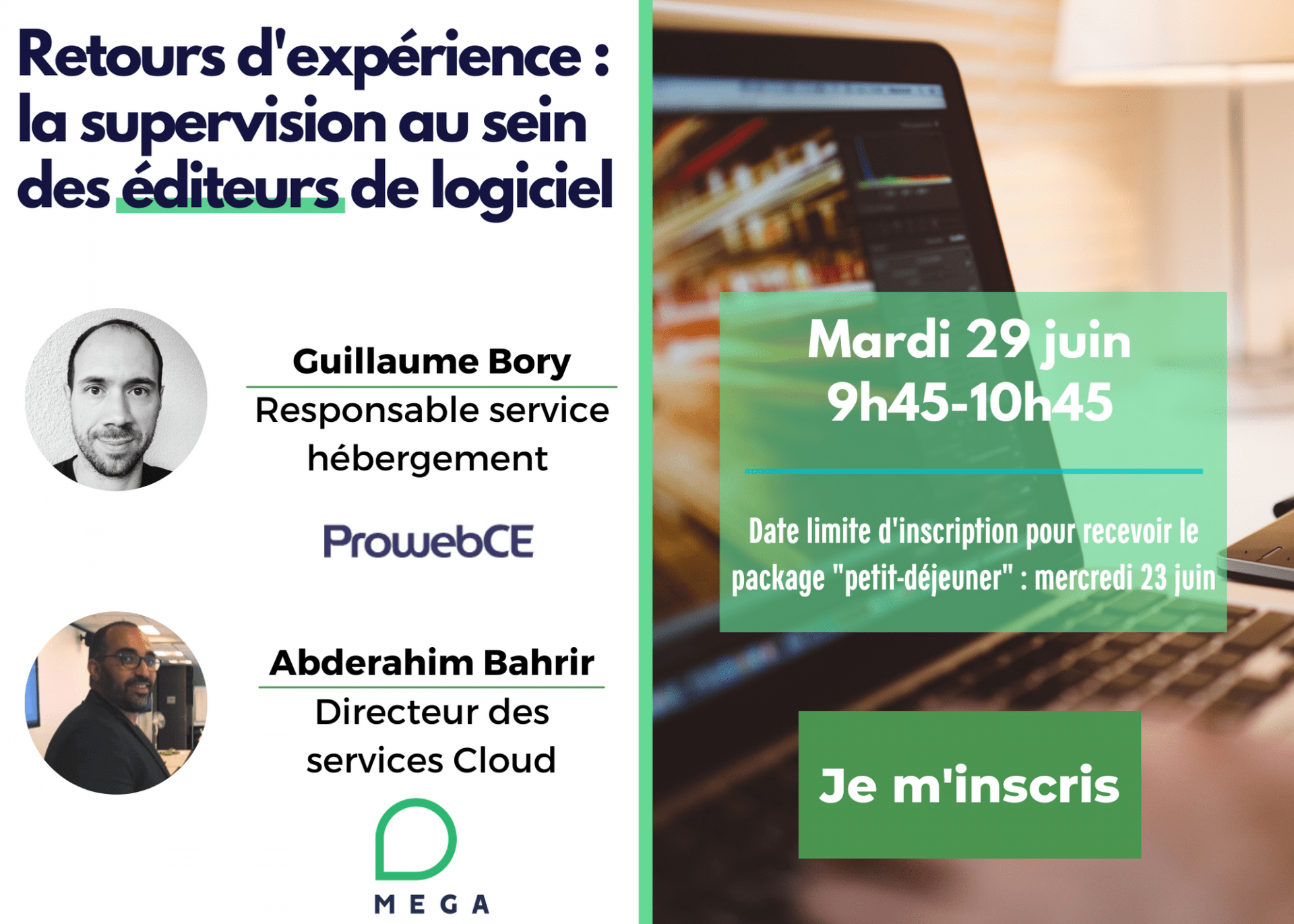 Those who register before Wednesday 23 June will receive a "breakfast" package, to be consumed during the Q&A session, a moment of exchange and conviviality that we look forward to sharing with you.
Program
9.45 am: Welcome of participants & introduction

9:50 am: Rex by Guillaume Bory, head of the ProwebCE hosting department

10:00 am: Rex by Abderahim Bahrir, Director of Cloud Services, MEGA International

10:15 am: "Virtual breakfast" during the question and answer session

Mail not received after registration?
Testimonial from Grenoble University Hospital on its use of AppsMon - Webinar and cocktail preparation workshop
An exceptional evening at the Longchamp racecourse
Discover the new solution of the EasyVista group: Goverlan